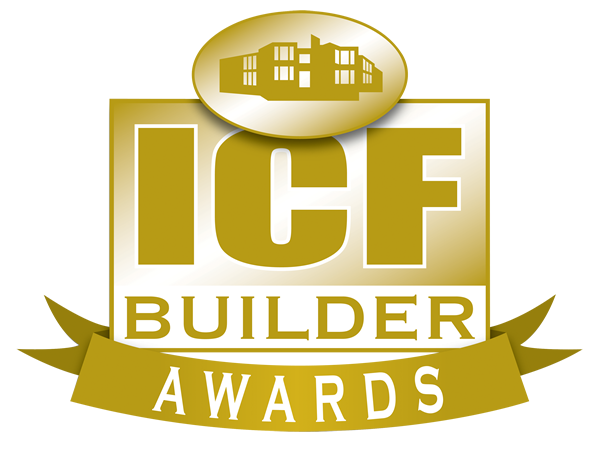 The new eight-story Holiday Inn Express in downtown Louisville, Ky., is a landmark project. Standing about 100 feet tall from footer to parapet, it's the tallest building in the area. But it's also a landmark for the ICF industry.
The project was built on an extremely tight site on "Museum Row." The site was so tight that the majority of the construction materials had to be lifted in from the adjacent parking garage and set inside the project since lay down areas outside the building footprint were virtually non-existent.
With ICFs going up at one floor per week, the hotel opened three months earlier than would have been possible with other construction methods.
Dunn Hospitality, the developer, also served as general contractor. Bob Shirer, vice president of hospitality construction, says, "Holiday Inn Express Downtown Louisville was built on a postage stamp." The average distance from the ICF wall to the street curb is only eight feet.
While Dunn has built other hotels, this was their first ICF project. After touring another Holiday Inn project being built across the river in Ohio with ICF, they were convinced. To ensure their first job went smoothly, they chose the same brand of ICF (Fox Blocks) and the same ICF installation subcontractor (HVB, Inc., based in Wisconsin).
David Morris, the Fox Blocks sales manager for the region, says, "HVB is well-known for their speed of construction on commercial projects. Their expertise in concrete placement and knowledge of block performance was exceptional. Bob Shirer commented that HVB was always out in front, staying ahead of schedule for this organization." ICF work began in the summer of 2015, and wrapped up just 60 days later, setting what Morris calls "a blazing fast pace of one floor per week, which is extraordinary."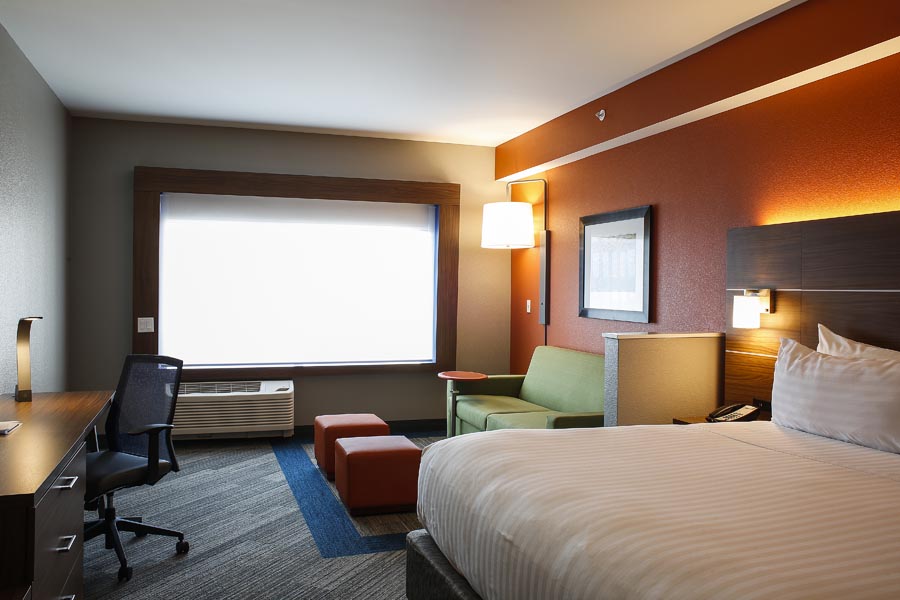 The workmanship was also exceptional. Shirer reports that they gave subsequent trades a very clean and true product to work on over the entire 80,000 sq. ft. of ICF wall. "Concrete consolidation was very good and no voids or honeycombing present."
In addition to the exterior walls, ICFs were utilized for all load bearing interior walls, with "one-sided" forms used for elevator shafts and stairwells. Floors were precast concrete. Morris says, "This combination of ICF cast-in-place walls and pre-cast floors synched perfectly to hit the aggressive schedule set by Dunn Hospitality."
Completed last April, ICFs cut three months off the already accelerated schedule. (With conventional construction techniques, a typical eight-story, 145-room hotel such as this would take 14-16 months to construct. With ICFs, this property was built in only 10 months.) The savings from the compressed schedule, and the additional revenue from three months operation were not quantified, but Morris says they were substantial, especially considering that it allowed the hotel to open just in time for the world-famous Kentucky Derby.
The project is so successful that it's garnered significant exposure on the various media channels that showcase sustainable commercial buildings, including a feature on www.proudgreenbuilding.com.
Additionally, the owners at Dunn Hospitality are extremely happy with the quality of the project, the speed of construction, and energy efficiency, calling it "an exceptional property for all visitors of Louisville." They are already committed to using ICF on their next hotel in a nearby suburb.
Project Statistics
---
Location: Louisville, Ky.
Type: 8-story Hotel
Size: 88,000 sq. ft. (floor)
ICF Use: 78,000 sq. ft.
Cost: $17 million
Total Construction: 40 weeks
ICF Installation time: 60 days
Construction Team
---
Owner + General Contractor: Dunn Hospitality
ICF Installer: HVB, Inc.
Form Distributor: Fox Blocks
Architect: BRP Architects
ICF System: Fox Blocks
Fast Facts
---
ICFs saved 6 months
Built at one floor per week
Extremely congested jobsite
Like what you read?
Yearly Subscriptions Starting @ $30