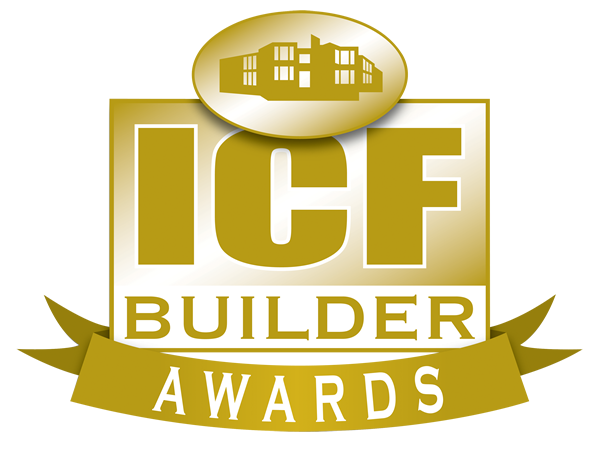 2017 Hospitality — 1st Runner Up
By now, the concept of using ICF for mid-rise hotel construction is well established. This five-story SpringHill Suites near Fort Worth, Texas, is one of at least eight mid-rise ICF hotels built in that metro area within the past few years. This particular project, though, sets several new benchmarks for the industry.
Cameron Ware, who supplied the 51,600 sq. ft. of Nudura ICFs for the project, says, "The owner and the architect each did extensive research into the ICF construction process." They liked the fact that ICF walls can be built far more quickly than masonry, and have a much higher sound absorption (STC) rating. Neither the architect or the owner had built with ICFs before, but Ware says "Confidence was achieved by bringing the right level of experience to the table to execute the project accurately and on schedule. "
Shell Craft LLC, who was chosen as general contractor, had done the ICF installation on several similar hotels, but this was their first ICF job acting as GC. So stakes were high on this fairly complex build.
First floor walls are 16 feet tall and required eight-inch-core forms to meet engineering requirements. Subsequent floors used six-inch-core blocks. All exterior walls plus interior corridor walls are ICF. Walls between rooms are light-gauge steel. Floors were poured in place using a steel pan decking system, with the 3.5-inch-thick reinforced concrete slabs spanning from outside wall to the structural bearing hall walls, usually between 26 and 32 feet.
It was an ambitious project for the team, with 90,000 sq. ft of floor space—all cast-in-place concrete—plus the interior and exterior ICF walls. Pour days required not one, but two trunk-mounted boom pumps to stay on schedule.
Clifford Jackson, at Shell Craft, says the biggest obstacle was meeting the shoring requirements of the long-span pour-over decking. He adds, "There were additional complexities to the design, with cantilevered balconies on several areas of the building." These outside porches were built using the same pour-over decking, cantilevering the forms past the exterior ICF walls.
Another unusual aspect of this project is the door bucks. The steel door frames were set into place when the ICFs were stacked, and a special bucking system was designed to reinforce those frames during the pour.
Walls topped out at 66 feet above grade. Despite the complexities and heights involved, work went fairly quickly. Cliff Lumley, owner of StoneCreek ICF, which did the actual installation, reports, "Our installation crew constructed and poured all of the fourth floor of the SpringHill Suites hotel in only six days."
The pace of one week per floor is comparable to light gauge steel construction, except that the building is far stronger and "greener." It's significantly faster than the five weeks per floor CMU would have required. Ware adds, "It would be prohibitively expensive to provide STC targets utilizing steel or CMU. The structure was built approximately 200 feet from highway."
The project was designed to meet LEED Silver criteria. In addition to the high-performance ICF walls, the hotel utilizes a host of other green technologies. State-of-the-art tankless water heaters provide endless hot water. Rooms are heated and cooled with a super-high efficiency Daikin HVAC system.
Glass shading, controlled by a thermostat switch, allows privacy or clear vision. LED lighting is standard, a huge upgrade from typical Marriott hotels.
The building design includes a 10 kW solar farm on the roof (possibly as early as next year), at which time it is expected to achieve LEED Silver certification.
Completed in April of 2016 after about five months total construction time, the project was a huge success for everyone involved.
Ware says, "Shell Craft was doing primarily ICF installation for others just a few years ago and is now an established and successful general contractor in the North Texas area."
Farukh Aslam, the owner/developer of the project, calls it "one of the most outstanding hotel projects constructed of any material type in the state of Texas. I will only build ICF buildings going forward."
Project Statistics
---
Location: Fort Worth, Texas
Type: 5-story Hotel
Size: 89,768 sq. ft. (floor)
ICF Use: 51,600 sq. ft.
Cost: $13.5 million
Total Construction: 15 months
ICF Installation time: 13 weeks (overall)
Construction Team
---
Owner: Fossil Creek Hotels LP
General Contractor: Shell Craft, LLC
ICF Installer: Stone Creek ICF
Form Distributor: FutureStone, LLC
Architect: Mayse & Associates
Engineer: DCI Engineers
ICF System: Nudura
Fast Facts
---
ICF chosen for speed and sound
ICFs on floors 2-5 took one week per floor
Cantilevered decks
Like what you read?
Yearly Subscriptions Starting @ $30