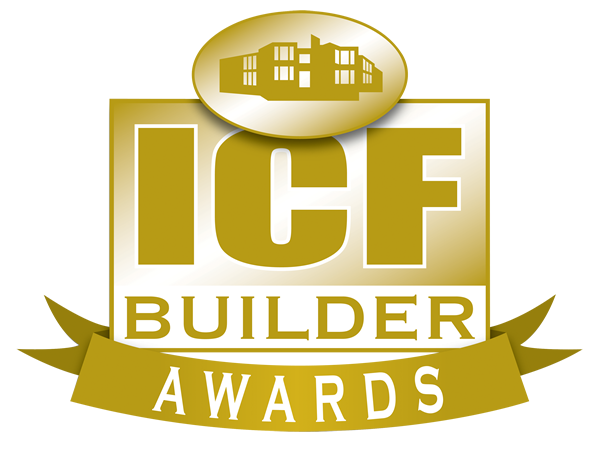 The Center Park Holiday Inn Conference Center is a 116,000-sq.-ft. hotel, event and conference center, with a full service wedding chapel, restaurant, and a number of other unique features integrated into the design.
Built on the outskirts of Cincinnati, it's the first new full-service Holiday Inn built in that metro area for more than 20 years.
The scope of the project was immense. It's a five-story hotel has 130 rooms, with 37,000-sq.-ft. of event/meeting space. Additionally, the project boasts a 10,000-sq.-ft. ballroom which can be subdivided with two massive 60-foot-tall "sky fold" partitions. (Most hotels typically use 12-foot partitions.) The total square footage of the project reached 120,000 sq. ft., and used about 103,000 sq. ft. of Fox Block ICF.
The decision to use ICFs was made by the owner, who had used the system on a previous project and realized significant energy savings. This time around, additional green technologies were utilized, including LED lighting, a variable refrigerant flow (VRF) rooftop energy management system to control heating and air, and interior ICF walls—more than 15,000 sq. ft.—that eliminate sound transfer between the various areas.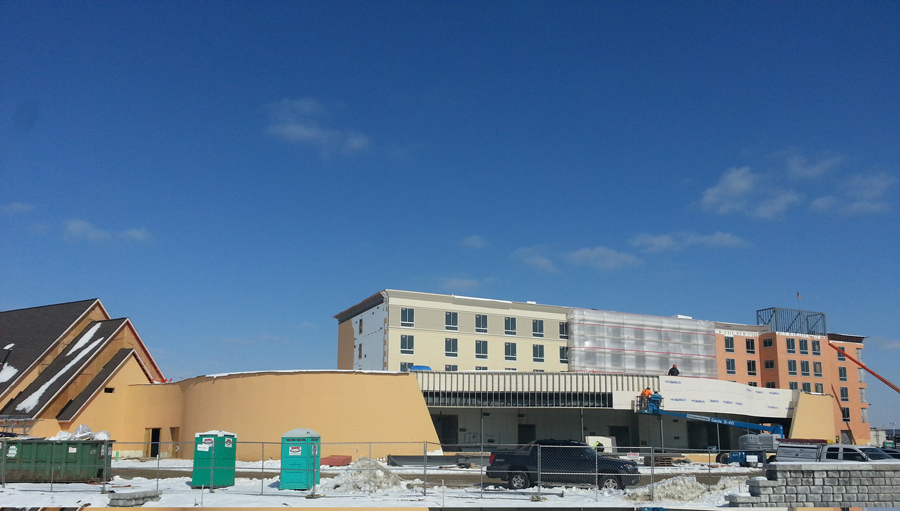 Opened in October of 2015, the building is performing 30% better than ASHRAE standard for hotel construction—impressive enough that it qualified for a rebate from Duke Energy, the local electrical utility.
It was bid as a design/build project, with HiFive Development serving as general contractor and architect, with Gravesco and HVB Inc. again teaming up to do the install. (See story on page 28.)
Mark Bishoff of HiFive Development says, "The project is very complex since the owner was combining a chapel, conference center, hotel, and steakhouse. The biggest challenge the designers faced was how to let staff move freely in the structure without getting in the way of hundreds or possibly thousands of guests attending an event." The designer employed a back-of-house approach, with additional service corridors for the staff that are hidden away and not accessible by guests.
Construction began in early summer of 2014, with significant site work necessary before construction could begin. To control water runoff, contractors installed an underground stormwater retention system. The vaults were backfilled with stabilized soil, which yielded another 10 acres of usable land behind the project. This was put to use as paved patios and additional parking.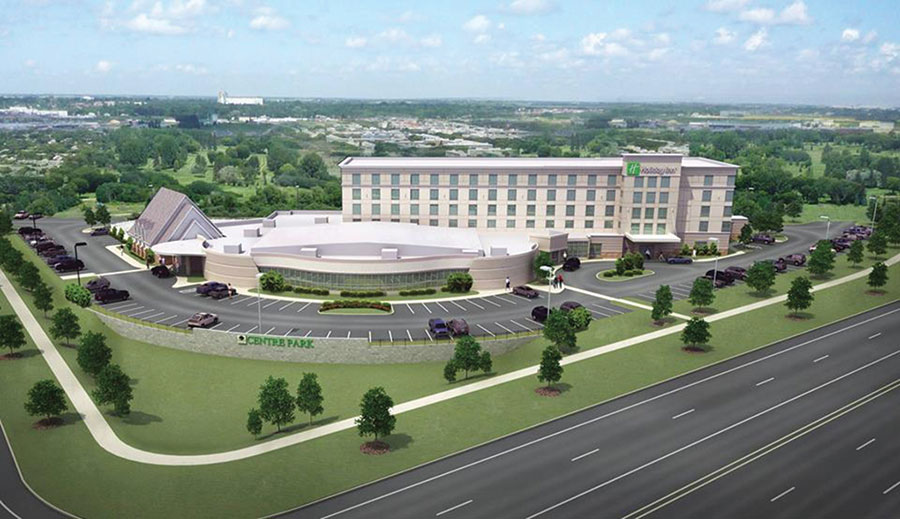 ICF work got underway in the fall, and the installation crews worked as efficiently as possible to get the shell enclosed before winter. They averaged 12,000 sq. ft. per week, and had the installation completed in 45 days. Crews used wooden bucking for all block-outs, including the ones that formed cantilevered corners of the five-story hotel. The front of the convention center is a 20-foot-tall radius wall that connect the chapel to the main hotel. This was formed with regular stiff straight block; the radius was smoothed with a heavy basecoat of EIFS finish.
Dave Arnold, the project manager, reports that the thermal mass of the ICFs made the building comfortable to work in as the other trades did their work. "In the middle of the winter, the shell took very little heat, and propane use was greatly reduced," he says. "In the summer, the air makeup system cooled the interior.
One outstanding feature is the chapel/pre-function space. Bishoff says, "The design objective was to give guests the sense that it has been there for many years and that the hotel and conference center were additions to the original chapel. The steep gables and tall bearing walls create a grand impression." He says interest is high enough that several full service weddings were booked before the chapel was even completed.
Built at a cost of $25 million, near the intersection of two major roads, this project gave ICFs considerable publicity. It was covered extensively in local print and TV media, and was directly responsible for winning an eight-story ICF Holiday Inn Express across the river in nearby Louisville.
Arnold concludes, "This project by Middletown Management and HiFive Development sets the standard for how a full-service hotel can be built with ICFs. We have fielded many calls from owners wanting to build with this technology. It's the perfect example of how a well constructed ICF project will help to create more ICF projects."
Project Statistics
---
Location: West Chester, Ohio
Type: Hotel and Conference Center
Size: 120,000 sq. ft. (floor)
ICF Use: 103,000 sq. ft.
Cost: $25 million
Total Construction: 14 months
ICF Installation time: 45 days
Construction Team
---
Owner: Middletown Management
General Contractor + Architect: HiFive Development
ICF Installer: Gravesco & Hidden Valley Builders
Form Distributor: Fox Blocks Direct
ICF System: Fox Blocks
Fast Facts
---
130 rooms, plus event space
Performs 30% better than ASHAE standard
Significant publicity in local print and TV media
Like what you read?
Yearly Subscriptions Starting @ $30