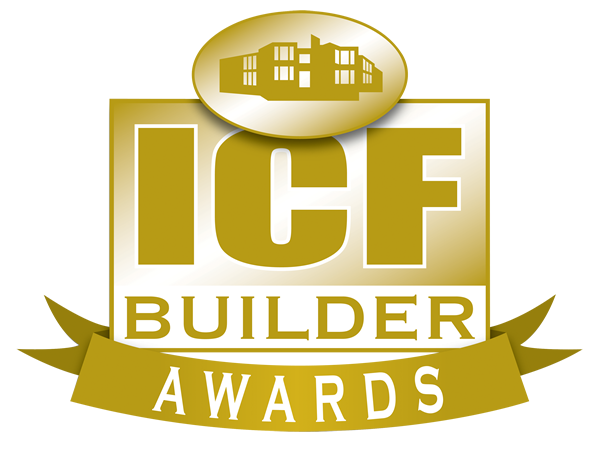 20014 Multifamily 2nd Runner-Up
Wallhouse Hotel is a 63-room European boutique-style hotel set in the rolling hills and woodlands of rural Ohio. At five stories high, it's the tallest building in Holmes County, Ohio and attracts considerable attention. Despite the pastoral feel of the countryside, the area draws a significant number of business travelers, as well as tourists who have come to visit the heart of Amish country.
Winesburg Builders, who served as general contractor and ICF installer, convinced the owners to use ICFs based on long-term energy savings. According to Ruben Schlabach at Winesburg Builders, "consistent operational savings was a key topic to convince the owner to build with ICFs." Early in the design stages, they proposed a complete package including an ICF shell and optimized HVAC design that would allow them to build at a cost equivalent to conventional wood structures, yet achieve energy savings of 50% or more compared to conventional hotels.
ICF construction offered multiple other advantages. Architecturally, they worked well with the contemporary hotel design. It was easy to recess the windows into the jambs, adding depth to the building façade. The foam substrate would work perfectly with the stone and stucco exterior finishes. Structurally, it made it possible to install multiple large windows in the front lobby— essentially a wall of windows— as well as custom corner windows.
Perhaps the biggest cost savings were found in the speed of construction. The project came off footers in late November and roofing was on four weeks later, allowing contractors to work inside the structure during winter months. Schlabach reports that interior construction went smoothly, and that only a few heaters were required since the envelope was so well insulated.
Floors were poured using Hambro's open-web steel-pan decking, topped with lightweight concrete. In total, the 60,000 sq. ft. hotel used about 36,000 sq. ft. of ICF (the now-defunct Reward iForm).
As with most hotels, Wallhouse has extensive glazing. As energy-efficiency was a key component of the design, triple-pane glass was used in the hundreds of windows. The combination of ICF walls and triple-pane windows ensure that sound from the busy county road nearby is eliminated.
The HVAC system uses boilers and decentralized chillers to heat and cool the structure at much lower operating costs than conventional construction. In fact the average monthly heating and cooling cost is only $1,500 per month, despite having a heated indoor pool.
The project opened in July 2014, only seven months after the footer was poured. The accelerated construction schedule saved thousands of dollars in interest on the construction loan, and the owners were able to open during the peak summer tourist season.
In rural Ohio, the size and architectural style of Wallhouse make it unique. And that has only encouraged visitors to stop.
According to Schlabach, the owners are extremely impressed with every aspect of the project: the speed of construction, the quality of craftsmanship, and the continuing energy savings. In fact, Winesburg Builders has gone on to build two more projects for the developers, a Wallhouse Hotel in New Concord that was completed this fall, and a third that is still under construction in Brunswick.
Location: Walnut Creek, Ohio
Type: Hotel
Size: 58,500sq. ft. (floor)
ICF Use: 36,000 sq. ft.
Cost: $7.2 million
Total Construction: 7 months
ICF Installation time: 36 days
Owner: RTB Holdings
General Contractor + ICF Installer: Winesburg Builders
Architect: PH7 Architects
Form Distributor: Reward Wall Systems
ICF System: Reward iForm
Triple-pane glass in hundreds of windows
5-story building is tallest in the county
Footer to shell completion in 4 weeks
Like what you read?
Yearly Subscriptions Starting @ $30