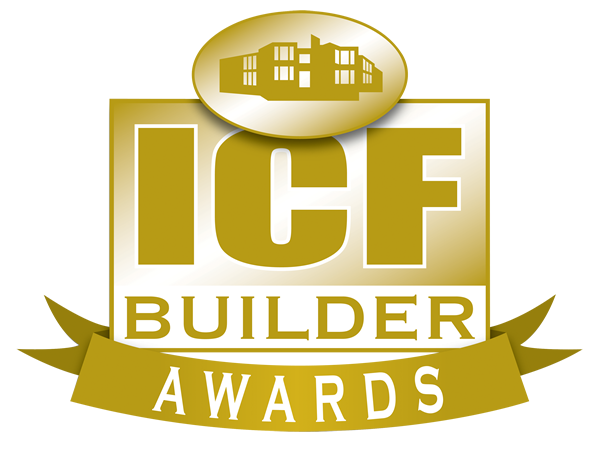 2016 Multifamily 1st Runner-Up
The Hilton Garden Inn completed last year in Uniontown, Penn., is a compelling example of ICF mid-rise construction. It's notable not only for innovative construction materials, but also for the value-engineering that went into the design phase.
"It really represents a textbook example of how an ICF project should be envisioned, embarked upon, designed and implemented," says Michael Cleary, who served as ICF consultant on the project. Fairchance Construction, which served as general contractor, also had a significant ownership stake in the project and—knowing the complexity of commercial ICF work—brought on Cleary as consultant.
He says, "This was a 100-year-old company that reached out and—rather than having an 'I can do it all' attitude—hired the professionals and the team members to implement correct design and installation protocol."
Typically, in hotel development and construction, the franchise provides the franchisee with a set of prototypical hotel plans. Fairchance was already committed to converting the plans to ICF, and when the Hilton Garden Inn had its first design meeting, Cleary further directed the architect to think cubically in lieu of square footage to save money.
For instance, the original plans called precast concrete floor planks, taking up 24 vertical inches per floor. (This represents the plank, plank topping, and suspended drywall grid system that hangs 12 inches below the bottom of the plank to allow room for ductwork and mechanicals.) Cleary recommended switching to a open-web pour-over system from Hambro that was half as thick, by providing room for the mechanical and electrical raceways within the joist, rather than below it. It was also 40% lighter compared to plank, and had a higher STC rating—an important factor in hotel construction. Over the height of the five-story building, they eliminated four vertical feet.
Next, the walls were thinned. "We designed our exterior bearing walls to carry only the roof load," Cleary says. The floor loads are carried by steel corridor and ICF demising walls between rooms. ICF walls between rooms also greatly reduced sound transmission. In total, the project used 75,000 sq. ft of Amvic forms, including 40,000 sq. ft. of four-inch-core forms used on interior walls.
"We were able to take advantage of a multitude of other savings that ICFs bring to the table," Cleary reports. Because each room had all-ICF walls, designers could reduce the size of the PTAC (self-contained heating and air conditioning) units from 9000 BTU to 6600 BTU. The unit cost savings were substantial. Additionally, the reduction of the heat and air-conditioning load meant they were able to reduce the amperage on the electrical main, adding even more savings.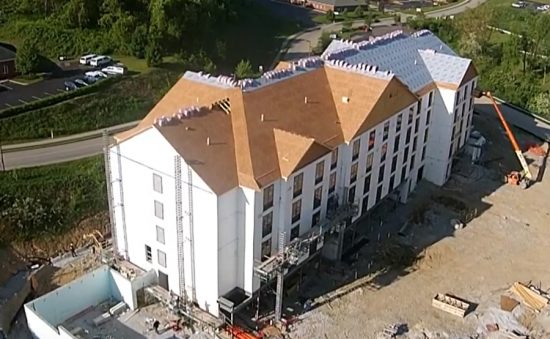 Designers also eliminated much of the structural rebar, replacing it with Helix micro reinforcement. This project is one of the first large commercial jobs to use Helix since the twisted steel fiber product received code certification. It was added to the concrete mix design for all ICF walls, eliminating nearly all the horizontal rebar and greatly reducing vertical reinforcement. The labor savings over the course of a five-story hotel were tremendous. Reduced structural rebar also made it much easier to place and consolidate concrete within the four-inch ICFs. "Since there was no horizontal rebar in the walls, concrete placement was extremely easy," Cleary reports. "We started pouring initially with super-platicizer and ended up being able to pump and pour between a 6 and 6½ slump."
"Helix, simply put, is a game changer," he says. "ICF designs can now integrate four-inch cores in a more practical way. It is also going to change how ICF projects are built. One of the major changes is the ability to panelize and pre-build ICF walls."
The Uniontown Hilton Garden Inn was built during what Cleary calls "one of the harshest and coldest winters in the past decade." Wind-chill temperatures on the jobsite routinely dropped below 0°F. Utilizing ICFs allowed them to pour concrete where others could not pour. Some days it was so cold, it was impossible to get concrete to the worksite within temperature.
"Instead of losing all that downtime due to inclement weather, we started panelizing the ICF walls," he says. They were beginning the third floor. "We were able to still work and be productive on days that would never have been able to work or have been productive before," he says. When the temperatures lifted, they placed walls for 16 guestrooms in three hours, with the crane utilizing only a light-gauge 12-foot spreader bar.
"Not only does this allow for a more efficient installation, but it allows you to start constructing ICF walls prior to construction of the applicable floors," he points out. "Panelization of ICFs is the future of the ICF industry."
The building footprint has numerous two-foot jogs and lots of inside and outside corners. Walls were braced using Plumwall's 12′ tall-wall extension bracing. It performed admirably on everything from four-foot frost walls to tall walls reaching 21 feet." Some days, they placed so much concrete that two pump trucks were needed to keep up. Construction video, including aerial drone footage, is available on the magazine website.
Completed in October of 2015 at a cost of $20 million, this Hilton Garden Inn is one of the most innovative ICF projects yet. It has pioneered the use of micro-rebar and panelization in mid-rise construction, and stands as a remarkable example of a highly sustainable, high performance, low cost building.
Cleary says the owners were so satisfied with the entire ICF experience in Uniontown that they are presently constructing an identical Hilton Garden Inn at Pittsburgh International Airport utilizing the same combination of ICFs, Helix and Hambro.
Project Statistics
---
Location: Uniontown, Pa.
Type: 119-Room Hotel
Size: 81,000 sq. ft. (floor)
ICF Use: 75,000 sq. ft.
Cost: $20 million
Total Construction: 13 months
ICF Installation time: 120 days
Construction Team
---
Developer: Synergy Real Estate
General Contractor: Fairchance Construction
ICF Installer: Integrity Development
Form Distributor: Amvic Direct
Architect: M.E. McMillen Engineering
ICF System: Amvic
Fast Facts
---
Five-story, 119-room hotel
All interior and exterior walls ICF
Tremendous number of window and door openings
Design optimized for ICF with Helix and Hambro
Like what you read?
Yearly Subscriptions Starting @ $30