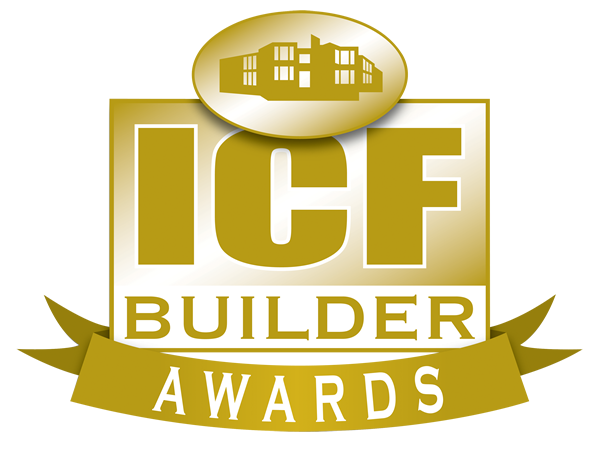 2014 Multifamily
1st Runner-Up
The town of Keswick, Ontario, about forty miles north of Toronto, was facing a shortage of affordable housing. The waiting list of singles, seniors and families needing housing assistance in this town was years-long, reportedly topping 1,500 individuals a few years ago.
So when a developer suggested building a beautiful, energy-efficient, low-maintenance apartment complex for some of them on a prominent site that had sat vacant for decades, the city council took notice. Ken Williams, territory manager for Fox Blocks, which provided the ICFs for this project, says, "The building site was on the main street in Keswick surrounded by turn-of-the-century shops and houses. The design of the building had to blend with the area as well as be soundproofed from the road traffic and meet LEED-Silver requirements."
During the design stages, Elite Building Group, an installer with extensive experience in mid-rise ICF construction, was brought in as a consultant. They, in turn, brought Fox Blocks' LEED consultant and technical team to the table. They resolved the developer's and general contractor's concerns regarding construction timelines, building code acceptance, quality standards, potentials for cost overruns, and LEED compliance.
Funding was secured through a variety of grants, subsidies, and government programs, and in mid-2012, the project got underway.
Williams says, "Construction of the ICF scope of work was scheduled for spring but started in October, so this was now a complete winter build."
The project's design is fairly complex when compared to typical low-income housing. The architecture features an all-brick exterior, radius-topped windows and doors on all sides of the building, and a free standing 14-foot-high bell tower over the front entrance.
Fortunately, the ICF installation crew from Elite was experienced, and worked though all of these issues without delay. They also innovated a few developments. For instance, the two levels of underground parking required exposed concrete walls, but with the rear of the building right on the lot line, the use of conventional forms was impossible. Instead, this was formed with ICFs, and the EPS stripped off the inside face afterwards and painted. This technique was also used for the elevator shafts and stairwells. In another innovation, they used brickledge blocks to create the corbels that support the stairwell landings.
By December, the York regional newspaper, which was following the project closely, reported that "the $19.2-million Lakeside Residences facility is moving forward without any significant delay or setback, despite being a complicated site with excavations going into the hill."
Each of the six above-ground floors used 1,200 lineal feet of wall and had fifty 90º corners, four 45º corners and 17 T-walls intersections. Williams reports that the number of ICF window and door blockouts exceeds 450. Giraffe bracing, used to hold the walls perfectly plumb while the concrete cured, was easily crated and moved from floor to floor as work progressed.
The exterior façade is supported on corbel blocks installed at the base of the first floor.
Even with the winter conditions, Elite crews wrapped up the ICF scope of work in 112 days—two months ahead of schedule. No winter heating was needed to keep the concrete from freezing.
The 97-unit low income housing development was completed in May 2014, and was filled immediately with qualified residents.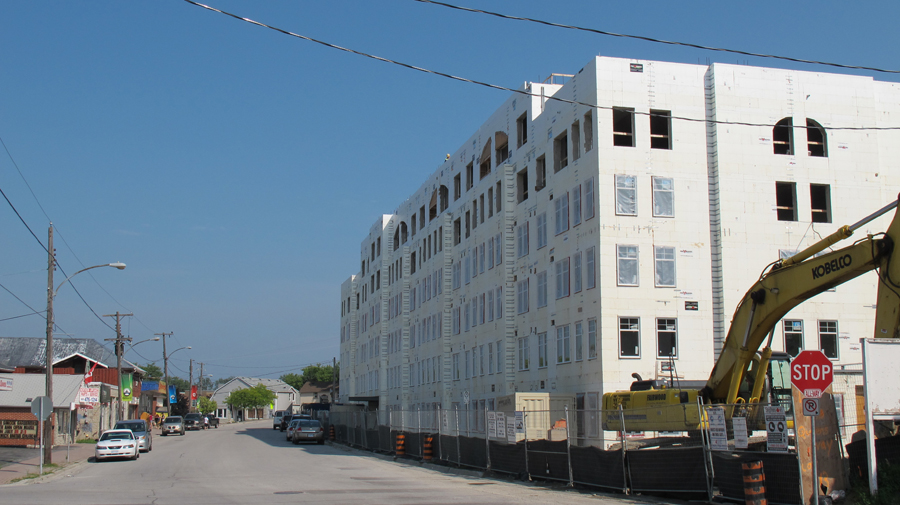 Heather Piggott moved in to her fifth-floor unit in June. "It's fabulous. I love it," she says, adding the attention to accessibility in everything from parking to laundry facilities is a key factor. She says daily life in her wheelchair is much easier and convenient thanks to the state-of-the-art modified facilities at the complex. A choice view of the lake makes her apartment even more of a slice of heaven.
The $19.2 million facility used more than 111,000 sq. ft. of ICF (72,500 sq. ft. in the exterior walls and nearly 40,000 more in the interior walls between units). Floors are precast concrete.
The project easily met its goal of LEED Silver certification and may possibly achieve gold level when the final points are awarded.
"This project has set a new bench mark for this type of housing," Williams says. "This is the first large-scale ICF public housing project in the area, and it was built to LEED-Silver standards. This was also the developer's, engineers', architects', site foreman and City of Keswick's first experience with ICFs but it won't be their last. Much educating was needed at all levels with all parties during the projects development, but the result is that the City of Keswick has a beautiful new downtown building that will be the standard that other buildings will need to meet going forward."
Location: Keswick, Ontario
Type: 97-Unit Low Income Housing
Size: 83,000 sq. ft. (floor)
ICF Use: 111,000 sq. ft.
Cost: $19.2 million
Total Construction: 15 months
ICF Installation time: 112 days
Owner + General Contractor: Fusioncorp Developments
ICF Installer: Elite Building Group
Architect: ADG Architecture
Form Distributor: North River Distributing
ICF System: Fox Blocks
Six-story, 97-unit public housing project
Qualifies for LEED-Silver
More than 450 window and door bucks
Each floor had 50 corners and 17 T-Walls
ICF portion complete two months ahead of schedule
ICFs used to form underground parking structure
Like what you read?
Yearly Subscriptions Starting @ $30