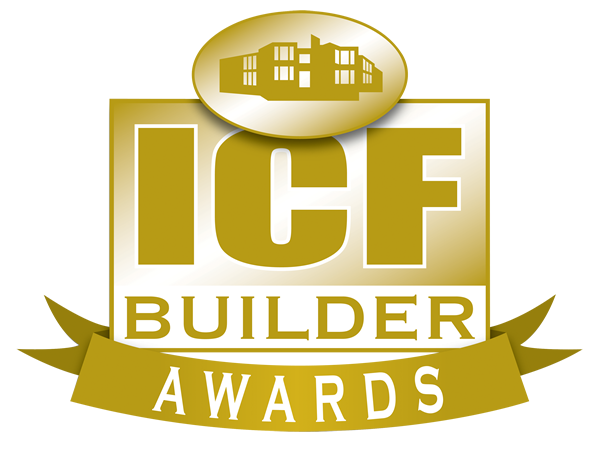 2007 Multi-Family
1st Runner Up
E2 City Homes, in Minneapolis, Minn., is one of the first LEED-certified multi-family projects in the state.
Designed as a four-plex, the 6,300 sq. ft. building cost $850,000—about $134 per sq. ft. Not bad for a project that seems to have been winning awards before it was even completed.
Credit for the sustainable aspect of E2 goes to The Urban Group, which served as owner/developer of the project and set high green standards from the beginning. Unfamiliar with ICFs, they originally looked into using ICFs for the demising walls between units, but liked the technology so much they decided to use them for the entire exterior shell. 
With help from the local Reward distributor, Cemstone, contractors and tradesmen had no problem using the system.
Completed in May of 2007, the project is a landmark for sustainable construction techniques. Interior finishes, including carpet, countertops, and wood, is all recycled. Windows and appliances are all Energy-Star rated. Geothermal heating keeps energy costs way below normal, and a garden roof completes the focus of sustainable design.
The Minneapolis-St. Paul Business Journal named E2 City Homes "Best in Real Estate" last summer. In October, it received the "Excellence Award for Sustainability" from the ICFA.
And now, it has another honor: 1st Runner Up, Multi-Family, from the 2007 ICF Builder Awards. 
Project Statistics 
---
Project Name: E2 City Homes
Location: Minneapolis, Minn
Size: 6,300 sq. ft.
Completion Date: 2007
Project Start-to-Finish Time: 7 months
Cost: $850,000
Construction Team 
---
Developer/GC: The Urban Project
ICF Installer: Concrete Creations
Architect: LHB, Inc.
Form Distributor: Cemstone
Fast Facts 
---
• Owner/Developer set High Green Standards
• One of First LEED-Certified Multi-Family Projects in the State
• Recycled Carpeting, Countertops, Wood
• Energy-Star Windows and Appliances
• Geothermal Heating 
• Garden Roof
• Local Newspaper Awarded it "Best in Real Estate"
• Received "Sustainability Award" from ICFA
• Now the latest Honor, 1st Runner Up, Multi-Family, 2007 ICF Builder Award
Like what you read?
Yearly Subscriptions Starting @ $30