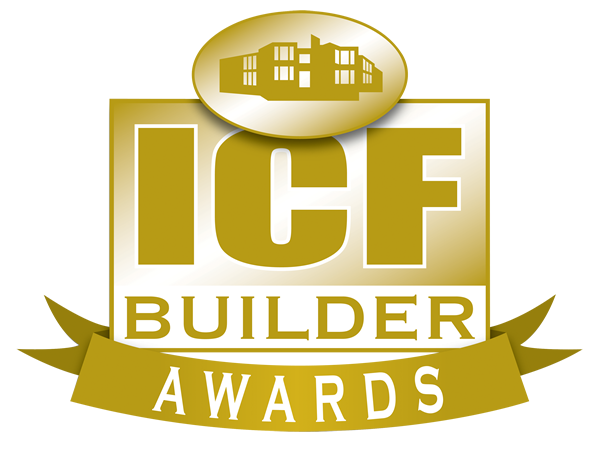 2011 Large Residential
2nd Runner-Up
Built into a rugged and hilly 35-acre site, the Hurry Back Home blends seamlessly into its surroundings. The home's Prairie-style architecture features strong horizontal lines broken by extensive floor-to-ceiling windows to take advantage of the remarkable view over the historic Wisconsin River Valley and six neighboring towns.
Kyle Dumbleton, the home's designer, explains, "The house was planned as a '100-year-plus' project. It was designed and built to strike a balance between construction costs and operational costs. Every effort was made to select natural materials that are durable and long lasting."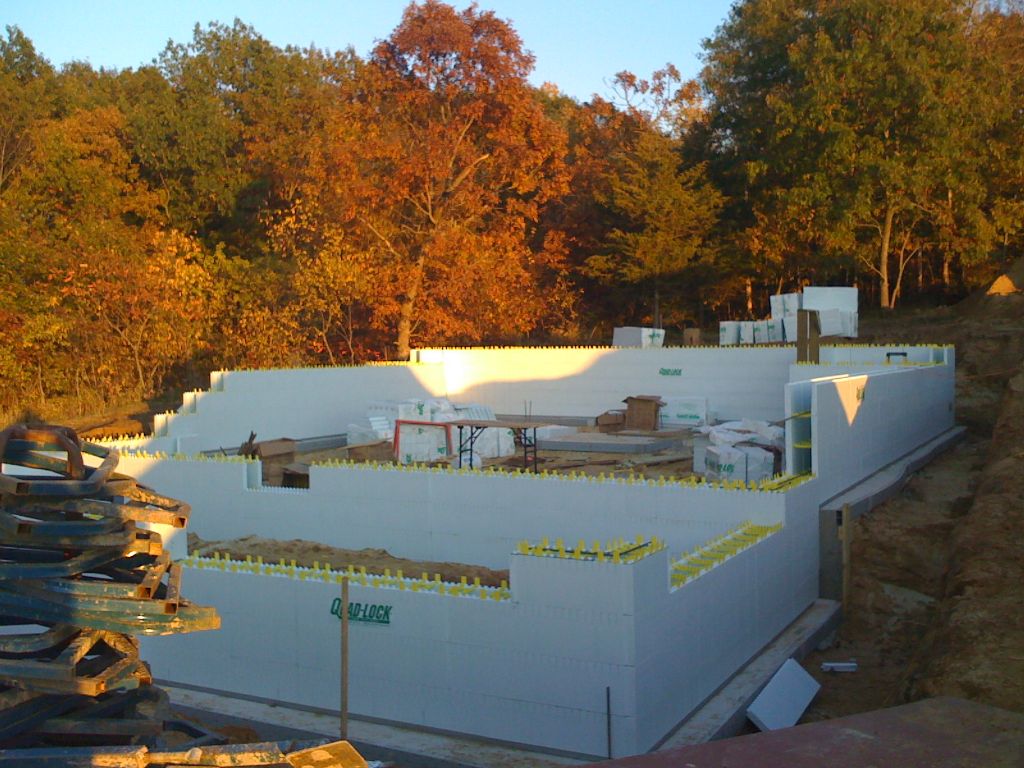 A major part of the project's durability and efficiency are ICFs. All of the project's 5,000 square feet of walls are built with Quad-Lock ICFs, which stretch to 32 feet above the footing, often with no intervening floors. The floors, deck, and roof were constructed of Quad-Deck to complete an energy efficient, extremely long-lasting building shell. Dumbleton notes that the largest of these "seemingly effortless double-cantilevered roof forms" was cast on site and weighs an astonishing 20 tons. The upper 800 sq. ft. Quad-Deck roof will be the site of a vegetated green roof in the near future.
In keeping with the owners request to minimize operational costs, Dumbleton installed radiant in-floor hydronic heating, coupled to a closed geothermal heat pump to maximize efficiency. The mass of all the concrete in the walls and roof, combined with rigid EPS foam and the ultra-efficient heating/cooling system makes utility costs just 30% of what they would be if the home was built traditionally.
ICF construction provided advantages during construction as well. First, the site was difficult to access, with 12% grades in places. Second, the home's footprint backed a 60-foot deep ravine that further complicated access. Finally, the construction schedule—which began in October 2009—quickly ran into the reality of a Wisconsin winter with record-breaking snowfall. Fortunately, ICFs were easy to transport to the jobsite, easy to maneuver and stack, and were completely unaffected by the months-long delay over the winter.
The final result is a showcase home. An AIA (American Institute of Architects) design award is pending, and it has been featured in the local press. Most important, however, is the fact that the owners love it. "They cannot believe how quiet, comfortable, and solid their home is, especially during large storms with high winds, which are characteristic of this area," reports Dumbleton. "This is a project that truly takes ICF construction to the next level of design, functionality, and useability."
Project Statistics
---
Location: Portage, Wisc.
Type: Private Residence—Custom Home
Size: 4,000 sq. ft.
ICF Use: 5,000 sq. ft. (all exterior walls) plus 4,500 sq. ft ICF floor decking
Cost: $600,000
Total Construction: 430 days
ICF Installation time: 120 days
Construction Team
---
Owner: David Dumbleton
General Contractor/ICF Installer: Midwest Modern, LLC
Form Distributor: Midwest Construction Materials
Architect: Kyle Dumbleton, AIA
Engineer: Iverson Engineering
ICF System: Walls by Quad-Lock/Floors by Quad-Deck
Like what you read?
Yearly Subscriptions Starting @ $30