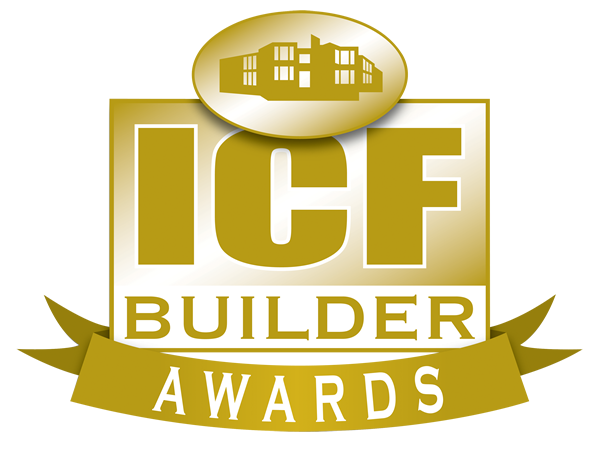 2018 Large Residential
Winner
One of the more unique green homes is Emerald City and its attached guest house, which is located outside the Colorado ski resort town of Steamboat Springs.
Mark Mueller, the homeowner, not only did the design work himself, but also served as GC and ICF installer. Mueller says "From the beginning, the objective of the Emerald City Project has been to significantly advance and showcase state-of-the-art sustainable building and living in ways that not only avoid compromises, but significantly enhance the lifestyle and beauty that a structure provides.  ICFs proved to be  the ideal medium for meeting those goals for countless reasons."
The homes feature extensive windows, radius walls, and even multiple large curved ICF roofs that add a unique look while also bringing many energy efficiency advantages.  In total, the house used more than 1,000 cubic yards of concrete and 115 tons of stone quarried on site.
The project lies within one of the coldest climate regions in the U.S., so comfort and efficiency was a major concern. The homes benefit from copious amounts of passive solar gains, which is absorbed by the abundant stone, concrete and plaster during the day and released back into the homes at night. Heating costs for the combined 6,000 sq. ft of living space averages less than $160 per month. Ultimately, Mueller wants Emerald City produce twice the energy that it consumes through efficiency and renewable onsite power generation.
In addition to the ICF walls and roof, the homes have many other sustainable features: energy efficient appliances, low voltage DC off-grid LED lighting, heat recovery ventilators, active solar collectors, triple glazed windows, wood burning stove, windows with automated shutters, rooftop decks with raised ICF garden beds; and extensive use of fly-ash concrete, a byproduct from a power plant less that 40 miles away.
Early on, the Emerald City project was accepted into the USGBC's LEED for Homes pilot program as a platinum level project. Mueller says it "significantly influenced the design of the program as it relates to green building, energy efficiency, and sustainability." Ultimately, though, he chose not to see certification to completion, in part because he felt the energy modeling software could not account for thermal mass and would not reflect real-world conditions.
The home is actually a substantial rebuilt/remodel of an existing residence on the site, plus the construction of a second residence which is connected via an underground tunnel (also ICF) that also serves as a wine cellar.
Mueller says, "All of the many advantages that ICFs provide in design, construction and the finishes were explored with this project with outstanding success. Even my outdoor hot tub is made from ICF!"
The wall portion of the remodel project was quite complex. The crawlspace under the existing house was transformed into a full-height ICF basement. The delicate job involved placing the structure on stilts, removing the old foundation and replacing it with 10-foot high ICF walls.
The new home has ICF radius walls up to 20 feet high.  The straight portions reach as high as 36 feet.  There were many complex joints where curved and straight ICF walls connected with curved and flat roof and deck surfaces, concrete bond beams and columns.  Much of these details were resolved using sophisticated CAD software. 3D model libraries were produced for all applicable ICF roof and wall forms to minimize waste and fabricate joints and bucking with great precision.
The curved roof is intended to reflect the sun's heat into rooms and nearby solar panels.  Second, air ducts near the high point of the interior collect hot air from the house and redirect it to the basement level." He admits the curved roofs and support structure could have been fabricated off-site with  steel, but says the cost savings, flexibility, and convenience of doing it on-site with ICFs was far more attractive.  Additionally, he says, steel could not have matched the thermal mass and insulation.
"Creating curved concrete roofs with Insul-Deck literally takes ICFs to a new dimension in both design and energy efficiency," he says.  The 3rd story main roof required placing 70 yards of concrete with as much as a 17 degree slope.  It's capable of supporting 140 PSF snow loads.
As an owner/builder project, Mueller took his time building.  The construction phase of the project extended over five years, and the walls were stacked using the now-retired Formtech and Reward Wall ICF brands. (Both companies were purchased by Fox Block several years ago). Continued on 27.
He reports, "By far the largest challenge was the weather. Construction took place year round, and most winters the temperature would never exceed the teens for at least two months, with occasional dips to 50 below. ICF construction was well suited for these conditions. The forms would keep the concrete from freezing while it cured.  And as long as the top was covered to keep out snow, a prepared wall could sit indefinitely in any weather conditions until it was filled with fresh concrete."
He continues, "The Emerald City project has been and remains an overwhelming success. The project receives continuous interest from the local community and beyond.  Efforts are continuing to showcase the home via online exposure, media coverage, and educational tours and publications. The second home is used for short-term vacation rentals, and Mueller says they come "specifically just to be able to experience it, and they never stop raving about it throughout and after their stay."
Project Statistics
---
Location: Steamboat Springs, Colorado
Type: Private Residence
Size: 6,000 sq. ft. (floor)
ICF Use: 16,531 sq. ft.
Cost: $1.2 million
Total Construction: 220 weeks
ICF Installation Time: 240 days
Construction Team
---
Owner + General Contractor + ICF Installer: High Energy Solar
Architect: High Energy Solar
ICF System: Insul-Deck, Reward, FormTech
Fast Facts
---
Curved ICF roof with 38' span
Main roof 35' high with 17 degree slope
20' high curved wall, single pour
LEED Platinum rating
National recognition from green building community
Like what you read?
Yearly Subscriptions Starting @ $30