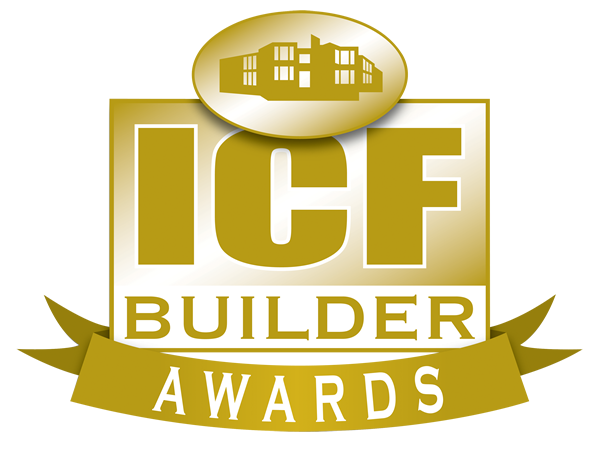 2006 Large Residential
Winner
When Bob Lagow began planning his dream home on a beautiful site a few miles north of Ft. Collins, Colo., he wanted it to blend seamlessly with the landscape. 
"It's a spectacular piece of land," Lagow says. "It's 20 acres backing onto a 20,000-acre wildlife refuge… Before we built, I camped out on the land every month of the year to determine where we wanted the house and how to situate it."
Architect James Plagmann also visited the property several times, eventually selecting a broad saddle between two hills that afforded 360-degree views of the scenery. Golden eagles circling the site
inspired Plagmann to pattern the home in the shape of an eagle with outspread wings.
"It has a visually stunning form, even from the ground," writes Plagmann. "The eagle metaphor is not forced, and the home works very well… This project optimizes the use of ICFs while also pushing the limits of the product. Also, the owners absolutely love the house."
The judging panel loved the house as well. Not only did the home win Best Custom Home of the Year, but beat out every other entry in this year's contest to take Best Overall Project of the Year.
Paul Foresman, who headed up the panel, wrote, "A very creative, unique, one of a kind design! The mixes of octagonal and circular shapes work well together and jointly create a very interesting, pleasing design. The quality and material selections are excellent, showcasing a warm, exciting, eclectic home!"
Lagow, who has no previous experience with ICFs, stacked all of the exterior walls himself, assisted by his wife Sandy and a retired contractor who lives nearby. Despite the design's difficulty, with sweeping radius walls and more than a dozen corners, he reports that construction was fairly straightforward. 
"We had a day or day-and-a-half of training with NUDURA reps, who came and helped us get it started," Lagow says. "I have a problem not liking to hang over tall edges and walk on shaky platforms, so it was challenging in that way, but we had no problems with installing the block," he says. 
"The project was just ideal for ICFs," notes Plagmann. "The owner wanted an energy efficient house, as well as a quiet house in a very windy location. The combination of R-value, mass, and zero air infiltration maximize the energy efficiency, and the concrete stands up to the high winds." 
Plagmann incorporated several other energy-saving features into the design, including hydronic radiant heat floors, a super-insulated roof, low-e windows, and passive solar design.
Located 7,400 feet above sea level, the home has already proven it can withstand some of Mother Nature's worst.
"We've had storms blow through here with 50- or 60-mile-per-hour winds, and I look up expecting to see the ceiling fan swaying, but it never is," says Bob. "We love it here. It's such a solid house. We're getting a lot of winds and drifting snow this year, and the house is as solid as it can be." 
Project Statistics 
---
Project Name: Eagle Rising
Location: Livermore, Colo.
Total Building Size: 4,000 sq. ft 
Cost: $700,000 
Project Start-to-Finish Time: 480 days
Construction Team 
---
Owner: Bob Lagow
Architect: James Plagmann
General Contractor: Mike Pettigrew
ICF Installer: Lagow & Pettigrew
ICF System: NUDURA
Like what you read?
Yearly Subscriptions Starting @ $30