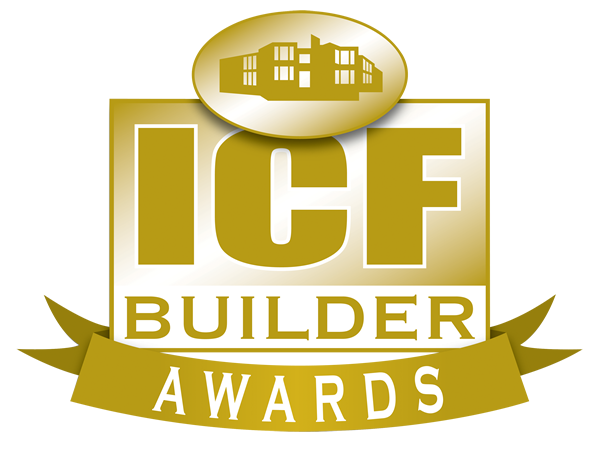 This year's contest featured a new category, Multifamily, and the project that took top honors in the new division is Surrey Grand Crowne, a resort condominium in Branson, Mo.
One of the major challenges facing the construction team was that the new building had to match exactly the other condo building already at the site. The others had been built with steel prior to the sudden cost increases in 2005. The skyrocketing price of steel and the need for a fire-proof building convinced the designers to look at ICFs, and eventually choose Reward, in part because of their block's lab-tested fire ratings and code approvals.
The 51,000 sq. ft. building was erected with a minimum of problems and was completed in about 180 days. General contractor WCI, which also installed the forms, says ICFs proved to be "the right choice every step of the way."  In addition to the exterior walls, ICFs were also used as demising walls between units (for sound dampening) near the stair wells (non-combustible rating) and for the elevator shafts (sound and fire ratings).
The contractor found other efficiencies as well. The insulated forms eliminated many steps associated with wall construction. Instead of installing "steel, insulation, sheathing, foam, and finish," once the concrete was poured, the wall was already insulated, furred out, and ready to finish.
The project went so smoothly, in fact, that the biggest problem apparently was finding HVAC units small enough for the energy-efficient condos. According to engineering calcs, they'd need 3/4-ton units. The smallest size immediately available was twice that size. 
Project Statistics 
---
Project Name: Surrey Grand Crowne 
Location: Branson, Missouri
Size: 51,000 sq.ft.
Completion Date: 2006
Project Start-to-Finish Time: 17 months
Cost: $6 million
Construction Team 
---
Owner/Developer: C.J. Perme
General Contractor: WCI, Inc.
ICF Installer: WCI, Inc.
Architect: Sloane Architects
Engineer: Silverhill Co.
Form Distributor: Reward Wall Systems
Fast Facts 
---
• Needed to match existing buildings
• Switched from steel after 2005 price hikes
• Demising Walls also ICF
• Biggest Problem was finding small HVAC units 
Like what you read?
Yearly Subscriptions Starting @ $30