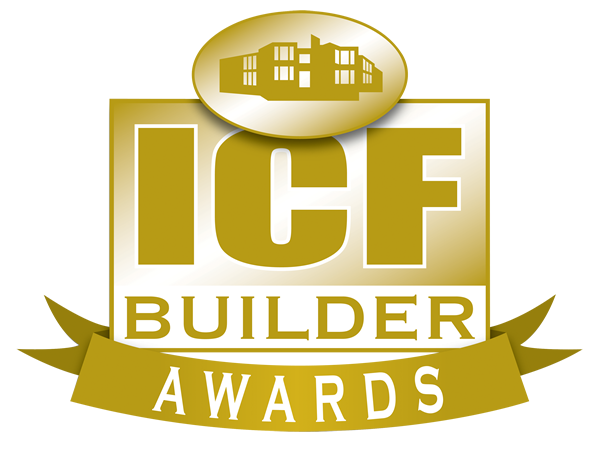 2013 MultiFamily 1st Runner-Up
The Ricchi Condominiums in San Antonio, Texas, is a landmark accomplishment for the ICF industry in South Texas.
Jerry Batey, owner of ICF Pros, the ICF installation subcontractor, says, "There have been residential and a few light commercial projects that have been built in the region in the past, but nothing on the scale of this project."
Developers wanted to provide a quality building to their buyers, so steel-reinforced concrete was an easy choice. The building is located directly below the flight path for airliners approaching San Antonio's international airport and adjacent to a U.S. Army training camp, so noise reduction was a major concern as well. ICFs provided a solution to all those concerns and created significant energy savings as well.
When the architect realized the versatility of ICFs, he incorporated them into nearly every aspect of the building. All exterior walls are ICF, as well as the interior walls between units, carports, pool house, and even the changing rooms. In total, the U-shaped, five-story luxury condo utilized more than a quarter million square feet of Fox Blocks ICF. (220,800 sq. ft. in the exterior walls, plus 38,000 sq. ft. interior walls.)
The architect designed the building in a way that every unit has a view of the natural landscape. This had the additional benefit of visually breaking up the massive walls into smaller segments and creating individual condo entrances along the 225-foot-long corridors inside.
However, that meant literally dozens of corners, which, combined with the hundreds of embeds and windows, made for an extremely complex and challenging project. Even the changing room—located adjacent to the pool, two spas, and green areas in the interior courtyard—has radius and interior ICF walls.
"We struggled a little on the first level," Batey admits, "but on the upper levels, things started to smooth out and we were able to work very efficiently."
During the construction process, city building inspectors stopped by to walk the jobsite and learn the ICF wall-
building process.
The higher insulation provided by forms reduced HVAC tonnage by 20%, resulting in significant energy savings. ICF construction methods also resulted in less waste at the jobsite.
Completed in September of 2013, Batey reports that the owners are so happy with the final product, they're already designing the next ICF projects.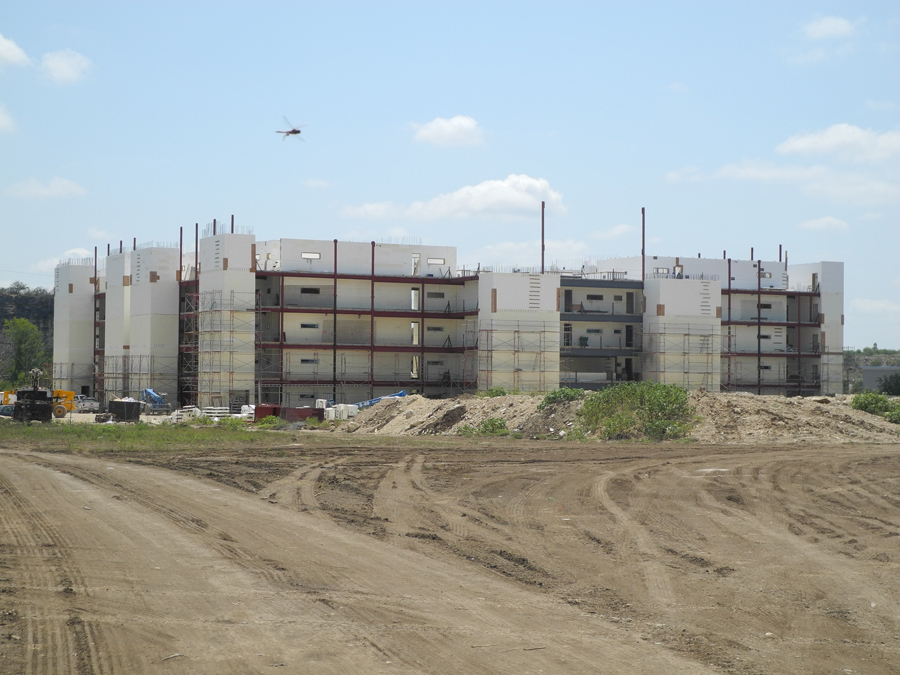 Location: San Antonio, Texas
Type: 5-Story Luxury Condominium
Size: 177,400 sq. ft. (floor)
ICF Use: 220,800 sq. ft. (all exterior walls) + 38,000 sq. ft. interior walls
Cost: $18.5 million
Total Construction: 24 months
ICF Start-to-Finish Time: 10 months
Developer: Ricchi Investments
General Contractor: Ricchi Investments
ICF Installer: ICF Pros, LLC
Form Distributor: Fox Blocks Direct
Architect: Spazio Design & Construction
Engineer: CLH Engineering Inc.
ICF System: Fox Blocks
ICFs chosen for sound absorption, efficiency, ease of use
ICF courtyard, poolhouse, changing rooms, carports
Massive project with dozens of corners and windows on each floor
Owners designing another ICF condo project due to the success of this one
Like what you read?
Yearly Subscriptions Starting @ $30