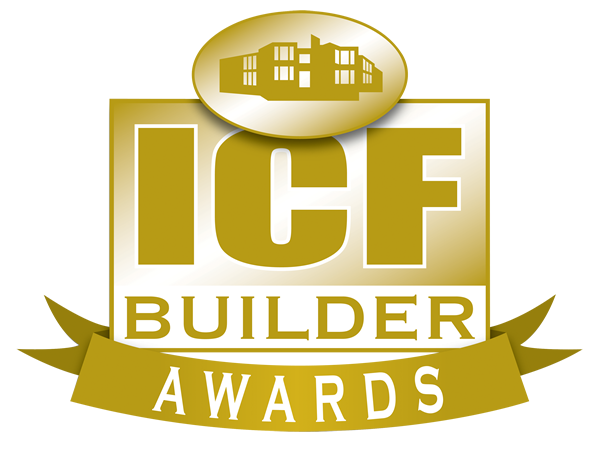 2011 MultiFamily
2nd Runner-Up
Oakville Mews is a Craftsman-style complex combining nine townhomes with five street-level revenue suites.
Patrick M.B. Chan, a representative for Logix ICF, which provided the forms for the project, explains, "The Town of Sidney wished to increase density in the core of the town while still retaining a small town residential feel… To meet that requirement, we ended up with a project that is architecturally complex with five levels of residential spaces within a building height of 2 ½ floors and many dormers and projecting decks."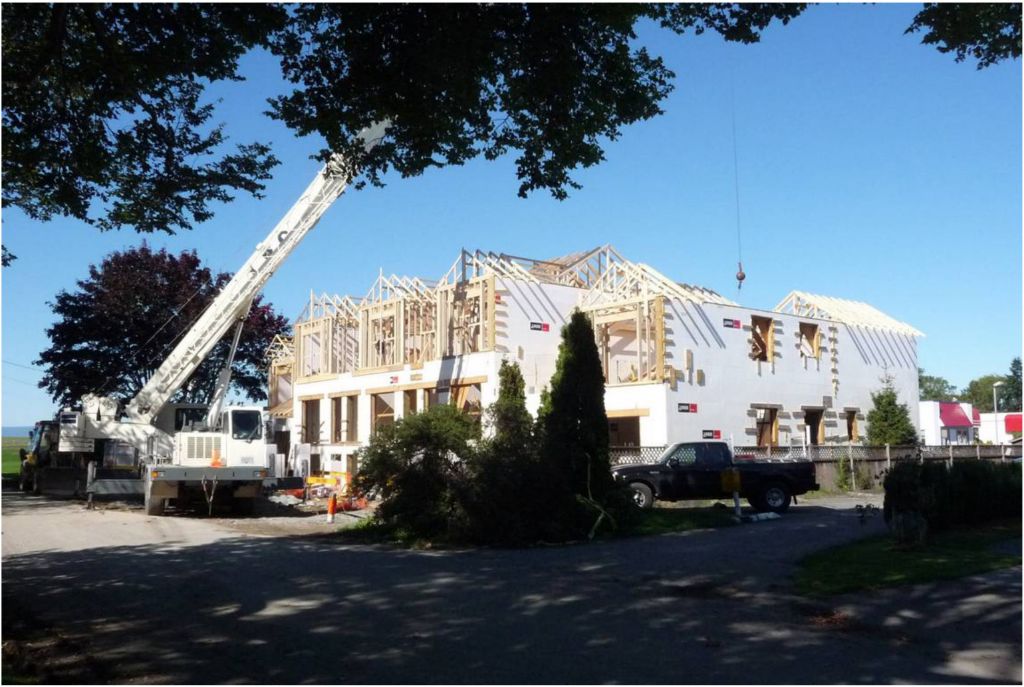 Another challenge was parking. With 14 living spaces on a 0.3 acre lot, adequate parking became a major concern; it was the reason the previous developer abandoned the project. This construction/design team solved the dilemma using a creative approach: a car-share program for residents of the complex, which would eliminate the need for some people to own and park a personal vehicle.
Chan says, "Even though this was a classic Arts & Crafts-style development, we used an advanced insulation wall system, Logix ICF, to offer an energy efficient, high impact green development. Logix ICF was used on this project to maximize sound proofing, fire separation between suites, and superior energy efficiency."
He continues, "This project is very close to the flight path of the major regional airport, so soundproofing was a high priority concern. ICF was seen as the best solution to the inherent challenges of noise pollution that came with being near an airport."
The decision to use ICF has since proved to be outstanding.
Chan says the project has opened doors for the ICF industry that otherwise would have remained closed. "This project has been highly supported by the mayor, council and the local residents and neighbors," he says. "British Columbia has a reputation of favoring wood construction over anything else. But the successful completion of this project really enhanced our reputation in the eyes of the Town of Sidney. We are now viewed as innovative, 'think-outside-the-box' developers and more particularly, favored with our home warranty providers."
He concludes, "Although not a high-dollar project, we have achieved a classic and quality building that will provide residents with the comfort they deserve."
Project Statistics
---
Location: Sidney, B.C., Canada
Type: Townhomes with retail on ground level
Size: 11,000 sq. ft.
ICF Use: 11,800 sq. ft. (all exterior walls) plus 4,000 sq. ft. interior demising walls
Cost: $4 million
Total Construction: 365 days
ICF Start-to-Finish Time: 105 days
Construction Team
---
Owner: By the Sea Enterprises
General Contractor: Sorensen Developments
ICF Installer: Black Bamboo Design & Build
Form Distributor: Slegg Construction Materials
Architect: Curtis Miles Architecture
Engineer: JSH Engineering, Ltd.
ICF System: LOGIX ICF
Fast Facts
---
ICFs help soundproofing from nearby airport
Nine townhomes and five retail spaces
Arts & Crafts-style with multiple dormers, decks, and varying floor heights
Maintained a popular website and blog documenting construction process
Like what you read?
Yearly Subscriptions Starting @ $30