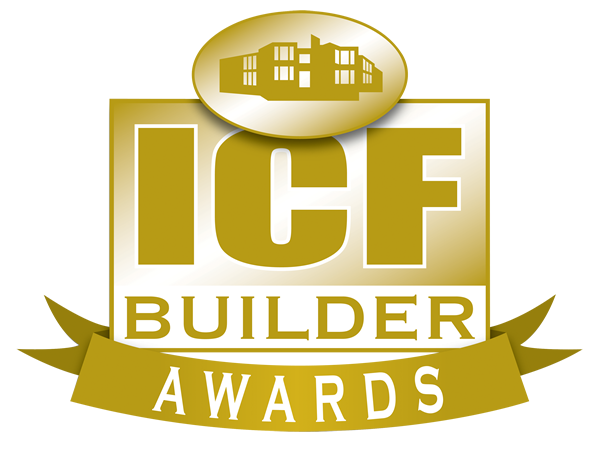 2007 Large Residential
2nd Runner Up
The second runner-up in the Large Residential category is the Boone Residence, a 7,500 sq. ft. home in Knights Ferry, Calif.
Like most residential ICF construction, the decision to use insulating concrete forms was made by the owners, who liked the energy efficiency, fire-resistance, and storm protection the technology provides. Chuck Toledo, an experienced ICF home builder in the area, was brought in when the project was already underway.
The build took place during an unusually wet spring. Frame construction in the area fell more than two months behind schedule as the Boone Residence continued to meet construction deadlines. 
The home has several unusual features, including a 30' radius ICF wall, which is punctuated with large windows. A large deck spanning 40' covers the back of the home, and the bay windows—built from ICFs—are suspended more than 9 feet above the basement footings. They are supported by concrete corbels that were formed and cast on site. The walkout basement and retaining walls on the lot are also made from ICFs, and one ICF wall soars 35 feet from footing to sill plate.
Interior and exterior finishes were carefully selected for long-term beauty and to minimize maintenance. On the outside, Hardi-Plank cement-board siding and real rock create a country look. Forty-year singles ensure the roof will last. Inside, mahogany floors in the main living areas and cherry handrails on the stairs and balcony contribute to a feeling a luxury.
A large Waterford crystal chandelier
hangs from an inset 14' diameter dome in the ceiling.
The Boones took care to ensure their home conserved as much energy as possible. The roof is insulated to R-38, with Polar-Guard foil sheathing for additional efficiency. The three floors of the home each have their own heating/cooling system to maximize comfort and efficiency. Solar panels on the roof are capable of providing a 10 kilowatt output on cloudless days.
Those systems, working together mean the Boones pay about $150 a month for energy bills when neighbors in similar sized homes pay more than $1,800. 
With performance like that, it's no wonder the National Association of Home Builders named it "2006 Concrete Home of the Year over 4,000 sq. ft." and featured it in the January 2007 issue of Building Systems magazine. 
Project Statistics 
---
Project Name: Boone Residence 
Location: Knights Ferry, Calif. 
Size: 7,500 sq.ft.
Completion Date: June 2006
Project Start-to-Finish Time: 16 months
Cost: $1.6 Million
ICF Brand: Arxx and Amvic
Construction Team 
---
Owner: K. and M. Boone
General Contractor: Toledo Construction
ICF Installer: Toledo Construction
Architect: MTD Engineering Graphics
Engineer/Designer: Diablo Engineering
Form Distributor: Toledo Construction
Fast Facts 
---
• Built During Rainy Spring
• ICF Construction Avoided 2-month delay
• 30' Radius Wall
• Solar Panels, High-velocity Heat Pumps
• Separate A/C for each floor
• Energy Costs are 1/10 the Neighbors'
Like what you read?
Yearly Subscriptions Starting @ $30