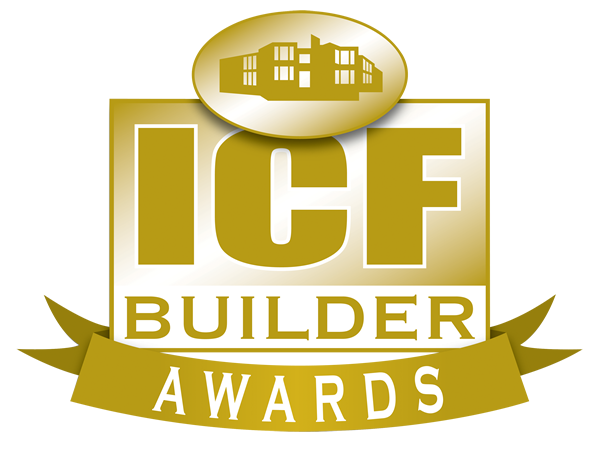 2007 Winner
Small Residential
The Turner Residence is truly a ground-breaking project. Built on a beautiful, forested lot in rural Tennessee, the project was the first occasion for many people in the county to be exposed to ICFs, including the local building officials. 
Angela Barnard and Charles Turner, owners of the home, were a critical part of the decision to build with ICFs. A previous house they'd lived in had a few structural problems, so they wanted this new home—their dream home—to be solid. They chose Agate Foundations and Piering, a contractor they'd hired to do the remediation work on their old home, to design and build the new one.
The owners liked the strength ICFs offered, but they immediately noticed other advantages as well. They were energy efficient. Their strength allowed the designers to incorporate massive openings and support extended clear spans.
They wanted a "Frank Lloyd Wright-ish" look to the home, which was designed using what Jamie Quarve (pronounced "kor-vee"), owner of Agate Foundations, calls a "total systems approach." 
Using Nudura-brand forms, which are 8-feet long instead of the typical 4', work proceeded quickly. The home has a contemporary look with a light airy feel, despite using dozens of yards of concrete in the walls. Clerestory windows provide natural light for a massive 30' x 36' free-span room that serves as the focal point of the main living area. Seventeen-foot ceilings provide lots of room for air circulation. And the windows, measuring 7' tall by 10' wide, prove that a concrete home does not have to feel like a bunker. Low-E glass and wide roof overhangs reduce solar gain through the windows.
According to Quarve, the most difficult portion of the project was assembling the complex hipped roof. 
The roof portion of the project became more difficult before the job was through.
As the first ICF home built in the county, the Quarve's had to do a considerable amount of education as the walls went up. Code officials, cautious of the new building method, were provided with the materials they needed, and construction went forward smoothly—until the roof went on. The inspector told Quarve a preservative-treated stringer had to be inserted as a top plate between the trusses and the wall. The foam stripping and vapor barrier were insufficient. 
That decision meant removing and replacing more than 500 hurricane straps on an already-installed roof—a full month's work—but it won over code officials. The home has become a landmark with its distinctive copper roof, and the Quarve's have become something of an ICF legend in the area.
Building officials and once-skeptical neighbors are now sending referrals, with two design/build jobs already underway. The once hesitant code inspectors are asking the Quarve's to give presentations to other owners and builders in the county on how ICF construction works.
And the Turners? They're reportedly "extremely happy" with their new
home. Glass railings outside the large windows ensure unobstructed views of
the nearby lake. They don't have to worry about the structural integrity of the walls, and as an added benefit, energy costs for their first three months have averaged
$72/month. 
Project Statistics 
---
Project Name: Turner Residence 
Location: Ten Mile, Tennessee 
Size: 4,500 sq. ft.
Completion Date: June 2007
Project Start-to-Finish Time: 11 months
Cost: $405,000
ICF Brand: NUDURA
Construction Team 
---
Owner: Angela Barnard and Charles Turner
General Contractor: Agate Foundations & Piering
ICF Installer: Agate Foundations & Piering
Engineer/Designer: Agate Foundations & Piering
Form Distributor: Architectural Walls and Coatings
Fast Facts 
---
• Contemporary Design
• 30'x36' Free Span room
• 17' ceilings
• 7' x 10' windows
• Energy Costs are $72/month
• 1st ICF Home in County
• Home Won Over Code Officials
• Asked to Give ICF Presentations to Others
Like what you read?
Yearly Subscriptions Starting @ $30