SEBC "Show Home of the Future" Uses ICF 
The 2007 New Southern Home is designed to showcase the building technologies of the future, available today.
Roland "Jim" Krantz, owner of James M. Krantz Construction Corp. and builder of the home, also wanted to demonstrate sustainable construction techniques.
"One of the main goals for the house was to be as environmentally friendly, or 'green,' as possible," says Krantz.
Insulating concrete forms, which were used to form the exterior walls of the house, helped him meet both goals.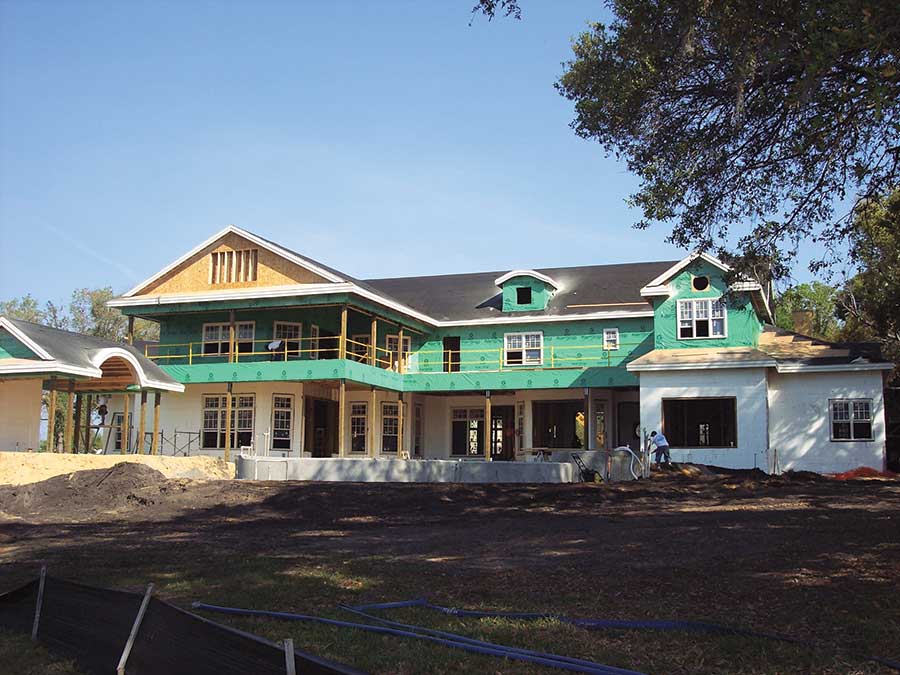 Krantz and his father, who have worked together in the construction industry for more than 40 years, worked hard to make the technologies used in the home more accessible to visitors.
"I want to truly educate people about the products and also why they used them," the younger Krantz says. He convinced material suppliers to provide on-site reps during the public tours to answer questions. 
The home, located in Orlando, was completed last July in time for the SouthEastern Builders Conference (SEBC). It will remain open for tours through February to accommodate visitors at the International Builders Show in Feb. 2008.
The 2007 New Southern Home looks quite different than other years' models. 
"It's usually a Tuscan, Mediterranean-style stucco house" explains Krantz, referring to show homes in years past. "I wanted a Hamptons, New England-style coastal theme." So home designer Chris Gooden of Gooden Design did exactly that, specifying French-pane windows, imitation cedar-shake siding, and faux cobblestone accents.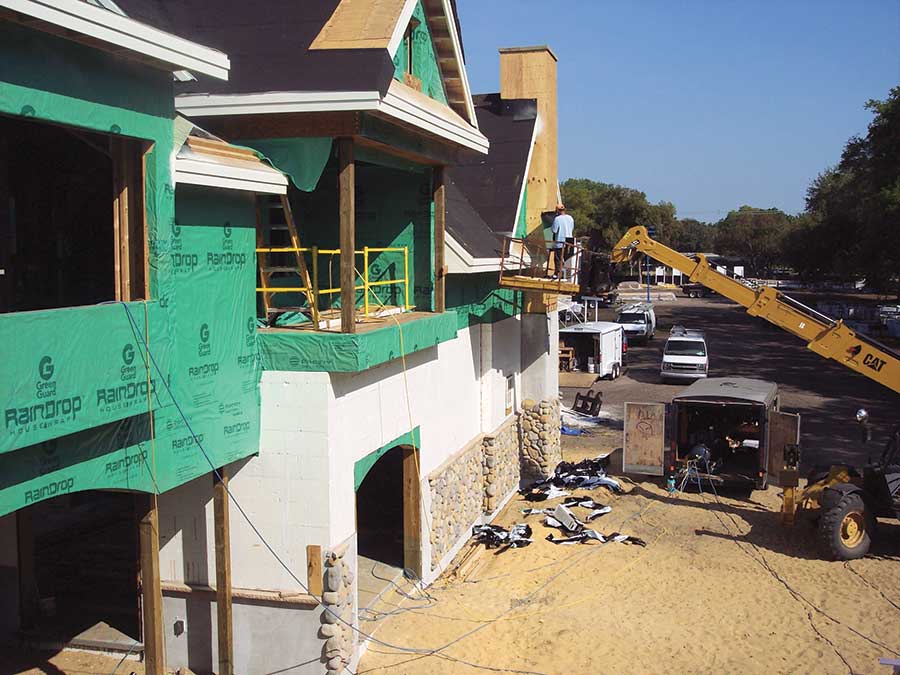 Inside the 12,200 sq. ft. home, an open floor plan caters to an active Southern lifestyle and could also accommodate barrier-free living for those with disabilities. The home has six bedrooms, eight baths, 3 half-baths, a media room, rec room, and craft room, as well as several other entertainment areas. Outside, it features three garages, a workshop, pool, outdoor kitchen, and covered eating area.
The home was originally going to be built with concrete walls using removable forms, but two weeks before the groundbreaking, Krantz was still wondering if he could use another, greener, product for the task. That's when he got a phone call from a representative at Greenblock Worldwide, a Florida-based ICF company.
Krantz initially had a lot of questions, like whether it would work with the specified interior and exterior finishes, and how installation would proceed. "I didn't really know much about it and didn't want to go down this road," he admits.
In the end, however, he became convinced ICF construction was a superior option. Their energy-efficiency, noise-reduction, and ability to survive extreme weather made them the logical choice. "We chose ICFs for the exterior walls of the house because of their extreme energy-efficiency," he says.
Any ICF construction concerns he may have had vanished as the walls went up. Greenblock partnered with Insulated Concrete Walls, a national ICF installation subcontractor, to construct the walls. ICW sent a crew of 15 to tackle the enormous task, which they had finished in about 3 weeks. They also installed a Lite-Deck
safe room.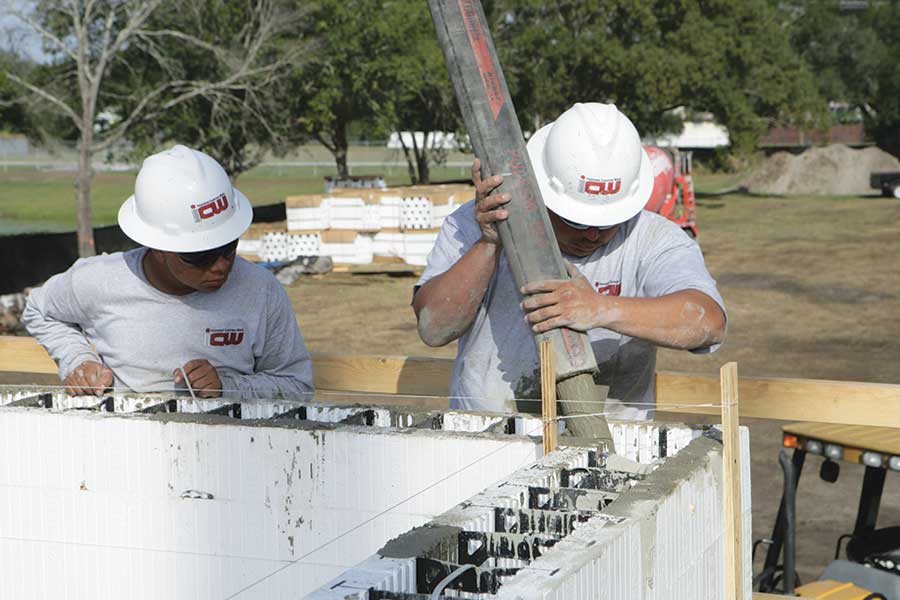 Krantz discovered that in many ways, building with ICFs is easier than any other alternative. "You can put anything you want on this surface, inside and out," he says. Minor imperfections in the wall are also easier to fix. "Instead of chipping concrete, all you're doing is shaving the foam in," he says. "You're not out there with jackhammers and grinders."
"Greenblock is proud to be a part of this project," says Jeff Alexander, CEO of Greenblock. "Our insulated concrete forms provide walls that are strong enough to stand up to the hurricanes and tornados so prevalent in this region. An additional benefit is the healthier indoor air quality due to the lack of air infiltration through the solid concrete walls. We're looking forward to introducing more builders and homeowners to energy-conserving, sustainable and environmentally responsible building technologies."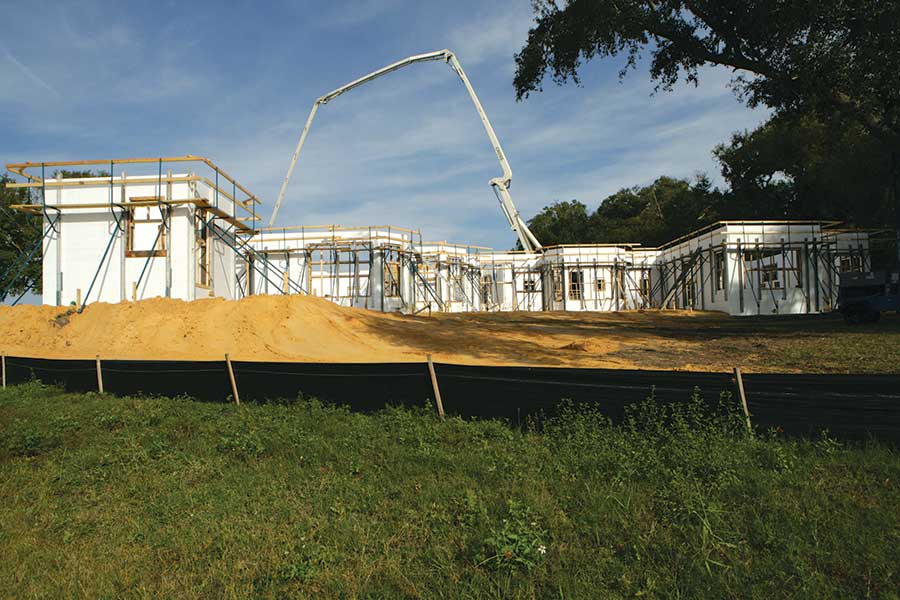 The New Southern Home program is backed by the Florida Home Builders Association and is considered the premiere show home in the Southeast, a tradition that began in 1988. The home will be open to the public through the International Builders Show running Feb.13-16, 2008 in Orlando. Admission is $10 with proceeds going to local charities. 
Fast Facts
---
Location: Orlando, Fla.
Size: 12,200 sq. ft
Completed: July 2007
Construction Team
Residential Designer: Gooden Design
Developer & General Contractor: James M. Krantz Construction 
ICF Installer: Insulated Concrete Walls Inc.
Form: Greenblock Worldwide Corp.