America's Oldest ICF Celebrates with Gala Event
American PolySteel, the oldest ICF manufacturer in North America, turns 30 this year. The company traces its roots back to Werner Gregori, the Canadian who was issued the first patent for insulating concrete forms in 1966. 
American PolySteel was founded in 1978 as Southwest Foam Form by brothers Dick and Bob Porter. Dick, an Albuquerque school teacher, had built a basement with Gregori's stay-in-place forming system and was so impressed he licensed the technology to produce Foam Form in New Mexico. Within a few years, they built a manufacturing facility—with ICF walls, of course—that would serve as company headquarters until 2004.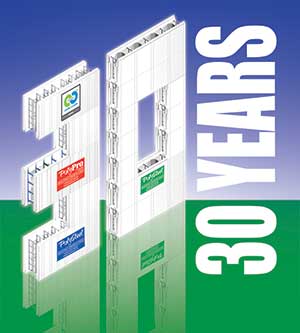 In 1986 Lance Berrenberg purchased Southwest Foam Form from the Porter brothers. He made the forms more user-friendly by adding wooden "nailers" as an option, and eventually redesigned the form to use an expanded metal form tie, a change that led to renaming the company American PolySteel.
Patrick Murphy, president of American PolySteel says, "Fundamentally, Lance Berrenberg really created the standard for ICFs when he extended the tie to the surface of the form to make mechanical attachments possible. That changed the nature of how you could finish ICFs. It took them from a basement/stem wall system and brought them above grade. Now, every ICF of consequence has an integrated furring strip. That started with Lance."
With Berrenberg at the head, PolySteel continued to blaze a path of innovation.
"He understood that for an ICF to succeed, there needed to be comprehensive training," says Murphy. "PolySteel was the first product with a good comprehensive manual and training course. It was the only way it could be fully and completely accepted by the building industry."
In 1995, Berrenberg was one of six charter members who founded the ICFA. Murphy joined the company the following year as general manager.
"Lance has been extraordinarily generous in sharing the things we've done for the greater good of the industry," he says. Among the donations: the original test data on the thermal mass contribution to effective R-value, the first code approval, a major contribution to the prescriptive method, and the installation curriculum for the Carpenters Union training course.
The company grew rapidly. By 1998, Professional Builder magazine claimed PolySteel was the most recognized ICF in
the country. 
As the new century approached, however, ICF competition had become intense. 
"In the early 2000s, our technology was being leapfrogged by many competitors," admits Murphy. "We had to take a major step to match the advances that had been made by other products." In 2000, Murphy and several leading distributors bought the company from Berrenberg.
PolySteel introduced a new welded-wire tie, integrated into a redesigned, reversible, waffle grid form and a new two-foot-tall flat wall form. Exposed metal furring strips disappeared beneath the foam. A new 45-degree corner simplified construction. In 2004, they finally rolled out PolyPro, a knock-down form with removable plastic ties. PolyPro reduces shipping costs and makes cutting forms significantly easier.
In early February, the company made its 30th Anniversary the centerpiece of its annual distributor convention. Attendees included many notable industry contributors, including Steve Heller, executive director of the ICFA, Donn Thompson, Residential Technology Manager for the PCA, Lance Berrenberg, former PolySteel president and industry pioneer, and even the Porter brothers, who brought their parents – the original financiers of what would become a thriving industry. Among the items on display was the very first ICF that came out of the Porters' machine back in 1978, along with other historical artifacts and items highlighting PolySteel's accomplishments, including their most recent milestone as the first ICF to achieve Cradle to Cradle Certification.
Like all PolySteel events, however, training and education were paramount.
Murphy is emphatic about investing in his distributors. "In the end, our product is sold to people, by people, so it only makes sense to ensure that our associates have the training and resources they need to meet the needs of their customers," he says. "That's something that has been woven into the fabric of who we are as a company from the very beginning." 
"Our goal is simply this," he continues. "We want our distributors to leave our convention with more value than it cost them to attend. We have distributors across the country that often feel like they're the only ones out there doing this. We want to help them exchange ideas, experiences, and learn from each other as much as they may from us. That is the real value of getting together each year."
That emphasis on training and distributor integrity has often made PolySteel a target for those who try to lure away top talent. It's an approach that Murphy discourages. "Cherry-picking jobs or people from competitors has never been a strategy of ours.  It's a cost we're willing to incur because we believe that our industry-growth strategy is better for us – and everyone else – in the long run. We just don't believe that the best way to grow an industry is to cannibalize it from within."
This year, much of the training focused on sustainable building, and how to capitalize on the green building trend.
"Environmental sustainability has been a part of who I am—and who the company is—for a long time," explains Murphy. "PolySteel provides people who want to 'build green' the very best material for their exterior building envelope."