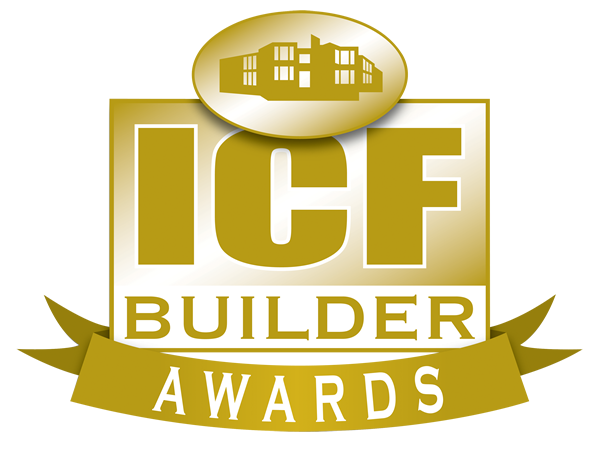 2021 Light Commercial
2nd Runner-Up
The city of Carlyle in far southeastern Saskatchewan in Canada needed a new fire hall that was more modern, larger, and functional for years to come. They got all that and more with the new Carlyle Fire Hall, built using Amvic blocks. 
The new fire hall is just over 11,000 square feet with 13,800 square feet of exterior ICF walls, and a 1,200-square-foot interior ICF demising wall for a total ICF usage of 15,000 square feet. Work on the new facility began in December 2019 and was completed in November 2020. It won the second runner up in the annual ICF Builder Awards Light Commercial category. The project's submitter, Kristen Iversen of DSI Contracting in Weyburn, Saskatchewan, says the ICF installation took only 14 days out of the total construction schedule of 52 weeks, and that the construction team saved 4 weeks by using ICF. It's the first ICF fire hall in the entire province. 
Southeast Saskatchewan's new fire hall is intended to be a training center and set the standard for surrounding communities. The post-disaster building will become the town and rural municipality's emergency center in the event of a disaster. The Carlyle Fire Department now has a building with two drive-through bays and four other bays, a meeting room, an office, a multi-purpose room, and his and her bathrooms. The building has plenty of space for daily activities and for all necessary equipment to be stored all year round. 
The walls were a combination of 8-inch and 6-inch ICF blocks for a total height of 20 feet. The walls required two 10-foot pours in the middle of winter. In Saskatchewan, temperatures can get severely cold, and in this case glycol heat lines are run through walls to act as the heating and hoarding method. In Canada, a method known as "hoarding" is often used during cold weather, in which the concrete is protected and insulated while it is poured and cures. 
There are two different ceiling heights between the shop and office portions of the building. Finishers applied three different flooring products: The shop floor was completed with an epoxy coating, washrooms were finished with a polyaspartic, and a polished concrete floor with the fire board logo completed the office area.
ICFs are a good idea in just about any type of structure, but in particular a fire hall such as this, which must retain its own resilience in the face of any unexpected disaster. Over the long lifespan of a civic building like this, the city will enjoy lower operating costs due to a more steady interior temperature. In addition, the building is quiet, which allows the firefighters to sleep and rest in undisturbed comfort. The building itself is fire resistant and durable, which allows the firefighters and the city to not have to worry about building maintenance. 
Project Statistics 
---
Location: Carlyle, Saskatchewan
Type: Fire Hall and Post-Disaster Building
Size: 11,008 sq. ft.
ICF Use: 15,000 sq. ft. 
Cost: $2.3 million
Total Construction: 52 weeks
ICF Installation Time: 14 days
Construction Team 
---
Owner: Town of Carlyle & RM 63 Fire Board
General Contractor: DSI Contracting
ICF Installer: Safrane Construction 
Architect: ARCCADD Architecture 
ICF System: Amvic
Fast Facts 
---
Combination of 8-inch and 6-inch ICF walls on a concrete spread footing
Concrete walls used to achieve fire separation due to close proximities 
Winter concrete heated by glycol lines ran through the walls 
Main heating system in-floor heat 
Interior demising wall built with 8-inch ICF
Post disaster building built out of ICF and wood framed roof 
Like what you read?
Yearly Subscriptions Starting @ $30