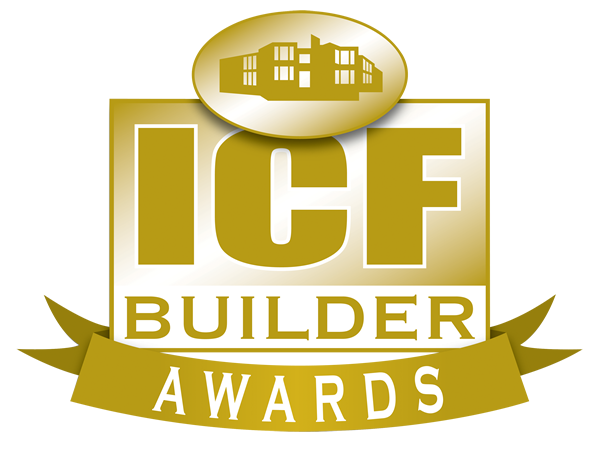 2007 Heavy Commercial
1st Runner Up
The Armed Forces Reserve Center in Pinellas Park, Fla. was named First Runner Up in the Heavy Commercial category of the ICF Builder Awards.
Judges cited the size and architecture of the building, as well as the fact that it represented the first large military application of ICF technology.
Since the terrorist attacks of 2001, the federal government has mandated that all military buildings must have built-in "force protection" –the ability to protect occupants from hurricanes, explosives, and other impacts. 
"We selected ICFs for wall construction because it presented an extremely effective method of achieving the reinforcing requirements for exterior walls," says William H.S. Murray, lead architect for the project. In fact, the designers found that ICFs cost 25% less than masonry construction, because of the additional reinforcement masonry requires. 
Murray adds, "ICFs presented a reduction in labor costs for construction, as well as offering advantages of superior energy efficiency and sound control… For example, we were able to line all the warehouse walls with gypboard, because it is fully supported on the ICF walls." The ability to apply synthetic stucco exterior directly to the ICFs also resulted in cost savings. 
The reserve center is actually three separate buildings totaling 140,000 total square feet. ICF walls in the main building are 44 ½ feet high, the two peripheral buildings have walls 18 feet high. Shared by the Florida Army and Naval reserve forces, it is the largest building of its kind in the state. Construction was completed in late 2004.
The project's general contractor, Hunt Construction Group of Tampa, chose Icon, Inc. as the ICF subcontractor, citing the company's experience with large-scale ICF projects. Icon, in turn, selected the insulating concrete form: iForm from Reward Wall Systems.
Michael Savidakis, project director with Hunt Construction Group, says the iForm has potential to be used in more government applications. "This is a fairly simple system with great potential for future projects," he says. The ICF system "provides opportunities with skilled and unskilled labor resources, yet maximizes efficiency of cost and schedules."
"This was a very complicated, but also a very important project," says Ed Storm, president of Reward Walls, "not only for Reward, but for the entire ICF industry. The federal government is looking at alternative building products, and there is a potential for a very large inventory of projects for ICF construction." 
Project Manager Stan Shaw of Hunt Construction Group says that numerous government officials visited the jobsite and were very favorably impressed. Military representatives were extremely pleased with how quickly the building went up, he says, and, "two different Congressional committees have come down here to see what we're doing." 
Project Statistics 
---
Location: Pinellas Park, Fla. 
Total Bldg Size: 140,000 sq. ft
Cost: Undisclosed 
Project Start-to-Finish Time: 18 months
ICF Form: iForm by Reward
Construction Team 
---
Owner: Department of Military Affairs
Architect: URS Corporation
General Contractor: Hunt Construction Group
ICF Installer: ICON Structures, LLC
Like what you read?
Yearly Subscriptions Starting @ $30