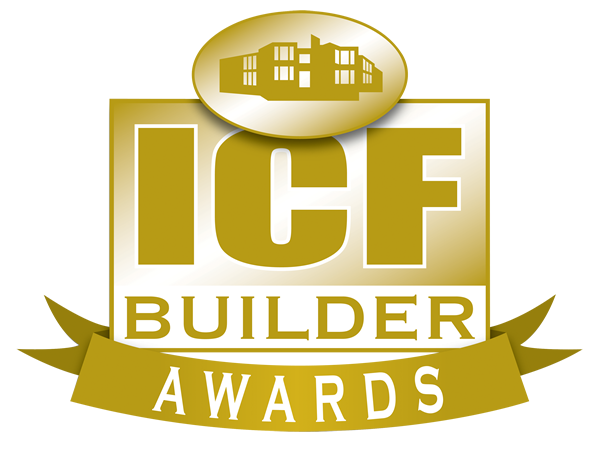 2007 Large Residential
2nd Runner-Up
The Greenwood ICF home, located just west of Minneapolis, Minn., looks much smaller than it's actual 10,000 sq. ft.
"It's a great home showcasing how a concrete home can be just as attractive or even more attractive than a conventionally built home," says one judge.
"A very impressive home! Not only in sheer size but also in the attention to detail both inside and out," says another. "The home is a masterpiece! The interior and exterior design harmonize and are both executed to the highest of standards."
The three-story home is built on a sloping lot overlooking St. Alban's Bay on Lake Minnetonka. The rear of the house has nearly floor-to-ceiling windows in every room to accommodate the view.
On the interior, the home boasts custom cherry cabinetry throughout, floors of Brazilian cherry, an indoor basketball court and elevator.
Because of the sloping lot, it could have been a challenging build. "The land had to be excavated, completely re-landscaped, and backfilled almost a story high to accommodate the design of the home," says Connie Chisholm of Reward Wall Systems, which provided the ICFs for the project. She credits the strength and insulating qualities of the ICF walls as a major reason for this project's success.
Most of the exterior shell was stacked and poured in November and December—a time when most concrete work in northern Minnesota comes to a standstill. But because ICFs hold heat so well, contractors were able to easily place the concrete and keep the construction on schedule. 
The builder, Vogue Homes, has used ICFs exclusively for nearly seven years now, saying it virtually eliminates callbacks for nail pops, cracked stucco, and mold. It allows them to build on challenging lots—like this one—that other builders wouldn't consider.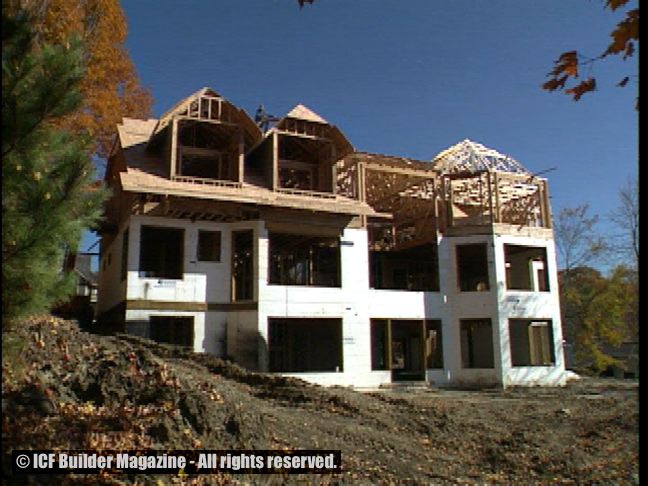 Finished in March of 2006, the current owners already are enjoying the benefits of their ICF home. They estimate their heating bills to be about 20% of what they'd be in a traditional stick-frame house with conventional forced air, thanks to ICF walls and radiant floor heat. With a popular—and noisy—lake literally in their backyard, they also appreciate how the foam and concrete walls eliminate the roar of the motorboats, vacationers, and jet skis.
Project Statistics 
---
Project Name: Greenwood Residence 
Location: Greenwood, Minn.
Total Building Size: 10,000 sq. ft.
Cost: $4.9 million 
Project Start-to-Finish Time: 6 months
Construction Team 
---
Owner: Blake and Mari Anderson
Architect: Vogue Homes
General Contractor: Vogue Homes
ICF Installer: Advanced Wall System
ICF System Used: iForm by Reward
Like what you read?
Yearly Subscriptions Starting @ $30