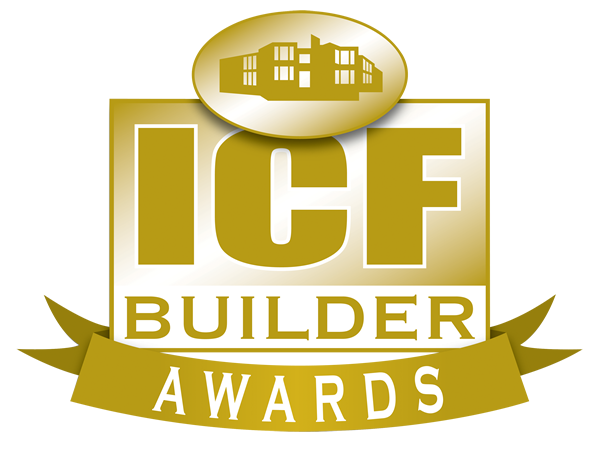 2023 Heavy Commercial
1st  Runner-Up
The Centre National de Cyclisme de Bromont, or CNCB, is an eye-catching structure thanks to its elliptical shape and tall, curved walls. The name of this building translates from the French as a "national center for cycling," based in Bromont, Quebec, Canada, but this multi-sport athletic building is actually much more than just cycling, and has an interesting connection to the past. Built using Nudura blocks, the exterior walls add up to 40,000 square feet of ICF for a total size of 70,000 square feet. Seven thousand square feet of Nudura ThermoFoam was used as underslab insulation. The builders, Geratek, who were both the general contractor and the ICF installer, installed the ICF in 150 days out of a total project construction time of 64 weeks, and they estimate that they saved three months by using ICFs.
The building houses the original velodrome track (arena for track cycling) used in the 1996 Olympics held in Atlanta, Georgia. "The building has a steel structure with a wooden track surface which needs a stable and properly conditioned interior environment," says Nudura's Eric Lemaire. "The importance of a well-conditioned and stable indoor environment throughout the seasonal changes is critical for optimal use and performance of this competitive track. This is offered naturally with an ICF building envelope that allows for optimal and stable interior conditions and is easily controlled throughout all seasonal changes. ICF construction easily and efficiently allows for optimal conditions and environmental control."
Using ICF exterior walls allowed the contractor to continue the build throughout the winter without any stoppages due to cold weather, which can reach -30 C in this part of Canada. Another highlight of this building is that it is an International Olympic Committee–recognized training facility. And, this building will be used as a reference point for the Hilo program which is a subsidiary of the provincial energy supplier Hydro-Quebec that specializes in new smart energy services.
Building Demands
The elliptical-shaped building design incorporated two multi-radius walls on either end of the building, along with varying wall heights ranging from 20 feet to more than 45 feet above grade. Nudura was able to assist the building with specific ICF layout plans, including all radius cuts. "The complexity of the design required great craftsmanship to achieve the desired flow of the building architecture," says Lemaire. "Precision was of high concern to make sure the fit for the velodrome track structure was perfect with extremely strict dimensional tolerances. Having the building closed in quickly allowed for the interior space to properly acclimate quickly and steadily, preventing the wood of the track to swell beyond allowable tolerances."
Using ICF for the exterior walls helps regulate the temperature, thanks to the thermal mass, which will in turn reduce and stabilize energy consumption. Also, because ICFs have less components than other types of wall assemblies, there are less opportunities for material interaction failures. "This building is durable and will outlast its neighbors while serving athletes for generations to come," says Lemaire.
Project Impact
The CNCB was completed well within the expected time schedule and was officially opened as planned to a wealth of federal, provincial, and local government officials; project contributors; and media. It took years to bring this project to fruition, which was completely funded through contributions collected during an 8-year process of federal and provincial sporting and business development grants along with a multitude of sponsors and private donations. Nudura was chosen in part because it is manufactured within a short distance of the project location. The building's owners looked over the benefits of ICF and concluded that its intended use and service would benefit from ICF. The general contractor was already familiar with ICF construction, and Nudura provided all training and offered assistance to the architectural and engineering teams in all areas entailing ICF.
"The strength and durability along with the reduced operating costs from using ICFs will provide a world-class building to the sporting community now and for future generations," says Lemaire.
Project Statistics 
---
Location: Bromont, Quebec, Canada
Type: Multisport athletic building
Size: 70,000 sq. ft.
ICF Use: 40,000 sq. ft.
Cost: $18,000,000
Total Construction: 64 weeks
ICF Installation Time: 150 days
Construction Team 
---
Owner: Centre National de Cyclisme de Bromont
General Contractor: Geratek
ICF Installer: Geratek
Form Distributor: Givesco
Architect: ABCP Architecture
ICF System: Nudura
Fast Facts 
---
Federal, provincial, and locally funded project
International Olympic Committee-recognized cycling training facility
All year usage in all weather conditions.
Participant in Hilo, a Hydro-Quebec program offering smart home energy services
Very low expected energy use
Like what you read?
Yearly Subscriptions Starting @ $30