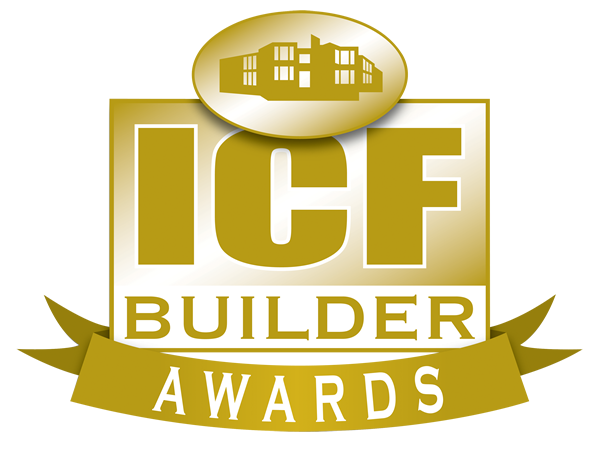 2012 Heavy Commercial Winner (Tie)
No single project has done more to promote the use of ICFs in the education sector than Richardsville Elementary. Built in Bowling Green, Ky. and completed in time for the 2010-2011 school year, it is the nation's first (and so far only) net-zero school. In fact, it generates more electricity than it uses, and it was built at a cost comparable to any other new school project.
It has generated mountains of publicity for the ICF industry, and the architects and engineers who designed the project are fielding calls from across the U.S. and as far away as New Zealand.
The story begins with Mark Ryles, who oversees facility management for the Kentucky Department of Education. He had discussed the concept of a net zero school on and off with Ken Seibert of CMTA Consulting Engineers, and one day in 2006 asked to set up a meeting on the topic.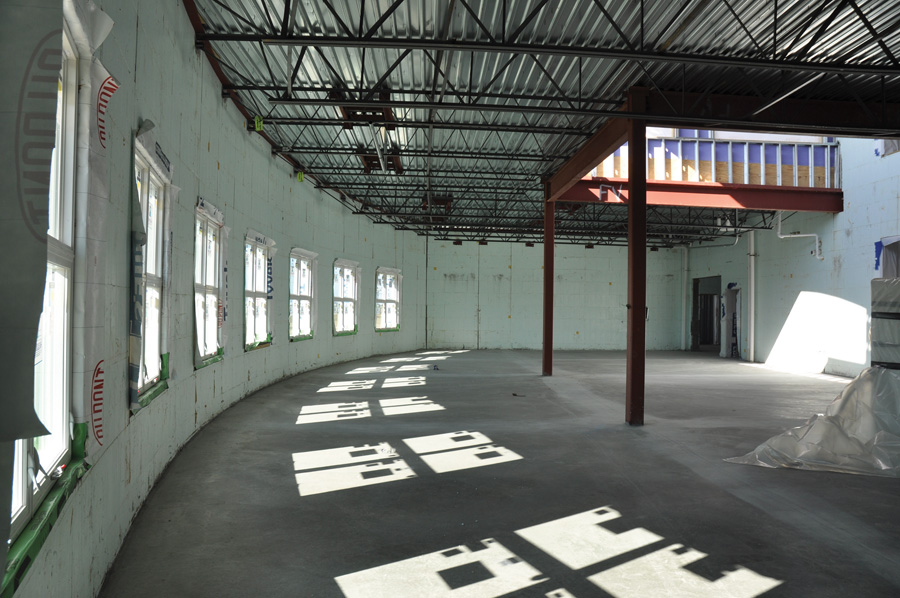 The state department of energy somehow heard about it, and asked if they could attend. They invited representatives from the electrical utilities, state government, and large universities, and Ryles invited members of two local school boards. Seibert ended up making his presentation to 25 or 30 people.
"Mr. Seibert put on a show that was fabulous," Ryles recalls. "He showed us the engineering model, then showed us the business model. It was unbelievable."
Based on that meeting, the Warren County School Board decided to build Richardsville as a Net-Zero Energy (NZE) School, along with another on the drawing boards. The other district at the meeting, Kenton Country, committed to a third NZE school. Neighboring Trimble County also has a NZE school on the drawing boards.
Sherman Carter Barnhart had a longstanding relationship with the school board and got the nod to proceed with the design work. Kenny Stanfield, principal architect on the project, was familiar with ICFs, as he'd designed several other schools using the technology, including Plano Elementary, in the same school district, which uses one-third the energy of a school that size.
Stansfield says, "For our team, the goal of achieving a net zero school was simply the next step – to go from a proven, design operating facility that requires only 28 kBTUs of energy per square foot annually to a facility that needs 18 kBTUs to operate." That energy demand is easily met by the 40,000 sq. ft. of photovoltaic panels on the roof.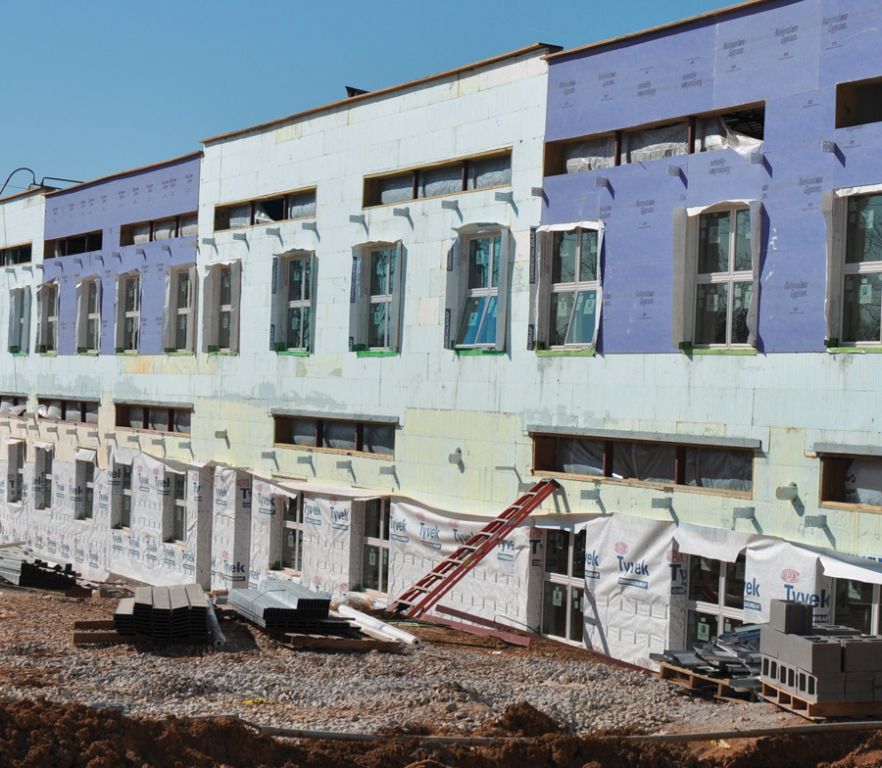 An integrated design approach was essential. "When you look for ways to save energy, every decision affects energy somewhere else," says Stansfield.
The building was laid out in a north-south site orientation to increase solar output and naturally conserve energy. A clerestory spine—basically a line of windows at the top of both walls in the central hallway—runs down the middle of the building to increase natural light and minimize lighting costs.
ICFs from NUDURA Corp. were used to provide insulation in the exterior walls. They easily conformed to the building footprint. Even a suspended radius wall proved possible with ICF. Windows are made using sandwich panels with gel between the panes to provide maximum efficiency. An R-42 roof assembly from Tremco completes the envelope. Geothermal heat pumps make major efficiency improvements to the HVAC and water heating systems.
Inside the school, only Energy Star rated equipment was used. The new gymnasium floor was made from bamboo, except for a few hardwood sections salvaged from the old gymnasium.
The school received considerable publicity before opening, but media attention has exploded in the last two years. And it's not just the efficiency. As tornadoes have devastated schools in Oklahoma and Missouri, the media has noted that Richardsville is designed to withstand 250 mph winds and is impact resistant.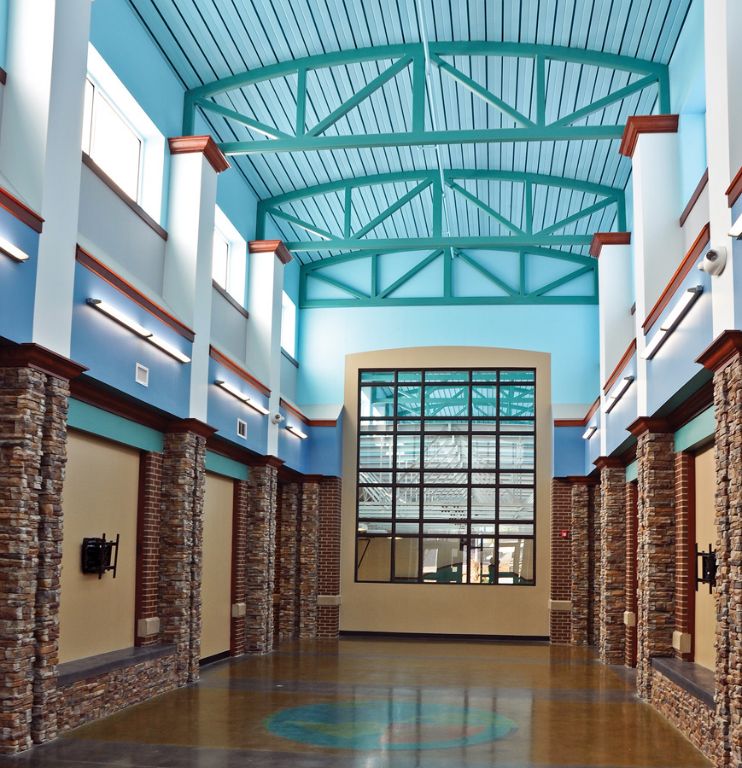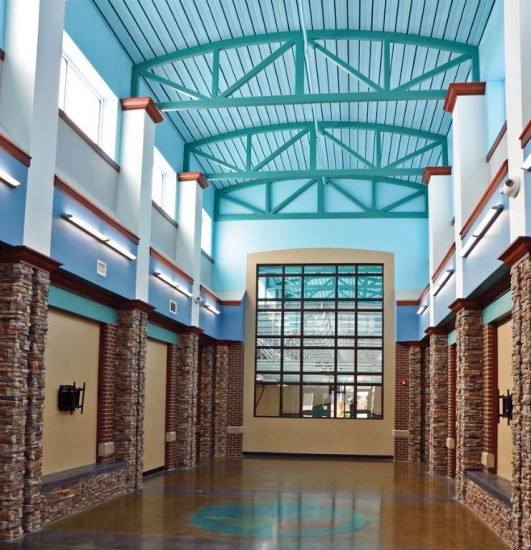 The design team is happy to discuss the benefits ICF bring to the table. Chief architect Kenny Stansfield says, "There are multiple solutions to insulating a building; and there are numerous ways to make the structure stronger and quicker to erect. But ICFs are the only system that provides all three affordably in one system: super insulated envelope, storm resistance, and significantly reduced construction time. All for a cost comparable to load-bearing masonry."
In November 2012, ASHRAE hosted a conference at Richardsville, titled The Promise and Proof of Net-Zero Energy Schools. Seibert, the engineer, was a featured speaker. He reported that actual building performance over the past 12 months verified that Richardsville is performing as designed. Typical annual energy costs for K-12 schools in the US are $1.25 per square foot. At 77,466 square feet, Richardsville earned almost 48¢ per square foot. That's right. In its first year, Richardsville produced approximately 24 megawatt-hours of electricity more than it has consumed, leading to a payment of $37,227 from the electric utility to
the school.
Location: Bowling Green, Kentucky
Type: Public Elementary School
Size: 81,000 sq. ft. (floor)
ICF Use: 72,000 sq. ft. (all exterior walls) + 28,560 interior walls
Cost: $14.9 Million
Total Construction: 380 days
ICF Start-to-Finish Time: 55 days
Owner: Warren County Public Schools
General Contractor: R.G. Anderson, Inc.
ICF Installer: R.G. Anderson, Inc.
ICF Distributor: Holdfast Technologies
Architect: Sherman Carter Barnhart
Engineer: CMTA, Inc
ICF System: NUDURA
First net-zero school in North America
Built at cost comparable to "conventional" schools
International recognition, extensive national press of
ICF technology
R-42 roof insulation, 40,000 photovoltaic panels
Tornado-resistant walls (to 250 mph+ winds)
Dozens of large windows
Huge suspended radius wall
Like what you read?
Yearly Subscriptions Starting @ $30