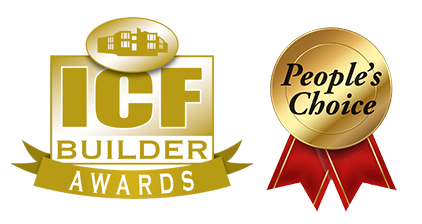 2022 MultiFamily
1st Runner-Up
(People's Choice Winner)
Donuts may have had something to do with ICF being selected for this MultiFamily 1st Runner Up Winner, jokes Andy Lennox, president of Logix Brands, the blocks chosen for this project. Of course, the donuts probably helped, but the real reasons were that the owner made the decision to build with ICF after consultation with the form distributor AMC Forms, the installer Schell River ICF, and after doing a construction methods study. The construction team was selected based on the experience of the installer and the willingness of the GC to learn ICF.
These apartments in Winnipeg, Manitoba, are seven stories perched upon a cast-in-place parkade, with a 14,041-square-foot footprint. The apartments will provide much-needed housing near the University of Manitoba, and also serves as a model for the next phase(s) with this owner. One hundred percent of the exterior walls were built with 6-inch blocks, along with the demising walls of 8-inch blocks. Logix Pro Bucks allowed window openings to be bucked pre-pour and the window units installed post-pour. There were 24 wall jogs per level and 24 corner jogs per level for inset balconies. Dimensions were not optimized for Logix corners so AMC wire-cut special dimensions to save on-site labor. 
Saving Money With ICF
Lennox says that winter construction always ends up leading to sizable heating and hoarding costs. In this case, the conventionally formed parkade incurred $156,000 in these costs during construction. By contrast, heating and hoarding the seven-story, 100,000-square-foot ICF-built residential tower cost only about $2,000, plus the expense of running two thermostat-controlled Herman Nelson heaters. Why the striking difference? "Because, even in the harsh Manitoba winter, the ICFs kept the freshly poured concrete at the right temperature of 50 to 86 degrees Fahrenheit (10 to 30 Celsius)," Lennox says. 
The apartments were 96% occupied within three months of opening. In fact, tenants had not moved into nearby wood frame apartments which were still unsold after one year of marketing. The owner's website reveals that the most searched feature is the soundproof construction. Other developers have requested similar buildings because of this success. The next building based on this model will be 180,000 square feet. Lennox says the owner has a 10 out of 10 level of satisfaction for this project, partially because it finished at $500,000 under budget and ahead of schedule. 
Project Statistics 
---
Location: Winnipeg, Manitoba, Canada
Type: Apartment building
Size: 98,287 sq. ft. 
ICF Use: 70,000 sq. ft. 
Cost: $30,000,000
ICF Installation Time: 200 days
Construction Team 
---
Owner/Developer: Paragon Design Build
General Contractor: Bockstael Construction
ICF Installer: Schell River ICF
Form Distributor: AMC Foam
Architect: BLDG Architecture Office Inc.
ICF System: Logix and Halo Subterra
Fast Facts 
---
7 stories perched upon a cast-in-place parkade
6-inch Logix formed the exterior walls 
8-inch Logix formed the load-bearing demising walls
24 wall jogs per level and ICF columns support the front glass wall
Built on time and $500,000 under budget
96% occupied within three months of opening
Like what you read?
Yearly Subscriptions Starting @ $30