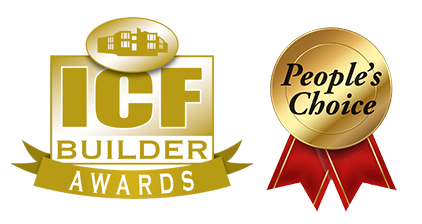 2022 Education
1st Runner-Up
(People's Choice Winner)
Cumberland Trace Elementary School in Bowling Green, Kentucky, is one of many recent schools built with ICFs. It was the 1st Runner Up in the 2022 ICF Builder Awards and also received the People's Choice Award in the Education category. Since we received several school project submissions this year, we were able to separate out educational facilities from the Heavy Commercial category that schools have been placed in past years. 
Kenneth W. Stanfield of Sherman Carter Barnhart Architects, PLLC was the principal architect in charge of the school project, which was completed in May 2020 using Nudura blocks. The total size is 88,472 square feet, and 100% of the exterior walls are built with ICF for a total of 38,853 square feet of ICFs used. The project is Net Zero Achievable, and the 100% ICF perimeter wall proved to be a major component of achieving the dramatic energy reduction performance necessary in order to make that happen. "The architect and the school district have 18 years of experience with ICF and there was no question that was what would be used here to achieve the performance goals for both the owner and design team," Stanfield explains. 
Designed for Efficiency
The overall design consisted of two, two-story angled academic wings connected by a curved media hub adjacent to a large gathering space called the Great Hall that leads to a cafeteria / gym / kitchen complex. The gym / cafeteria ICF walls are approximately 32 feet tall as in the semi-circular media hub. An integrated clerestory links the academic wings with the great hall and gym / cafeteria complex.
The overall project schedule (including design and construction) necessitated an early site package. This allowed the construction of the building pad while the building design was finalized. The construction manager determined the bid package associated with the early site work and effectively separated the work effort between trades and the forthcoming building package. Attention to a well-planned phasing strategy allowed the ICF installers to continue uninterrupted throughout the installation, as other trades, such as masonry and hollow core planks, followed efficiently on the same critical path. "A high level of craftsmanship was maintained throughout the project by an effective phasing plan that allowed trades to focus on and follow the critical construction path in concentrated areas of the building," explained Stanfield. "This allowed an uninterrupted work force to move from one phase of the project to the next, avoiding construction bottlenecks that can occur in a project of this size and complexity."
The curved wall of the media hub was installed with great precision, due in part to the specialized ICF forms, and resulted in an excellent installation to receive the roof joists (each being a different length along the curved wall form).
Significance and Advantages
The design goal for the project was to reduce energy use by at least 75%, going from an average EUI of 75 (in Climate Zone 4) to a projected energy consumption of only 15.5 EUI. A compact design in both plan and volume, and an exceptionally robust building envelope, all combined to achieve the energy target. An ICF perimeter combined with a roof consisting of a metal deck and 6 inches of poly-iso insulation aided achieving "Zero Energy Achievable" status. A 30 kW solar array provides the first phase of alternative, renewable energy. The average annual energy cost of a typical school of similar size in the Warren County School District is $225,000. For Cumberland Trace, that cost is reduced to less than $50,000, which means that the school has more money to spend on classroom needs and education, rather than energy.
This project uses ICF construction as a key component to achieve both dramatic energy reduction as well as disaster resilience. The National Ready Mix Concrete Association (NRMCA) has conducted tours and installation seminars at this facility to advance the concrete industry's participation and advancement of sustainable design practices, both to achieve a high level of disaster resilience as well as achieving dramatic energy reduction. This project sets a new standard for affordability in achieving "Zero Energy Achievable" educational facilities.
"The Warren County School District is home to Kentucky's only two Net Zero schools," states Stanfield. Their school board adopted a policy that all new schools constructed in their district shall utilize ICF perimeters and be Zero Energy Achievable, with an energy performance threshold of 25 EUI or less. The new Cumberland Trace school is projected to use only 15.5 EUI, and will be the district's (and the state's) most energy efficient school facility."
It is easy to see that this project shows a way forward for all school design — new schools should be affordable, disaster resilient, Zero Energy achievable buildings, and that begins with selecting ICF construction. 
Project Statistics 
---
Location: Bowling Green, Kentucky
Type: Education
Size: 88,472 sq. ft. 
ICF Use: 38,853 sq. ft. 
Cost: $20,285,707.73
Total Construction: 63 weeks
ICF Installation Time: 180 days
Construction Team 
---
Owner/Developer: Warren County Schools
General Contractor: Alliance Corp.
ICF Installer: Carmicle Masonry
Form Distributor: Nudura
Architect: Sherman Carter Barnhart Architects, PLLC
Mechanical & Electrical Engineer: CMTA Inc.
Site Design & Geotech: Arnold Consulting Engineers
ICF System: Nudura
Fast Facts 
---
Dramatic energy reduction; 15.5 EUI projected
Zero Energy Emerging; phase I 30 kW PV array 
Like what you read?
Yearly Subscriptions Starting @ $30