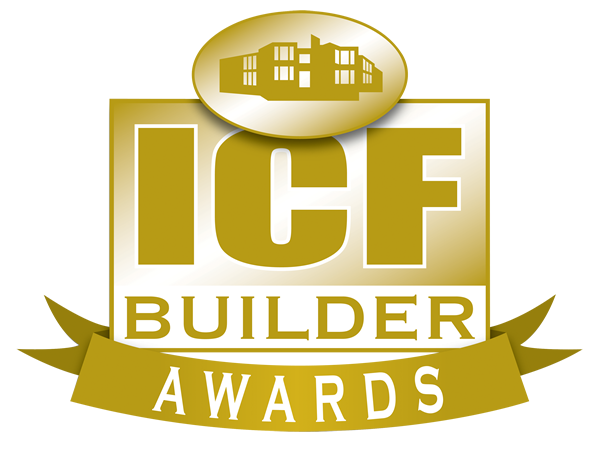 2021 Large Residential
1st Runner-Up
This Wallkill, New York, home has many green features: It's highly energy efficient, uses geothermal for all space conditioning, and is zero energy. Completed in April 2019, the homeowners finished the ICF installation of their dream home in just 28 winter days and only four snowfalls. The entire home took nine months, and included 4,642 square feet of exterior ICF walls. Impressively, this home achieved the lowest HERS score in all of North America in 2019 due to its tight building envelope.
This large residential award runner up has a 2,067-square-foot first floor with an equally sized finished lower level. The biggest challenge in this project was the 54-foot long ICF gable that required extra long bracing. The building was also designed to meet high efficiency and sustainability standards, which included being airtight. To achieve this, the contractor utilized spray foam insulation. They sprayed the underside of the roof and sealed it to the top of the ICF walls. The contractor used Fox Blocks ICF Blocks for this project. 
"The largest challenge encountered while constructing this home was a large rock ledge that interfered with the lower level of the home," said Mike Kennaw of Fox Blocks. "As there was no room for footings, the ICF forms had to be cut perfectly to sit against this rock ledge."
The winter build meant workers had to contend with four major snowstorms. Insulated blankets were used to keep the snow from building up inside the ICF walls. By using ICFs, the construction timeline was not compromised by the winter weather. The ICF was installed by D&A Concrete, an experienced contractor with nearly 40 prior ICF homes completed. "The craftsmanship of this home is exactly what you would expect from a highly experienced builder," says Kennaw. "Walls are straight and plumb, openings are perfect, and there has been no evidence of voids, honeycombing, or bulges."
This home, built directly into a natural rock ledge, features large covered porches and breezeways on the exterior, and beautiful oak floors throughout the interior. The owners are particularly happy with marble-floored walk-in showers with dark subway tile, and the abundance of natural light that streams in through the house.
Impressively, this home achieved the lowest HERS Index score (https://www.hersindex.com) in all of North America in 2020 due to its tight building envelope. A code-built new home meets a score of 100. This home received an outstanding score of 26. In addition, a standard ACH pascal level for a blower door test is 0.6, and code only requires 3.0. This home received a blower door test achievement of 0.14, which is almost unheard of. 
The domestic hot water and space conditioning is done with geothermal energy which was achieved with one borehole at 400 feet. In addition to using geothermal energy for heat, the house is also solar powered via photovoltaic panels on the roof. This home won an award from RESNET (Residential Energy Services Network – https://www.resnet.us) for 2020 for lowest HERS score before renewables and was also awarded their Net-Zero Award. The project won a Department of Energy Housing Innovation award in 2020. It has also been recognized as an EPA IndoorAirPlus home, a required certification for the Department of Energy Zero Energy Ready Home program. 
Project Statistics 
---
Location: Wallkill, New York
Type: Family Home
Size: 4,134 sq. ft.
ICF Use: 4,642 sq. ft.
Cost: $650,000
Total Construction: 36 weeks
ICF Installation Time: 28 days
Construction Team 
---
Owner: Kent and Sharon Trachte
General Contractor: Anthony Aebi, Zeronetnow
ICF Installer: Dan Albach, D&A Concrete
Form Distributor: Gianni Porto, Green Building Depot 
Architect: David Toder, Bolder Architecture
ICF System: Fox Blocks
Fast Facts 
---
Energy efficient home
High level of air tightness
Geothermal for space conditioning and 100% of hot water
Demand controlled balanced ERV 
Zero-energy (solar)
Like what you read?
Yearly Subscriptions Starting @ $30