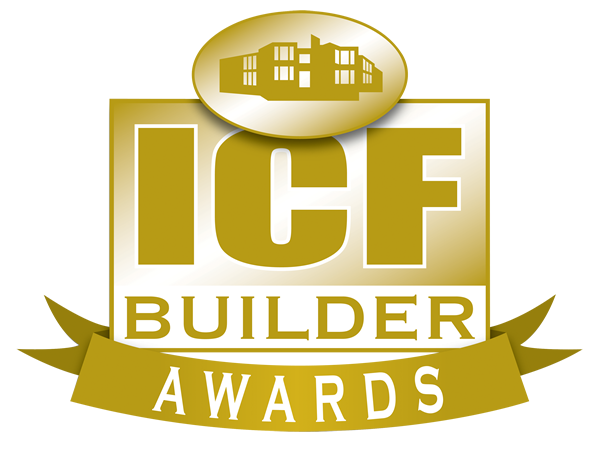 2013 Large Residential 2nd Runner-Up
The Vireo home is built into a steep lot near the Rocky Mountain foothills, overlooking Boulder, Colo. It was designed from the beginning to offer a maximum of style and luxury with minimal energy consumption. The results speak for themselves: a stunning contemporary residence in a surprisingly compact footprint.
The 5,200-square-foot, three-story house was constructed on a sloped lot with a 30 foot elevation drop. To complicate matters further, the site contained swelling soils, which required a drilled pier foundation. Finally, the entire construction timeline was compressed to a mere three months. The 6,400 sq. ft of ICF walls and 1,200 sq. ft of Quad-Deck ICF floor system needed to be installed quickly and flawlessly.
Fortunately, exceptional construction professionals and the design flexibility of ICFs made it possible to overcome these challenges and complete a landmark project.
The lightning-fast construction schedule was massively complicated by a decision to use German-made Structurally Insulated Panels (SIPs) for some upper-level exterior and interior walls. Construction drawings and details had to be converted from metric to American measurements, and the corresponding load calculations changed and verified. This delayed construction for over a month, when a second structural engineer with ICF experience was brought in to expedite the process.
Starting behind schedule, the general contractor, Holgorsen Homes, and the ICF installer, Advantage Exteriors, faced a daunting task. The drilled piers were placed before the overall dimensions had been definitively translated from metric to imperial units. In the end, they needed to place concrete caps on the drilled caisson piers to ensure weight loads were properly transferred to the foundation. Box voids were used outside the first-floor walls to protect against damage caused by swelling soils.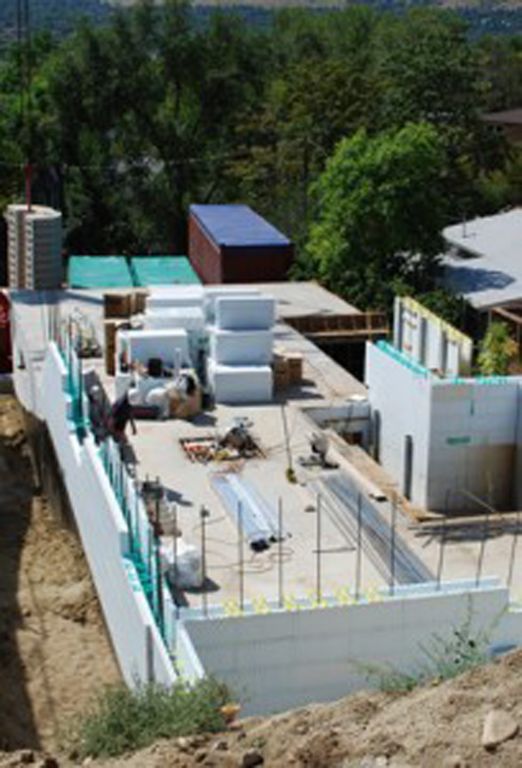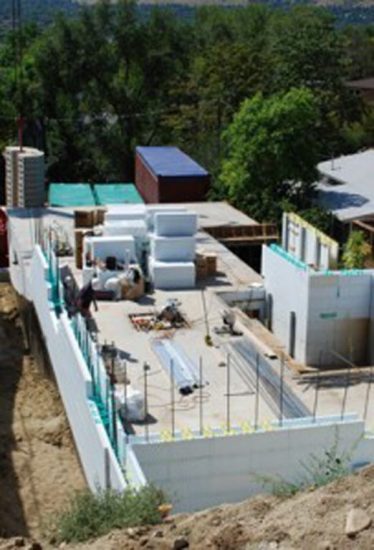 After stacking and pouring the first-floor walls, crews began working on the EPS floor decking. Seismic requirements meant congested rebar, so water reducing admixtures were essential to ensure concrete consolidation. The floor deck concrete was in place less than seven days when the SIPs arrived onsite— along with a German crew to install them.
The wall panels had been shipped with the windows, doors, and finishes already in place, so they went up quickly. The only challenge was that the ICF crew had to stack and brace the second-level walls around the Germans craning the SIPs into place. The third-story walls were all SIPs.
Despite covering more than 5,000 sq. ft. on three stories, this remarkable home was built start-to-finish in just under 100 days. It has been lauded in the press as an outstanding model of energy efficiency without compromise while staying in budget. The Vireo project was specifically profiled for its short construction time span in the local press as well as for its energy efficiency. In addition to ICFs and SIPs, the home features solar hot water and photovoltaics, multiple-pane glass in windows and sliding doors, and reduced air penetration made possible by prefabrication of these elements.
The use of these technologies allowed the residence to be advertised and sold as "Hyper-Energy-Efficient German Construction" and a "Green" residence – and positively differentiating them in a competitive residential marketplace.
The home is so efficient, in fact, that the rooftop panels generate more electrical power than is currently used by the building.
Location: Boulder, Colo.
Type: Private Residence
Size: 5,160 sq. ft. (floor)
ICF Use: 6,400 sq. ft. (60% interior and exterior walls)
Cost: Undisclosed
Total Construction: 97 days
ICF Installation time: 77 days
Owner: Vireo Vision
General Contractor: Holgorsen Homes
ICF Installer: Advantage Exteriors
Form Distributor: Energywise Sustainable Products
Engineer: WBC Engineers
ICF System: Walls by Quad-Lock/Floors by Quad-Deck
Three-story design uses extensive EPS decking
30-foot drop on lot and poor soils required pier foundation
Interior walls and roof are panelized SIPs from Germany
Integrating metric and imperial units was challenging
Photovoltaic panels on roof, other green technology
Received extensive local press for sustainable building
Like what you read?
Yearly Subscriptions Starting @ $30