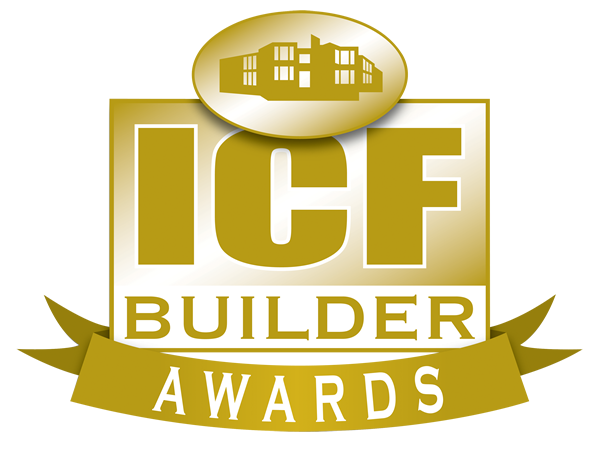 2014 Light Commercial Winner
The story of Fire Station 108 began about five years ago, when the Las Vegas city council decided that all construction projects funded by the municipality should be certified to a minimum LEED-Silver level by the U.S. Green Building Council. With a number of municipal buildings in the planning stages, key members of the city design staff visited World of Concrete 2011. There, they were introduced to ICFs by the exhibiting manufacturers, and soon decided to incorporate that technology into a new sustainable prototype design for City of Las Vegas Fire and Rescue stations.
Fire stations 106 and 107, completed about three years ago, were the first built to that design, and were also among the first commercial ICF buildings in Las Vegas. Building on the success of these earlier projects, Fire Station 108 is even more ICF-intensive than the other structures, with demising walls between vehicle bays built out of ICF instead of masonry. They're finished with a wainscot of diamond plate aluminum panels on the lower portions.
Sam Tolman, the architect of record for the project, says "As the owner, we elected to specify the ICF system because we are extremely satisfied with the thermally efficient envelope it has provided for our fire stations. Fire Station 106 achieved a LEED-Gold certification and Fire Station 107 achieved LEED-Silver. We expect Fire Station 108 to achieve LEED Silver as well; ICF helped us to achieve those certifications."
In addition to providing a highly insulated, energy efficient building envelope, ICF technology was well-suited to the complex design, and it's sound isolating traits contribute to a peaceful sleeping environment for fire-fighting staff.
Tolman continues, "A lot of good ICF brands were available. We had face-to-face meetings with ICF representatives and were able to visit all of the ICF booths at World of Concrete, and narrowed it down to a short list." The project was bid competitively and Fox Blocks got the nod.
The highly complex design is a mix of Spanish Colonial and Avant-Garde Modern, with clay roofing tile, deep recessed windows, and smooth plaster finishes mixing with steel roof beams, an unorthodox barrel roof, and angled offset walls.
This obviously created some construction challenges for Frazier Masonry, the ICF installer. The ICF perimeter walls almost constantly change height. Even the walls with flat tops had to be cut at an angle with the inside panel taller than the outside. Stepping the ICF forms to coordinate with the radius of the barrel roof presented challenges as well. Charles Benford, Frazier's superintendant, often commented "Everything in this building is custom formed!"
Benford worked closely with the steel subcontractor and structural engineer to create specialized field details. They used a three dimensional Building Information Modeling (BIM) software from Tekla system that allowed them to accurate calculate where and how the ICF walls would connect with the curved steel beam and joists. The software also output shop drawings for the steel reinforcing and embeds, with exact measurements so they could be placed in the ICFs precisely where they needed to go to conform to the continuously changing locations of the steel beams as they moved down the curve of the roof. The superintendant and construction project manager coordinated these details with the architect and the structural engineer because there were numerous custom conditions which required special framing connections to the ICF walls.
One of these framing issues were the multiple steel stud "pop-outs" which cantilevered off the ICF walls. They carried considerable weight—most had a stone veneer—and terminated above ground level. Detailing the window openings was complex, as the thicknesses of the framing, ICF window opening, and finish all had to be considered.
In addition to ICF technology, the station is powered by a natural gas-driven engine HVAC compressor from Daikin, and is expected to use about 40% less than the baseline standards referenced in LEED. Other elements of sustainable design include bamboo wall finishes, low VOC paints, coatings and sealants; preferred parking spaces for carpooling and zero emission vehicles, recycled "blue jean" wall and roof insulation; drought tolerant landscaping and water efficient plumbing fixtures.
Shaded areas in both the front and back of the fire station provide fire fighters space for barbecuing and hosting tours for the public and students from the nearby school.
Fire Station 108, combining the latest fire station design trends with the best construction technology available, is turning heads. It was featured prominently in the August 2014 issue of Firehouse magazine, and has been featured in the media with local TV coverage as well as a Nevada senator's Facebook page. In fact when the U.S. Department of Commerce hosted it's Sustainability International Tour last year, the primary new construction site they visited was Fire Station 108, with guests from multiple countries viewing the latest in green building efforts.
Location: Las Vegas, Nev.
Type: Municipal Fire Station
Size: 7,640 sq. ft. (floor)
ICF Use: 9,700 sq. ft.
Cost: $4.9 million
Total Construction: 10 months
ICF Installation time: 23 days
Owner: City of Las Vegas
General Contractor: Core Construction
ICF Installer: Frazier Masonry
Architect: City of Las Vegas
Form Distributor: Fox Blocks Direct
ICF System: Fox Blocks
Eye catching design builds on success of two similar stations
Saves 50% on energy, LEED-Silver expected
Extensive local and national publicity
Toured by international green building delegation
Like what you read?
Yearly Subscriptions Starting @ $30