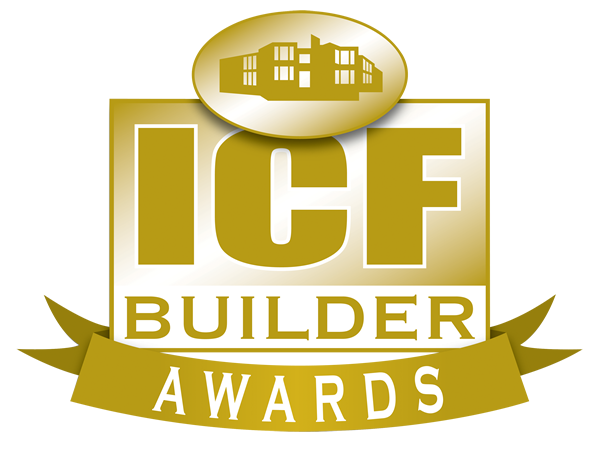 2020 Senior Living
2nd Runner-Up
A $14 million first-of-its-kind Canadian project in Conception Bay South, Newfoundland, used ICF blocks from Nudura for 100% of its 2,000 sq.ft. of exterior walls. 320 sq.ft. of demising walls (those that separate a tenant's suite from another tenant's suite, or separate common areas in a building) were also ICF. The total amount of ICF usage was 3,720 sq.ft. ICF installation was only 10 days, and the entire 40-unit project will be completed in November 2021. Using ICFs saved two weeks per unit. The Villas at Riverdale was second runner up in the 2020 ICF Builder Awards in the Senior Living category. 
The Villas at Riverdale is a 55+ community of elegant, single-level, open-concept semi-detached homes that is focused on energy efficiency and a high-quality building that would last much longer than other building types. Dale Bickford, director of Mac-Mar Developments Ltd. in Newfoundland, which owns The Villas at Riverdale, says the team chose Nudura because the slab-on-grade design allowed them to complete the energy-efficient build from footing to roof sill. Nudura was chosen due to its extensive product line, product versatility, ease of use with minimal labor, and the technical training that the company provides, he says. 
"In conjunction with Nudura, the footprint of the building was sized to use the Nudura block dimensions such that any cutting resulted in the off-cut being used on another to eliminate waste," says Bickford. "Step outs of walls also used standard block size dimensions to ensure efficiency of project materials. Full height of blocks were used to complete required wall heights."
As a result of this design, each project was completed much faster than it would have been with a traditional build. The owner decided to build with ICF and the contractor, Heavenly Homes Ltd., was chosen based on his reputation as a quality builder. "He was also very open to being trained in ICF construction and making the switch from traditional framing to full height ICF construction," says Bickford. 
The owner decided to build with ICF based on extensive research—their mind was made up, says Bickford. The project commenced during winter with heavy snowfall and ice accumulations. The ICF construction allowed the crew to reach the weather-tight stage much faster, and allow interior finish work to take place far ahead of normal timelines. This also meant showcasing the homes much quicker and starting the sale process. The project is sold out to this point with pre-sales for future dwellings ongoing. 
"The other trades involved in the project were very comfortable working on this as Bird Stairs (the form distributor) and Nudura representatives were on site to provide guidance and instruction on installation processes," says Bickford.
A Needed Change
This project is a prime example of what it means to have change in the building industry, Bickford asserts. It is the very first ICF subdivision in Newfoundland and Labrador.
"It has served as an example to builders across Newfoundland for not only the demand for ICF construction due its efficiency, but also to dispel the notion that it only serves a purpose for below grade applications," he says. "This subdivision has been advertised across Atlantic Canada as a trendsetter for its uniqueness and clientele market. Furthermore, this subdivision has been a showpiece for many homeowners and builders to view and better understand the capabilities and comfort of an ICF build."
This community was designed for an aging senior population with potential mobility issues. The slab-on-grade structure was chosen due to optimal accessibility for this client demographic. 
"Furthermore, we wanted our homes to be designed with comfort, energy efficiency, and sustainability as the separating qualities from all other developers," Bickford says. "By designing the exterior walls and the interior demising walls between the homes with ICF we were able to achieve our goals in a simple step, as well as achieve a greater fire-rated wall and sound attenuation between the homes. With these aspects into our build we are able to provide our clients with the best living environment on the market."
Efficiency and Sustainability
Energy efficiency was the goal of this project, and they achieved that. Reports say that each unit is heated for only $1 per day. Each unit is tested and evaluated to an Energy Star rating of 86. 
Starting at the footings, crews made sure they had a tight tolerance for a level footing to ensure a precise finished elevation. To ensure wall straightness they used Nudura's bracing system. All of the window and door bucks were recessed to reduce thermal bridging at the openings. The sill plate was also recessed into the forms to eliminate thermal bridging at the roof line. Lastly, concrete consolidation is a point of focus to ensure an airtight structure without voids.
"We vibrated every two feet for full-depth consolidation and paid close attention in vibrating the lintels as well," says Bickford. 
Efficiency of material usage was also a goal. The design allowed for no wastage of the materials.
"This project has brought sustainability and energy efficiency to the minds of builders and building associations alike, and has become a beacon for ICF construction in the Atlantic," says Bickford. "It is proudly advertised across Atlantic Canada through media outlets, and receives many calls with regard to the job they have done. By building with ICF we have ensured that our homes are built to withstand hurricane-force winds and extreme weather conditions, further adding to the sustainability of our developing community. By being the first subdivision of its kind, in leading by example that ICF is the best way to achieve an energy efficient and sustainable future, and to remove many of the myths around ICF construction and its feasibility, these developers have truly taken it upon themselves to embrace ICF and all the benefits it has to offer." 
Project Statistics 
---
Location: Conception Bay South, Newfoundland, Canada
Type: 40 Semi-detached Senior Homes 
Size: 56,000 sq. ft. (floor)
ICF Use: 74,400 sq. ft. 
Cost: CAN$14 million
Construction Team 
---
Owner: MacMar Developments, Ltd.
General Contractor & ICF Installer: Heavenly Homes, Ltd.
Form Distributor: Bird Stairs
ICF System: Nudura
Fast Facts 
---
First ICF Subdivision in Newfoundland
Heating cost per unit is less than $1 per day.
Interior Walls between Units also ICF
Like what you read?
Yearly Subscriptions Starting @ $30