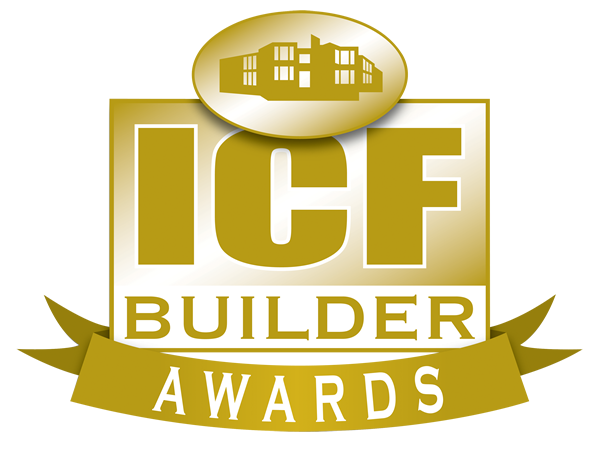 A retirement residence in Stittsville, Ontario, Canada, is nothing short of amazing. Hazeldean Gardens Retirement Residence has everything that residents and staff would want: a south-facing courtyard at the rear of the building, covered parking, patios overlooking beautifully manicured landscaping, saltwater swimming pool, and game room, and a spacious lobby featuring a colorful saltwater aquarium, fireplace, and a piano lounge. But more than that, this retirement center is long-term durable, highly energy efficient, safe, quiet, and healthy, thanks to the walls being made of nearly 100% ICF by Fox Blocks ICF. 
Hazeldean Gardens, a five-story, 122,500 sq.ft. retirement center, 30 minutes west of Ottawa in Eastern Ontario, Canada, chose Fox Blocks for all exterior and most of the interior walls. It took just 220 days to install 96,741 sq.ft. of ICF and 95 weeks to complete the entire project, despite a wild Canadian winter. The project required $40 million in Canadian dollars, and will provide long-term benefits far beyond that affordable price tag thanks to minimizing long-term expenses. To date, Hazeldean is the largest use of ICFs in a single project in eastern Ontario at a highly visible site. 
This project won in the Senior Living category at the 2020 ICF Builders Awards. 100% of the 48,573 sq.ft. of exterior walls are ICF. All party and corridor walls, 48,169 sq.ft., are also ICF. The project was completed in August 2018. It's not part of a chain of retirement centers. On the contrary, it is a locally-owned family business. Williams says the owners are very happy with their new building. Though they also own two other retirement facilities, this is the first using ICFs. Energy costs are much lower than expected, and the residents as well as the many staff often comment on how quiet it is despite being next to the four-lane main roadway. "Looking through the window is like watching TV with the sound turned off," said one resident.
Challenging Construction
"All of the main floor windows were arch topped, giving the building a regal, old-world appearance, and the arch-topped windows were precision cut," says Ken Williams, now national sales manager for Geo-Passive Slab. At the time of construction, Williams was working with Fox Blocks as a commercial sales consultant in Ontario.
The engineer would not accept a brick ledge as an option on the windows, so a conventionally reinforced, formed-in-place ledge had to be used. Frequent embeds included steel shelf angles, masonry tie keys, multiple HVAC ports, and cantilevered balconies. The walls needed to be plumb and square for the core slab and masonry exterior. The first course on each connecting floor was supported by form-ply on the outside to eliminate bulging and blowouts at this area of increased concrete pressure and then removed for reuse on the next level. A well-vibrated midrange plasticizer and pea stone mix was used to eliminate voids and no bulging occurred. Williams says only two corners of the building were 3/4 of an inch out of plumb over six floors, well within code. 
In the same area a steel angle was later attached for brick at every second floor line requiring continuous exposed concrete also supported by the same form ply. Two four-foot deep footings were not back-filled prior to starting ICF construction. Plumbing services had not yet been installed and the crew had to work around an excavator for many of the days while doing the foundation.
"An earth ramp across the footings was not removed and they had to bypass that area and start on a different grid line, hopping from one spot to another with their tools and scaffolding while the plumbers and excavators did their work," recalls Williams. "No opening was left in the foundation for ongoing deliveries of materials needed for other construction trades in the lower level building, so a 12×20-foot section of core slab was left out of the first floor to allow materials to be placed into the building. 
This caused additional challenges for the ICF crews but the walls were still able to continue past this area and once the floor was filled in they returned to complete the missing section of walls. 
The entire footprint was built on bedrock which needed to be drilled to embed rebar for the 2,000 lineal feet of footings.
"When lintel rebar designs could not fit into the core size specified, wood forms were used over and beside openings easily increasing the newly required width without any time lost," he says. "A larger form size was adopted later for subsequent floors." 
The building had a basement and five floors above plus a parapet. Each floor had 32 90-degree corners and 23 "T" walls for a total of 3,072 90-degree corners and 1,100 "T" blocks along with 36 windows with arches on the main floor and a total of 450 openings. 
"Interior wall sleeves had not been cast into the walls and required ports to be drilled through the ICFs later and the EPS around the inserted sleeve removed and replaced with firestop material," says Williams. "This is typical of standard construction but not ICF and would have saved much time and cost if the openings had been pre-planned."
In addition to those challenges, extreme early winter conditions brought frequent periods of freezing rain and heavy snow. In spite of the adverse conditions, last-minute engineering changes, and the learning curve of a first-time ICF GC, the project is a testament to what can be expected from a competent and determined ICF erector.
Recycling And Sustainability
The 16 foot-deep rock base was excavated and a mobile crusher was brought to site where the rock was turned into 3/4-inch drainage stone and used to back fill in around the building, under the foundation slab, and for the base of the parking lot and driveways, fully recycling the excavated materials. Rooftop solar will be installed in phase 2. Based on ICF performance, energy costs were budgeted to be $350,000 per year, but due to ICFs and a waste-heat recovery heat pump used in conjunction with a roof top water chiller/heater, initial first year costs are now projected to be under $280,0000 for all facility operations.
Comforting Amenities
Comforting amenities in this remarkable residence include a covered front entrance with a heated sidewalk and driveway for convenience and safety, so that residents and guests can avoid the risk of slipping and falling in winter conditions. The campus includes a sunny atrium for residents with a "green thumb" so that they can continue growing things. 
The architect had done one previous project in ICF on request, which was supported by the ICF rep during the design phase and through construction. Williams says the owners decided to use ICF for this project, and the general contractor had previous work experience with the project's owner, and the ICF installer was recommended by the ICF rep.
The local newspaper picked up the buzz of the project and created a lot of regional interest which was picked up by other news media. One of the marketing facets, which Hazeldean lists on their website, is "solid concrete construction which minimizes risk of fire." This significantly lowered risk of fire damage is an important consideration for all new construction, but just makes perfect sense when considering the construction of a residence for older folks. 
Project Statistics 
---
Location: Stittsville, Ontario, Canada
Type: 5-Story Senior Retirement Center
Size: 122,500 sq. ft. (floor)
ICF Use: 96,700 sq. ft. 
Cost: CAN$40 million
Total Construction: 95 weeks
ICF Installation Time: 220 days
Construction Team 
---
Owner: Hazeldean Retirement Center
General Contractor: Owner
ICF Installer: Boreal Construction
Form Distributor: Fox Blocks (Direct)
Architect: Alexander Wilson Architects
ICF System: Fox Blocks
Fast Facts 
---
Most Interior Walls are ICF
Arched ICF Windows
Tall Walls
Winter Construction
Like what you read?
Yearly Subscriptions Starting @ $30