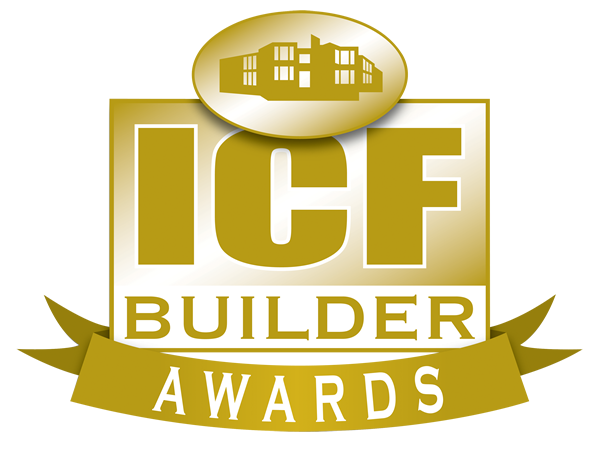 2020 Unlimited Residential
2nd Runner-Up
The Pinnacle is an ultra-modern home with passive solar design, massive windows and a walkable rooftop terrace. It's located on a lot overlooking a small lake in Komoka, a suburb of London in southwest Ontario, Canada. 
"There is nothing else like it in the surrounding neighborhood," says Nate Getty at Perpetually Innovative Developments Inc., the developer behind the project. The home combines state-of-the-art sustainable building materials and technology to create a stunning, functional home that creates as much energy as it uses.
It was actually built on spec as a model home. Getty says, "We are using this project to show home buyers what is capable in the sustainable housing market as the pinnacle of home innovation. From there, we can narrow down features of sustainable housing that a home buyer can implement into their own custom home."
Insulated Concrete Forms are a major component of this strategy. "The forefront of our sustainable model is the use of ICF." Getty confirms. "This allows us to market and add exposure to ICF products for residential use."
For this project, they chose to use Amvic 3.30, a robust ICF with extra foam in the sidewalls which increases the R-value from R-22 to an impressive R-30. Lockington Homes, an experienced ICF installer, was subcontracted for that portion of the work. 
They used Plumwall bracing to ensure the ICF was absolutely square, plumb and level throughout the three-story home. One of the challenges was the size and number of openings. One window required an 18-foot lintel, as did the garage door opening, which supports a second-story ICF wall.
Floors used a steel joist concrete pourover system from Ispan. The joists have pre-formed openings to facilitate utility runs, and the dovetail-shaped deck mechanically bonds to the concrete, acting as reinforcement for the slab.
In this case, the slab was combined with in-floor hydronic heating throughout the house. Ispan decking was also used to transform the roof into an attractive, walkable deck. 
The radiant floor did require extra pre-planning for rough-ins. Even then, crews missed a few penetrations, which had to be drilled afterward. They used diagrams of the radiant layout as well as site photographs to ensure they stayed clear of reinforcing steel and the hydronic tubes. Interior walls were light-gauge steel. The lower track was fastened to the floor using adhesive rather than fasteners due to radiant heat.
The 2,000-sq.-ft. rooftop terrace gives the owner views of the lake, and features multi-colored LED "mood lighting" built into the railing, controllable via a remote dimmer switch. 
The deck was designed to achieve a fully insulated building envelope. The concrete substrate was covered with rigid foam insulation, then a plywood coverboard, and finally a torchdown water barrier.
Beyond the building envelope and the radiant heat, the home includes dozens of other sustainable features. It's a fully integrated "smart home" that generates as much energy as it uses onsite through solar photovoltaic panels. The solar panels do double duty as window awnings, soaking up the sun for energy but also shielding the windows from receiving too much solar gain. The house can function "off-grid" if needed.
Getty says, "It practically eliminates hydro bills, even feeding clean energy back into the grid beyond what is used. The use of ICF, steel studs, and concrete floors has also resulted in 97% less trees being used than in a conventional house. The radiant in-floor heating system reduces the energy required to keep the house warm. The passive solar design of the house with the solar arrays blocking the sunrays in the summer and the big windows inviting in the sun during winter seasons."
This is the first project in Komoka to be built with all-concrete walls, floor, and roof, and has gained a significant amount of publicity for the neighborhood. 
Used as a show home, it saw more than 1,500 visitors in the first month after completion. It has also been featured in a few local magazines such as Neighbours of Sunningdale and is displayed on numerous websites and on YouTube. 
Project Statistics 
---
Location: Komoka, Ontario, Canada
Type: Custom Home
Size: 6,400 sq. ft. (floor)
ICF Use: 6,000 sq. ft. 
Cost: $2 million
Total Construction: 70 weeks
ICF Installation Time: 45 days
Construction Team 
---
Owner: Private
General Contractor: Perpetually Innovative Developments, Inc 
ICF Installer: Lockington Homes
Form Distributor: Amvic, Inc.
Architect: Structural Design Engineering Service
ICF System: Amvic
Fast Facts 
---
Zero- Energy Smart Home
Off-Grid Capable
Radiant Concrete Floors
Local Publicity 
Like what you read?
Yearly Subscriptions Starting @ $30