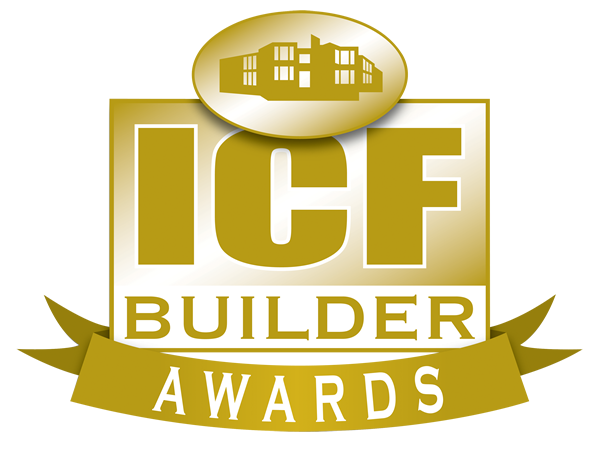 2020 Speciality Application
Winner
This backyard swimming pool was built by an ICF installer for his own enjoyment.
Construction took place on weekends as time was available, which stretched to project timeline significantly.
Rather than use an existing design, the contractor started from scratch, basing all the dimensions on Fox Blocks Radius Block to minimize waste.
The above-ground pool is partially terraced into a hillside, and is intended to resemble a giant wine cask.  The walls, footing, and pool coping were placed in a single pour.  The owner reports that the cost of the 350-sq.-ft. pool—including stone retaining wall, patio decking, and fencing—was about half of what a professional pool contractor would charge.
He adds, "This exercise proved to me, as a builder, that a modest pool can be economically integrated into a residential project with little additional effort. As I bid new projects I automatically offer to include the pool, retaining wall, or any hardscape features associated with the project. This represents a source of additional revenue for my business." 
Project Statistics 
---
Location: Mathis, Texas
Type: Above-ground Swimming Pool
Size: 350 sq. ft. (floor)
ICF Use: 380 sq. ft. 
Construction Team 
---
Owner, General Contractor, ICF Installer: Shayne Schroeder Custom Homes
Form Distributor: ICF Texas
ICF System: Fox Blocks
Fast Facts 
---
Design based on Block Dimensions
Built on Weekends as Time Was Available
Cost was Less than Half of Contracted Pool
Like what you read?
Yearly Subscriptions Starting @ $30