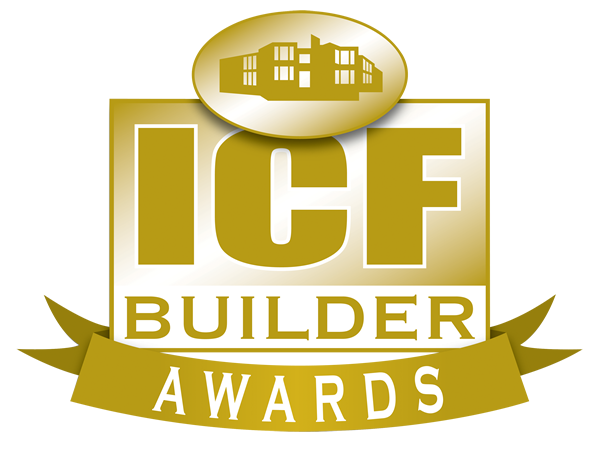 2008 Heavy Commercial
Winner
A motorcycle dealership may seem an unlikely poster child for environmental sustainability, but Frieze Harley Davidson is no ordinary dealership. The family has operated the dealership, located just across the Mississippi from St. Louis, for generations.
They chose to build their new facility with ICFs due to their energy efficiency, thermal comfort, and structural strength. ICFs also resolved concerns about noise from the in-house repair shop.
It's a difficult design; the roof has 60- to 80-foot clear spans, and a cantilevered ICF "prow wall" is canted 14 degrees off vertical. To make it even more challenging, the ICF install ran from December to March.
The finished building is the "greenest" of more than 700 Harley dealerships nationwide. It has been certified LEED-Gold by the U.S. Green Building Council (USGBC). Green features include a wind turbine for electricity generation, bamboo and cork flooring, and recycled carpet. The furnace burns used motor oil, making this facility a new repository for the community, and the roof is dotted with over 40 Solatubes, as part of a computer-controlled lighting system to minimize energy use.
It's been featured in a number of publications, including Architectural Products Magazine. 
Project Statistics 
---
Location: O'Fallon, Ill.
Type: Harley Davidson Dealership and Retail Store
Size: 33,000 sq. ft. (floor)
ICF Use: 24,800 sq. ft. (walls), All exterior walls plus one interior wall and elevator shaft
Height: 17 to 33 feet
Cost: Approx. $150 per sq. ft.
Total Construction: 330 days (Oct. '06 to Sept. '07)
ICF Start-to-Finish Time: Approx. 3 months
Construction Team 
---
Owner: Frieze Harley Davidson/Jenny Frieze 
Architect: Karasek Architects/Gary Karasek
LEED Consultant: Vertegy Consultants/Thomas Taylor, LEED AP
General Contractor: Trumpet Builders LLC/Paul Hinkler
ICF Installer: DS Klein Construction/Dean Klein
ICF Distributor: County Building Products Lenard Johnson
ICF System: PolySteel 4000 by Arxx Corp./Bracing by Reechcraft/Blockouts by V-Buck
Like what you read?
Yearly Subscriptions Starting @ $30