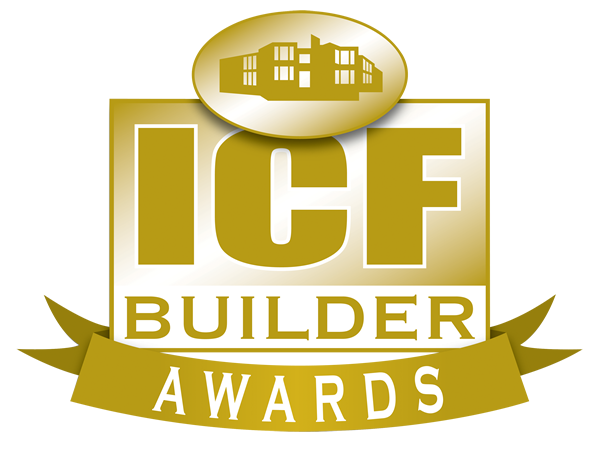 Nestled against the western slopes of the Canadian Rockies about 30 miles east of Kamloops, British Columbia, is one of the largest ICF subdivisions to be built in recent years. The 53-home development of private custom homes demonstrates how ICF developments can be successful and profitable for the developer and contractor. 
Dave Micku of Sandy Ridge Construction says, "This is the only subdivision in Salmon Arm where every house is constructed of ICF. With the changes to the B.C. energy codes in the last couple of years, it only makes sense to build with ICF. Being a mass wall system, it takes all the envelope problems of getting to R-24 with wood construction and throws them out the window."
Micku says he has used various ICF brands over the last 27 years, but chose the Amvic 3.30 block for this development. "We choose to use the Amvic Plus block because of its R-Value, the ease of install and its strength," he says. "They are more expensive, but it's worth it. With the strength of Amvic blocks we do not have any problems with bulges or blow outs. They are an exceptional block to work with."
The homes average about 2,600 sq. ft. per home, and use about that same amount of ICF. Total construction time was about 12 weeks, with the ICF installation typically being completed in just five days.
Micku says, "All of the houses built are constructed with ICF from the frost walls to the trusses. Most of the houses built have an average of 10 corners. Each house is custom designed for the customers. 
He installs the floor system prior to backfilling. "We have developed a hanger that is poured in place and simplifies hanging the TJI floor joists, which speeds up the build process and cuts costs," he says. "Putting the floor system in place before backfill strengthens the foundation immensely so we can backfill sooner without fear of pushing or moving the walls."
Each home was finished with a different combination of cement board siding and artificial stone. "It adds a modern, trendy look to all of the houses," says Micku.
The designer paired the high-efficiency ICF walls with extra roof insulation and energy-efficient windows and doors. "All the owners are amazed at how low their utility bills are," he reports. "Natural gas for the stove and high-efficiency furnace averages $20.36 for the summer months and $55 per month in the winter."
Considering the beauty and efficiency of these homes, it's no surprise that they sold quickly. When the development opened in the fall of 2017, they sold the first 18 homes in just 18 days. In 2018, 19 more homes were completed and sold, with four more in the finishing stages. Micku says, "Thank goodness for ICF because of the ease of construction and the fact that we are instantly insulated. It allows us to continue construction during the winter months so we could meet our deadlines to have the customers all move in on time."
An additional benefit for the closely-spaced homes is the sound-absorption of ICFs. "The soundproofing benefits of the ICF construction is huge in a development like this," confirms Micku. "The homeowners are truly impressed that when they shut their front door, no outside noise is transmitted into the home."
He continues, "Every homeowner is so impressed on the benefits of ICF. When homeowners tour a finished home and see what they can get in a ICF home compared to a conventionally framed house, they all are convinced that the ICF construction is the way to go."
Pat Cymbala, Amvic territory sales manager adds, "After 40 years in and around all aspects of ICF construction, manufacturing and sales, it is so nice to see ICF projects like Country View Estates succeed. Not all subdivisions that start with dreams of being all-ICF construction end up following through with that concept. Dave Micku has proven to believers and non-believers alike that ICFs are now a competitive and economical way to build in today's energy conscious world." 
Project Statistics 
---
Location: Salmon Arm, BC, Canada 
Type: 53-Home Strata Development 
Size: 2,600 sq. ft. (floor) average per home 
ICF Use: 2,500 sq. ft. per home 
Cost: $200 / sq. ft.  
Total Construction: 12 weeks (per home) 
ICF Installation Time: 5 days (per home) 
Construction Team
---
Developer: Little Mountain Ridge Developments
General Contractor & ICF Installer: Sandy Ridge Construction 
Form Distributor: Future Form
Engineer: ABC Engineering
ICF System: Amvic 3.30
Fast Facts
---
Only All-ICF Development in Region
Sold the First 18 homes in 18 days
Energy-Efficient Roof and Windows
Like what you read?
Yearly Subscriptions Starting @ $30