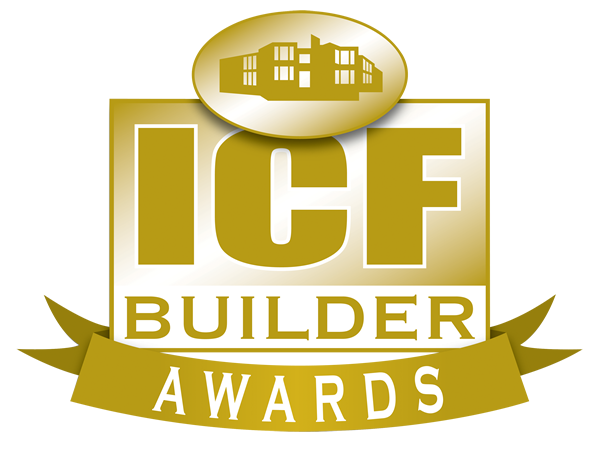 2016 Large Residential Winner
The House of Bryan is perhaps the best known residential ICF project yet built. "Bryan" refers to Bryan Baeumler, host of one of the most popular shows on Canadian cable TV. In each season, the series follows the construction of a new home built for Bryan's family. He is a home improvement celebrity similar to Bob Vila from "This Old House" or Ty Pennington on "Extreme Makeover Home Edition."
House of Bryan Season Three "In the Sticks" followed construction of Baeumler's personal residence, an all-ICF home built in Campbellville, Ontario, about midway between Toronto and Kitchener. According to the storyline, Bryan and his wife are ready to build their "forever home," and ICFs were a natural fit.
"The producers are always looking for a unique angle to make their shows more watchable," explains Andy Lennox, vice president of marketing solutions at Logix ICF. "Their concrete supplier referred them to Logix, and a series of meetings were undertaken."
Kurtis Chapman, vice president of Logix' Northeast division, took the lead in those meetings. The first meeting took place in January 2013 when the new addition had already been designed in stick-frame. The show was scheduled to start filming in April.
"In those three short months, we re-designed the home to be full height [ICF] construction, sourced the installer, worked with the project engineers and architects and coordinated with the building department," Lennox says. The hustle paid off, and they got the go-ahead for construction.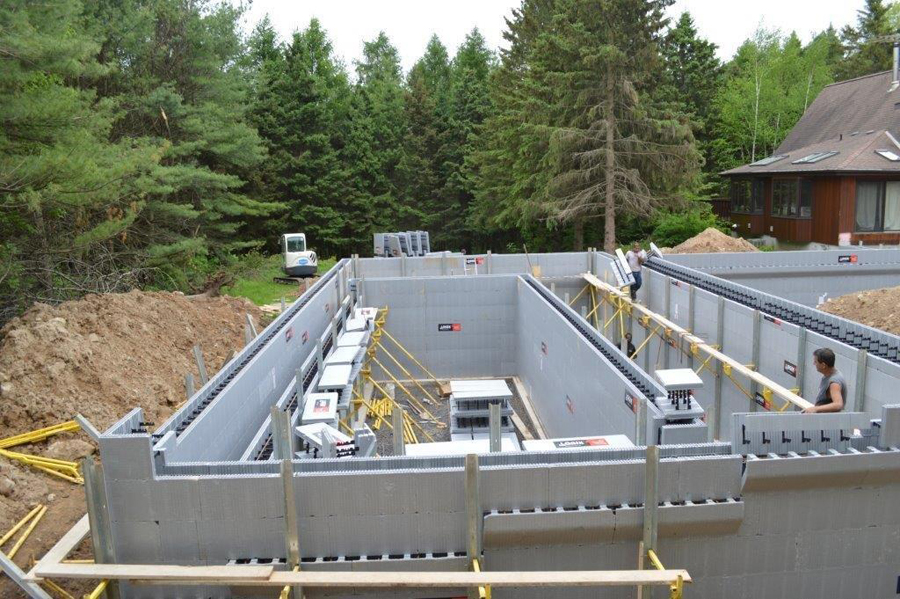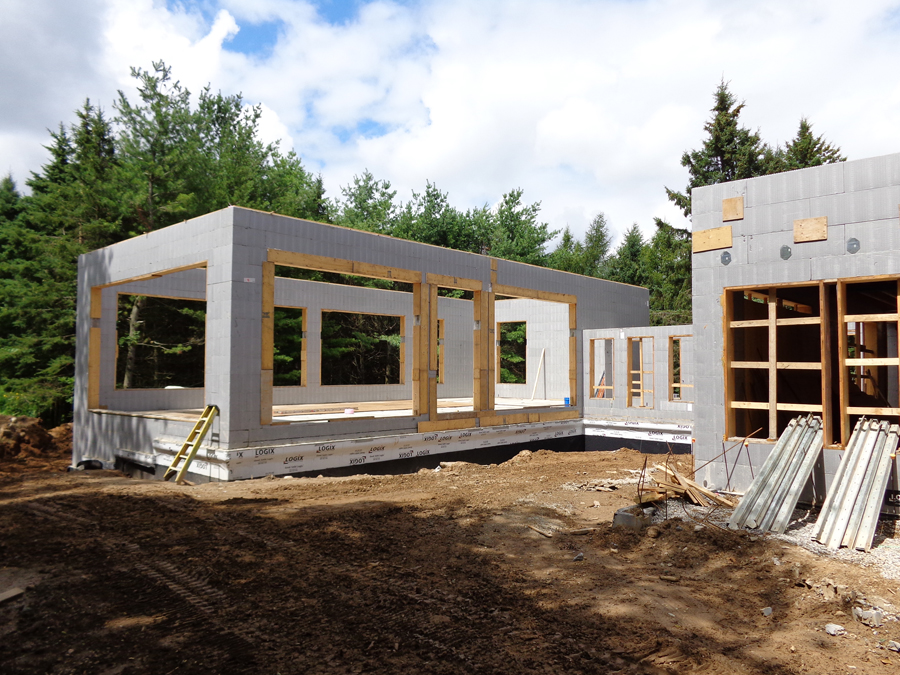 Baeumler decided to use Logix' Platinum Series ICF, made with graphite-enhanced Neopor foam, which gives the wall assembly an R-Value of 28 (compared to an R-23 for regular EPS).
The project is technically a 5,000-sq.-ft. addition to a decades-old wood frame home already on the property, and was a rather complex build. All the exterior walls were ICF, with radius curves, complex corners, tall walls to 18 feet, and extremely long lintels. Additionally, the swimming pool, pool pavilion, and connecting tunnel were formed with ICFs. In total, the project used about 11,700 sq. ft. of forms.
In addition to the complexities of construction, the project had to be kept within budget, on schedule, and match the filming timetable while TV cameras captured every part of the action.
Paul Gillies of Authentic Construction, who led the ICF install, says, "There were a tremendous amount of corners, in odd angles. Radius walls were constructed, and we dealt with all the complexities that come with connecting a new ICF addition into existing wood frame house."
Logix 10″ and 8″ forms were used for most of the walls. The pool was also constructed with Logix. The pool pavilion has walls of windows on every side and an 18-foot ceiling, leaving only tall, narrow columns of ICF with very little support. Careful workmanship, combined with Giraffe adjustable turnbuckle bracing allowed these to be poured without problems.
The show proved to be extremely popular with viewers. Between 400,000 and 500,000 watched per episode, making it the most popular TV series ever on HGTV Canada.
ICF was a central theme and were visible in 8 of the 13 episodes. Chapman, an introvert by nature, rose to the occasion as the main ICF spokesman, explaining the advantages of the technology and providing a basic overview of construction. Cameras showed walls being stacked and braced, animated graphics showed how the wall system works. Concrete pours were televised as well as interview segments explaining benefits of ICF construction.
Clips from the series are available via the online version of this magazine or by internet search. Complete episodes are available on the HGTV.ca website. The complete 13-episode series is scheduled to broadcast in the USA.
Based on the final edits, it appears that Bryan Bauemler, the show's primary personality, is sold on the benefits of ICF. Additionally, he repeatedly promoted the technology on social media during the broadcast schedule to his 60,000 followers.
Andy Lennox says, "Looking back, the Baeumler people took a real risk with us. Given the tight schedule a lot could have gone wrong, but we made it happen, and the result is that the highest rated TV series ever on HGTV Canada is all about the construction of a full height ICF home."
He concludes, "No other project has done more to promote ICF construction to the mainstream consumer population of Canada."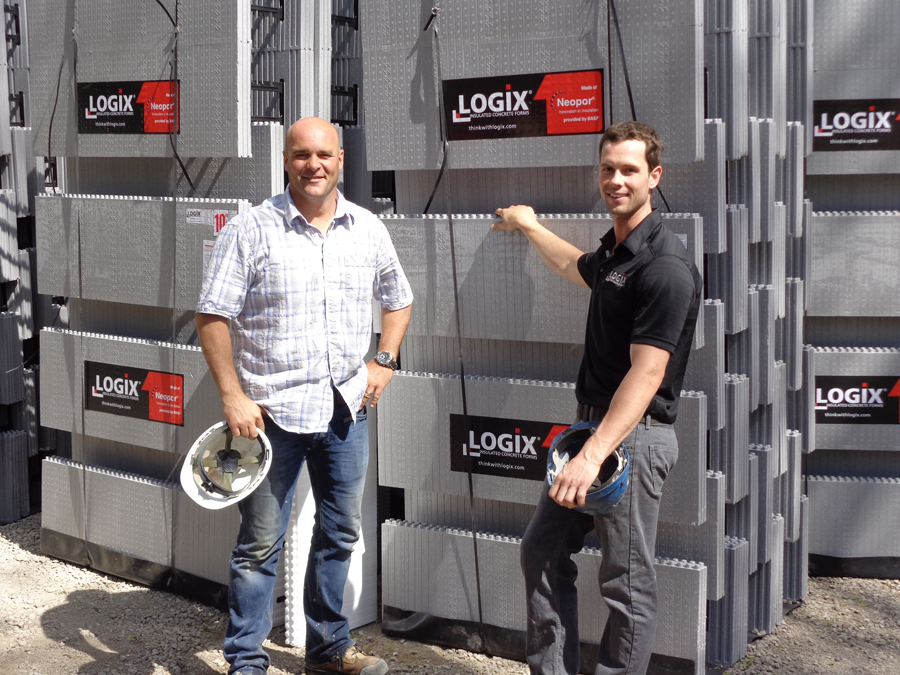 ICFs were featured in 8 of the 13 episodes, with Kurtis Chapman (right) providing the ICF expertise. Baeumler (left) also promoted ICFs on social media and in frequent voiceovers.
Project Statistics
---
Location: Campbellville, Ontario, Canada
Type: Custom Home Addition
Size: 5,000 sq. ft.
ICF Use: 11,700 sq. ft.
Total Construction: 15 months
ICF Installation time: 90 days
Construction Team
---
Owner + General Contractor: Bryan Baeumler
ICF Installer: Authentic Construction
Form Distributor: Logix Direct
Architect: Hicks Partners
ICF System: Logix Platinum
Fast Facts
---
• Built for cable TV series
• 500,000 viewers each week
• 18-foot tall walls, Radius walls
• Custom corners, dozens of windows
Like what you read?
Yearly Subscriptions Starting @ $30