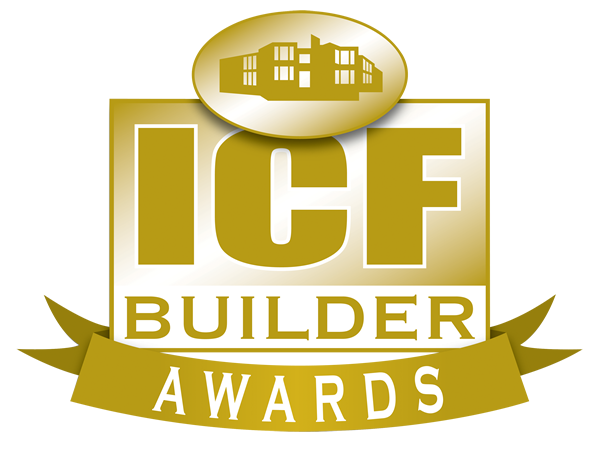 2014 Heavy Commercial 1st Runner-Up
Trinity United Methodist Church is a milestone ICF project. Located midway between Dallas and Fort Worth, Texas, the 75,000 sq. ft. building dominates the landscape. Weight-bearing ICF walls soar to 70 feet above grade without intermediate floors. Dozens of large windows punctuate the walls. Perhaps most importantly for the future of the industry, it was visited by teams of designers and contractors that are opening the ICF public school market in Texas so they could study ICF installation approach and methodology.
"This project is unusual in that all the players had extensive ICF experience," says Cameron Ware, president of FutureStone LLC, who supplied the ICFs for the job. "The architect wanted to put together the most experienced team possible to guarantee project success."
He adds, "With the exception of the owner all have gone on to build additional
ICF structures."
The architect wanted proven performance in the ICF brand too. He selected Nudura, which has been used on approximately two million square feet of commercial work in Texas and had similar projects and associated references available. To seal the selection, each of the team members had completed several commercial ICF projects with the brand.
Architect Scott Martsolf says, "Using ICF as a structural system provided us with the flexibility to mold an intricate architectural facade with a sound, structural material. We also used the foam to provide the backing for the exterior finish system. These two factors provided a more economical wall system compared to a traditional steel/metal wall system."
ICFs provided savings in other areas too. Martsolf says an early mechanical load analysis showed they could reduce the tonnage of the HVAC system.
Martsolf's design features a 70-foot-tall, cathedral-like entrance which was built using traditional ICF units. Ware explains, "ICFs with eight- and six-inch concrete cores were utilized on Trinity. Consequently, since the central area walls were 70 feet high it was necessary for the engineer to design appropriate pilasters to support the structure." These pilasters were made by stripping the foam off one face of the ICF and forming the pilaster with plywood.
As Patrick Callahan, the engineer, puts it, "Using ICF for the perimeter walls allowed us to maximize the structural efficiency of the ICF wall system."
Ware continues, "Another area of engineering interest was a 37-foot-wide ICF opening, which was resolved with triangular pilasters on each end The ICF above this opening continued on up and terminated with a 40 foot high gable."
Design complexities were not the only challenge builders had to overcome. Kevin Drake of FPI Builders, the general contractor, reports, "We experienced significant weather delays during the project but they were ultimately overcome, and the project was completed on time and on budget."
Much of the credit for keeping the job on schedule goes to Greg Mills of Shell Craft, LLC, the ICF installer. The 70-foot wall heights required bringing in a truck-mounted concrete pump with a 61-meter boom. In order to stay on schedule, sometimes two of the massive pump trucks were onsite pumping at the same time.
In the end, Shell Craft was able to pour and stack the 63,000 sq. ft. of ICF walls—including 3,000 sq. ft of interior walls—in just under 90 days. Total construction time was 14 months.
Location: Arlington, Texas
Type: Worship Facility
Size: 75,000 sq. ft. (floor)
ICF Use: 63,000 sq. ft.
Cost: $10 million
Total Construction: 14 months
ICF Installation Time: 90 days
Owner: Trinity United Methodist Church
General Contractor: FP Builders
ICF Installer: Shell Craft LLC
Architect: Scott Martsolf Architects
Form Distributor: FutureStone
Team consisted of experienced ICF professionals
Cathedral-like tower reaches 70 feet above grade
Largest opening is 37 feet
Visited by architects, engineers, & GCs to learn about ICF
Like what you read?
Yearly Subscriptions Starting @ $30