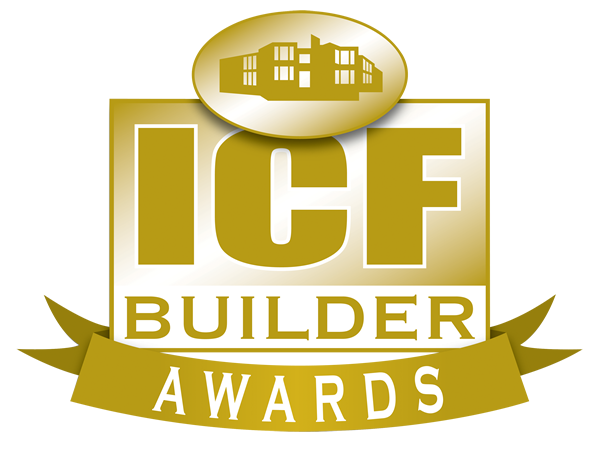 2019 Unlimited Residential 
1st Runner-Up 
Located at the top of a gentle hill in Southern California, the Orman Residence showcases how ICFs can work with virtually any style of architecture to achieve a home that is energy efficient, disaster-resistant, and luxurious.
The 7,500-sq.-ft. home is in Murrieta, a small community nestled in the coastal range midway between San Diego and Los Angeles. In addition to exterior walls, ICFs were used for several interior walls, the gables, radius turrets, and even several retaining walls in the landscaping. In total, the project used an astonishing 13,000 sq. ft. of Fox Blocks ICF.
The forms were installed by Penna Construction. "This was an extremely complex project, with multiple gables, two wrought iron "Juliette balconies," three radius walls, two turrets, a porte-cochère with sun deck on top, and multiple irregular corner connections," says Joe Penna,
vice president. 
Experienced ICF contractors know that one key to keeping costs down is to minimize the number of concrete pours needed, and determining the best way to break up the concrete pours on a project this massive proved to be challenging. With advice from the distributor, they divided construction into three sections, with one section being poured at a time.
Another major challenge was figuring out the best way to form and pour the two radius turrets, which reach more than 32 feet above the footers. 
The windows and door openings were all formed with EPS foam bucking.
The exterior finish on the upper portion of the home is a synthetic stucco from Omega. The lower portion of the house and all the exterior retaining walls were clad in natural stone native to the property. It was quarried when the hilltop was leveled during initial grading. 
The commitment to quality and detail continues inside. All doors, furnishings, wrought iron, and embellishments were made by hand. The arched doors were particularly finicky, as they required perfectly crafted arched doorways to fit.
The home is remarkably sustainable for its size. Crews installed photovoltaic panels on all south-facing rooftops, and high efficiency, double-pane Low-E glass windows complement the efficiency of the ICF walls. A smart HVAC and lighting systems further contribute to the home's long-term sustainability. 
Project Statistics 
---
Location: Murrieta, California 
Type: Private Residence 
Size: 7,500 sq. ft. (floor) 
ICF Use: 13,000 sq. ft. 
Cost: $2.5 million 
Total Construction: 105 weeks 
ICF Installation Time: 200 days 
Construction Team 
---
Owner: Mark Orman 
ICF: Penna Construction, Inc.  
Form Distributor: Forming Solutions ICF 
Architect: Kerckhoff Designs 
Engineer: Martin Structural Consulting 
ICF System: Fox Blocks 
Fast Facts
---
Complex Design with Multiple ICF Gables
Two Radius Turrets with Windows Reach 35 Feet 
High-Efficiency Windows, Solar Panels, and "Smart" HVAC system
Like what you read?
Yearly Subscriptions Starting @ $30