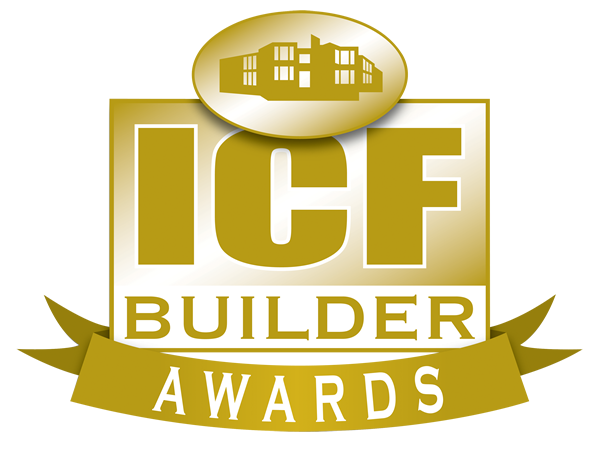 2014 Light Commercial 1st Runner-Up
This 24,000 sq. ft. building built in Northern Alberta is corporate headquarters of a real estate development company. Located midway between Edmonton and Saskatoon, they develop more than 250 residential lots each year as well as several industrial and commercial projects. It's fueled by the oil boom that has kept Alberta's economy red-hot for the last few years.
Using ICFs for their headquarters sent a strong signal to the region that the technology is an attractive alternative to traditional construction methods.
The climate of the northern Canadian plains is characterized by moderately warm summers and long, bitterly cold winters. Energy-efficiency was a key factor in the design of the building, and the major reason ICFs were selected. The roof insulation measures R-40 to complement the BuildBlock ICF walls. Both stories feature in-floor radiant hydronic heating; the second floor is insulated with foam on trusses covered with Gypcrete. With file cabinets, heavy office fixtures, and dead load, the second floor truss system was designed at 100 lbs./sq. ft. and tied into the concrete wall core using J-bolts.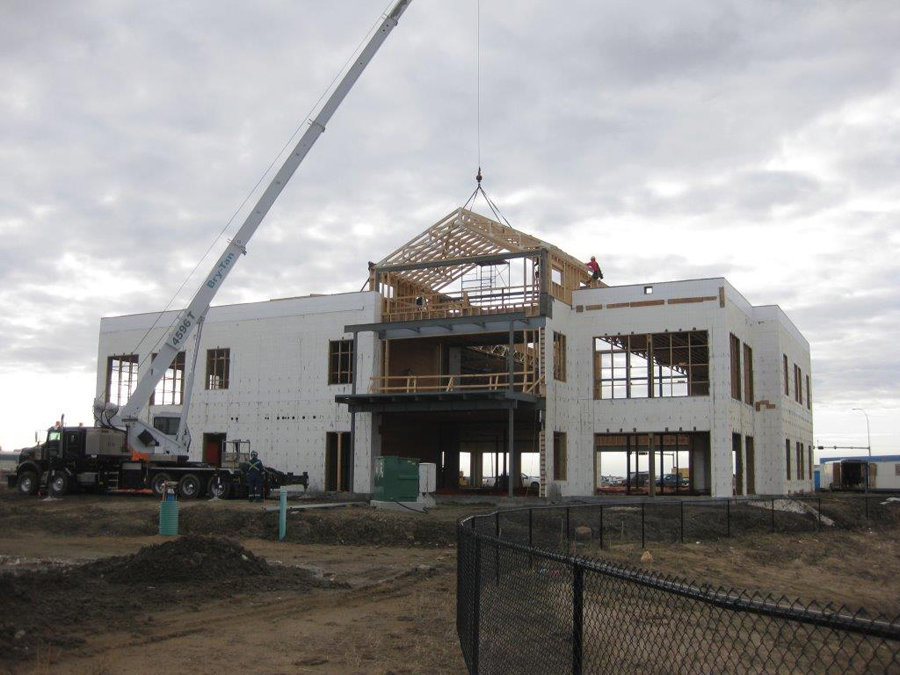 They wanted to create a building that would feel like home, with a bright and warm atmosphere. Natural textures and lots of wood were used throughout the building. The open design provides good visibility for the entire staff and provides natural light to the interior of the building.
Solar gain was also a consideration, and with all the 5-meter and 3-meter windows, the owners joke that the building is more window than wall. The glass is triple-glazed for efficiency.
From a construction standpoint, though, the long lintels and short wall segments complicated the build. The engineer characterizes the design as "post and beam construction using ICFs," and says that only ICFs provided the combination of structural strength and efficiency needed. One feature that is not immediately visible is the close integration of 6-inch and 8-inch core blocks in the same wall on the same level. This was an architectural choice to create differing brick depths between windows which created a challenge to ensure a seamless pour and continuous wall.
Fortunately, the strength of the BuildBlock ICFs and versatile Plumwall bracing made it possible to achieve a trouble-free build, will wall heights topping out at 32 feet above grade.
The greatest construction challenge was finding days where the temperature, snow, and wind were mild enough to build. During the construction process the temperature varied between -5°C and -30°C with strong winds. The warmest temperature during a pour was -5°C (20°F) with a stiff breeze.
This is another area where ICFs showed a significant advantage. After the concrete was poured, batt insulation was temporarily installed at the top of the forms to keep the concrete warm. The concrete was completely insulated during the curing process. The general contractor estimates this insulating factor shortened construction by six weeks.
Despite an extremely cold and snowy winter, Musgrave Agencies was completed on time and on budget.
Project Statistics
---
Location: Lloydminster, Alberta
Type: Office Building
Size: 24,000 sq. ft. (floor)
ICF Use: 9,500 sq. ft.
Cost: $4 million
Total Construction: 15 months
ICF Installation time: 120 days
Construction Team
---
Owner + General Contractor: Musgrave Agencies
ICF Installer + Form Distributor: Butterwick Brothers
Drawings: UCG/TY Architecture
ICF System: 6" and 8" BuildBlock
Fast Facts
---
Corporate headquarters for real estate co.
R-40 roof insulation, LED lighting, triple-pane windows
Extensive windows created wall bracing challenges
Warmest pour day was 20 degrees F
Like what you read?
Yearly Subscriptions Starting @ $30