In the last 10 years, about 80 large-scale ICF projects have been built in Waterloo, Ontario. Forty are within a few blocks of each other.
Over the last decade, the city of Waterloo, Ontario, Canada has been transformed by ICF technology. Although the city only has about 100,000 people, approximately 80 major ICF projects have been built there in recent years. Forty of them have been built within an area less than one square mile.
Here, where construction demand is high, timelines are urgent, and winters are long, ICFs are proving time and again that they can deliver efficient, robust, comfortable buildings on schedule and without increasing the overall cost.
Mid-Rise Booming
ICF projects in Waterloo are primarily "mid-rise" construction—between four and twelve stories—and most commonly use ICF for all above-grade exterior walls. However, ICF's are also often used for frost walls, below-grade walls, parking garages, interior demising walls, shear walls, elevator shafts, fire-rated walls and load-bearing walls.
The area's construction boom was jumpstarted by pent-up demand for student housing. The University of Waterloo, Wilfrid Laurier University, and Conestoga College are all located close to downtown. These schools wanted to provide safe modern housing, and since most of the developers would also be the long-term owners, the long-term maintenance and energy costs were a significant factor. ICF construction fit the bill.
The technology is well established in the Toronto area; at least four major manufacturers are headquartered nearby and a base of qualified commercial installers was already in place when the first projects went out to bid.
Kurt Ruhland of MTE Consultants Inc., who has designed many ICF mid-rises, says some architects and engineers might initially be hesitant to design with ICFs. He says, "It is just like the concrete building that you were designing in school," he says. "We find ICFs to be very efficient to design with."
For example, he points out that it's easier for an ICF wall to support the weight of pre-cast floor segments, and that because aesthetic cracking is not a concern, he can specify heavier horizontal bars with greater spacing, which translates to less labor and/or faster building times.
Ten years ago, the first dozen or so projects were student apartments and condominiums in the four- to six-story range. But land is always scarce in urban areas, and as designers, owners, and builders gained confidence, the height of the buildings steadily increased.
Maple Hill Creek
Maple Hill Creek Apartments was one of the projects that really kicked off the race skyward. Built by Jamesway Construction using Nudura ICFs, the project began in June 2006 and was completed in September 2007. The affordable housing initiative used 80,000 sq. ft. of forms.
It was not particularly large, but it was quite challenging. Deadlines were tight, the site was extremely congested, and much of the concrete work had to be done in the winter. The biggest challenge was that, at ten stories, it was taller than any other weight-bearing ICF structure previously built.
Jamesway met the deadlines and budget, bringing the project in at about $125 per sq. ft., and it was a complete success. It won multiple awards from the regional construction associations, reached capacity within 60 days of opening, and utility costs were 30% lower than conventional construction.
Waterloo's ICF building boom was underway.
An Energy-Saving Choice
ICF buildings are more energy efficient simply because they are more air-tight, with a high-mass concrete core sandwiched between two continuous layers of one of the most insulative materials available. An ICF wall assembly delivers up to 60% lower air infiltration than a conventionally built wall (the monolithic concrete core is impenetrable), and there are no thermal bridges or interruptions in the building envelope. The massive concrete core creates a five-day thermal lag which helps to maintain a constant indoor temperature even when outdoor temperatures fluctuate. In the event of a natural disaster an occupant will stay comfortable for a longer period of time without power, a significant factor in a Canadian winter.
King's Court
King's Court, a student residence at 345 King St., built on the success of previous projects in the area. Topping out well above 150 feet, it set a new record for the tallest load-bearing ICF structure in North America. Again, Jamesway Construction was the contractor, this time using Amvic ICF for all exterior perimeter walls from the footings to the 12-foot-high parapet wall rising above the 14th floor. ICF work began in May 2008, and was completed five months later, with the building opening in February 2009. Despite 132,000 sq. ft. of floor area, Jamesway reports that not a single exterior strap or bracing was required on the outside of the building all the way up.
Typical Construction
As the design and construction community in Waterloo has become more familiar with mid-rise ICF construction, a few commonalities have emerged.
Typically, all exterior walls are built with ICF. By combining multiple components—concrete, reinforcement bar, insulation, air barrier, vapor barrier, and furring—into a single building system, the same crew can install the entire building shell: the complete exterior wall system, interior walls, pre-cast floors and windows. This makes the projects simpler, more efficient, and the jobsite less conflict-prone. ICFs can easily accept any type of interior or exterior finish including wood, siding, textured acrylic finish, stucco, or stone and brick veneers.
Floors are pre-cast concrete (usually 8″). Ruhland says, " An ICF midrise building is actually easier to engineer than a masonry building. There is simply much more strength capacity in the steel-reinforced ICF walls, so we do not have to engineer the floors as we would in a cast-in-place building." Pre-cast floors require no shoring, so fit-and-finish sub-trades have unfettered access immediately after placement.
Interior walls are either ICF or masonry. If fire ratings and durability are the primary factors, designers usually go with masonry. For ease of finishing and sound dampening, ICFs are the better choice.
"Punch out" windows are very cost-effective, as they maximize the wall-area-to-opening-area ratio, thereby maximizing the building's thermal performance.
Typically, the building progresses in stages, with the ICF walls being erected and braced as soon as the floor below them is in place. Floor slabs can be installed on the walls within seven days after pouring. Windows, interior and exterior finishes can all be installed as soon as the wall bracing is removed.
Preston and Bridgeport House
Shortly after King's Court was completed, work began on Preston House, a 16-story luxury apartment building.
Melloul Blamey was the GC, with Cronin Contracting as ICF installation subcontractor. This time, in addition to the outer shell, all of the interior demising walls—between units, halls, and common areas—were also built with ICF. This eliminated the need for a masonry subcontractor and sped construction. More importantly, it provides tenants with quieter units, additional fire safety, and a much stronger building. In total, the project used 125,000 sq. ft. of Nudura. The work was complicated by a very tight site and accelerated construction schedule. However, careful planning and attention to access, material handling and safety, coupled with a design incorporating precast floors and all-ICF walls made the project successful.
As the ICF work was nearing completion on Preston, work
was just getting underway at Bridgeport House, an 18-story student apartment tower. Once again, Cronin Contracting and Melloul Blamey teamed up for the job, this time using Arxx ICF. At 198,217 sq. ft., Bridgeport was not only taller, but significantly larger than other projects previously built in the Waterloo/Kitchener area. The building set yet another high mark for ICF walls of any kind, eclipsing the previous all-around record which had used the foam forms as in-fill.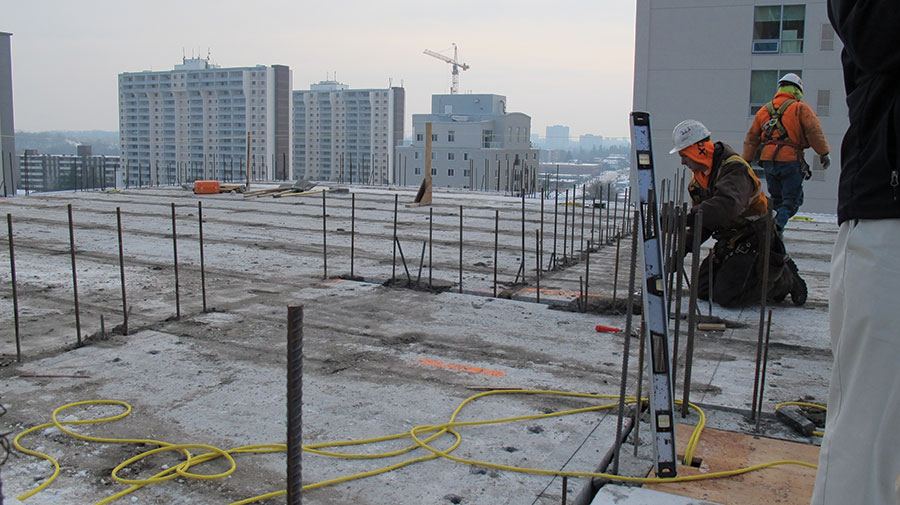 ICF work continues during the winter months, with minimal hoarding and heating costs, as seen in this shot of Luxe Waterloo taken in mid-January 2013.
Luxe Waterloo
Bridgeport's height record would not stand for long as Luxe Waterloo, a high-rise student dormitory about two blocks away, was already under construction. Featured on the July cover of this magazine, it topped out at 22 stories with weight-bearing ICF walls. It used Fox Blocks 12" core ICF for all exterior and most interior walls.
ICF Installer RV Construction, and general contractor XDG Construction were on tight deadlines, completing a story per week including precast floors. Union carpenters installed the forms, and the majority of the ICF work took place in the winter.
Code requires that all fresh concrete must be kept above 50 degrees Fahrenheit (10º C) for 28 days after being placed. With conventional concrete construction, cold weather work almost always requires extensive hoarding and heating. Tents must be built around every section of concrete wall and hot air must be blown into each tent 24 hours a day until the concrete cures sufficiently. This hoarding and heating process can cost many thousands of dollars per floor.
On the other hand, ICF insulate the green concrete at no additional cost, so these hoarding and heating costs are drastically reduced or eliminated; only the concrete at the very top of the ICF wall needs protection.
This is yet another reason ICF construction can cost less per square foot than masonry or conventional poured- in-place concrete, yet yield a better building.
The 104,000-sq.-ft. Luxe Waterloo was completed in 13 months.
Evolution
One reason ICFs are consistently setting new records for the size and height of buildings is because, over the years, they have been refined and now have attributes that make them ideal for this type of construction.
Specialty blocks are available with a half-height interior foam panel which creates a space to readily accept a pre-cast floor slab. Most major manufacturers also offer a line of unassembled 'knock-down' forms that are fully compatible with pre-assembled forms. The knockdown forms can be used to build around complex and heavy rebar patterns, while the pre-assembled blocks speed the work in other areas.
Historically, corners have been the weak point in ICF walls due to the concrete forces coming from two directions. Forms are now available with integral corner support and additional interior and exterior fastening surfaces. "Blow outs" are not common and easily repairable; however they get more time-consuming to repair as you build farther from the ground. Pre-formed reinforced corners—available in 90 degree and 45 degree angles—offer cheap insurance and peace of mind.
Bracing has also evolved. It is an integral element in the successful erection of ICF walls, and systems are readily available for tall-wall and high-rise ICF construction. Using integral turnbuckles, installers adjust walls to dead plumb and straight with just a few twists.
The Future
Luxe's height record may not last long. The developers of that project are already planning a series of four 25-story ICF buildings on a single city block, linked with lower level shops, recreational and parking areas. They are also exploring the possibility of building six other apartment complexes, one of which is rumored to top 30 stories.
The construction of more than 80 ICF midrise buildings in a single city is a sufficiently large and reliable sample size to prove that where timelines are urgent and the weather is cold several months out of the year, insulated concrete forms can deliver better buildings, on schedule at a better price.
These buildings are literal landmarks towering over the city of Waterloo, but they're also figurative landmarks for the ICF industry, showing the way to a better future.