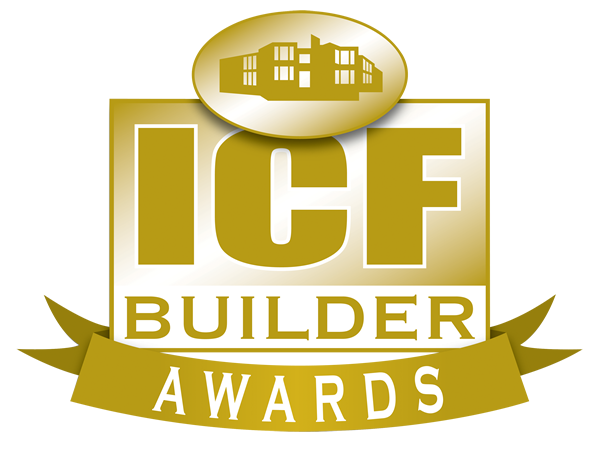 2020 Small Residential
Winner
The Iowa Nest Residence began with an ambitious goal: build a Net Zero Energy home on a conventional construction budget without compromising design.
To achieve its energy goals, the home is built to Passive House standards, which includes high levels of insulation, triple paned windows, exceptional airtightness, and ventilation with energy recovery. The home is bermed into a south-facing hillside—its main level partly embedded in and covered by a green roof, in order to take advantage of the stable temperature of the earth. It also incorporates "passive solar" design, capturing direct solar gain and storing it in the building's thermal mass. The home has no mechanical air conditioning, achieving summertime comfort with passive cooling.
"From a comfort perspective, the home has exceeded all expectations," says the owner, Peter Krebs, who also served as the general contractor.
In fact, the home appears to be exceeding its energy targets. Extensive monitoring in the months since it was occupied show that baseline utility bills are a mere $2 per month (for the refrigerator and ventilation system); and averaged $38 in the coldest months of winter. During the polar vortex in January 2019, as outside temperatures dipped below -25 degrees F, the home maintained an interior temperature of 60 degrees with no mechanical heating whatsoever. (A complete record of temperature, relative humidity, and energy use is available at the home's website, www.iowanest.com.)
The architect, Carl Sterner, made extensive use of design-stage energy modeling to optimize each design decision. "The trick is to get performance, cost, and aesthetics all pulling in the same direction," he said. "Early, iterative energy models allowed us to do exactly that." Decisions about building form, windows, shading elements, and materials were all analyzed through this lens.
ICFs were introduced early in the design process because they met multiple needs. "ICFs enabled an earth-bermed design with high thermal mass, high-R continuous insulation, and exceptional air tightness," said Sterner. "In fact, no other system would have enabled this design."
ICFs were central in achieving Passive House performance. Early analysis showed that both high insulation and excellent air-tightness were critical passive design strategies. ICFs could easily provide continuous insulation: the team used Nudura with additional insulation inserts to achieve an R-45 wall. Shading elements could be attached entirely outside the insulation layer, eliminating thermal bridges.
The team knew that the extreme airtightness target was going to be a challenge. Passive House targets roughly ten times less air leakage than a conventional new home. But there were no local trades experienced with achieving this level of airtightness. ICF provided a way of meeting this target without requiring specialized expertise, additional training, or expensive air barrier membranes. "The concrete core of ICF and LiteDeck are themselves excellent air barriers," said Sterner, who is also Certified Passive House Consultant. "Then it's just a matter of careful detailing at the windows and penetrations—which we achieved reasonably easily with window bucks and tape." In fact, the leakiest part of the house during the initial blower door test was the joint between the ICF wall and the wood roof structure on the second floor.
ICF construction also featured heavily in meeting the home's cost goals. The approach started with the design: a simple, compact footprint; efficient plumbing and mechanical layouts; and simple finishes. Sterner says, "In this house, polished concrete floors, drywall, and simple pine trim give a clean, contemporary look without a huge price tag."
The design also saved on the mechanical systems. By investing in an efficient envelope, the team was able to eliminate conventional mechanical systems and ductwork, resulting in a system that was less expensive than a conventional home. The system consists of an in-floor electric radiant heating controlled on a room-by-room basis, coupled with an Energy Recovery Ventilator (ERV) .
The owner performed a substantial portion of the construction himself. "We selected a local ICF contractor, Jon Ide, based on his track record in the market and his willingness to teach us how to do the most labor-intensive activities to keep costs contained," said Krebs.
Krebs, working alongside Ide or on his own, installed the Nudura walls, LiteDeck roofing, and the reinforcing steel over the course of seven weeks. This included the construction of a 4'-6" deep beam that spanned a 32-foot opening with a custom 30-degree corner. Despite the complexity, the job could be done effectively with a small crew. Sterner noted that this team had not only completed the home's structure; they had also installed the insulation and a Passive House-quality air barrier—eliminating the need for additional trades and associated labor. "When savings from these trades and materials were factored in," said Sterner, "ICFs were actually a less-costly way of achieving the performance goals than a stick-built home." According to Krebs, even valuing his time at standard labor rates, the home comes in at 8% less than comparable quality stick-built construction.
With its large windows and bright interiors, the home feels open and spacious, yet also warm and intimate. The triple pane windows and ICF walls make the home nearly silent. It has a sense of calm, of intimacy, of repose.
"We wanted to show what's possible," said Sterner. "We wanted to prove that aggressive sustainability can coexist with good design." The result is a striking contemporary home with truly exceptional performance.
Carl Sterner is director of design and sustainability at Sol Design + Consulting. He can be reached online at www.solconsults.com 
Project Statistics 
---
Location: Rural, Iowa
Type: Custom Home
Size: 2,400 sq. ft. (floor)
ICF Use: 6,200 sq. ft. 
Cost: $450,000
Total Construction: 90 weeks
ICF Installation Time: 45 days
Construction Team 
---
Owner: J/P/W/ Krebs
General Contractor: Owner
ICF Installer: Ide Concrete Homes
Form Distributor: Lockridge, Inc.
Architect: Sterner Design
ICF System: Nudura and LiteDeck
Fast Facts 
---
Earth-berm Passive House Design
Custom 30-degree Corner
Significant Publicity
Tunnel Connecting Below-Grade Garage
Like what you read?
Yearly Subscriptions Starting @ $30