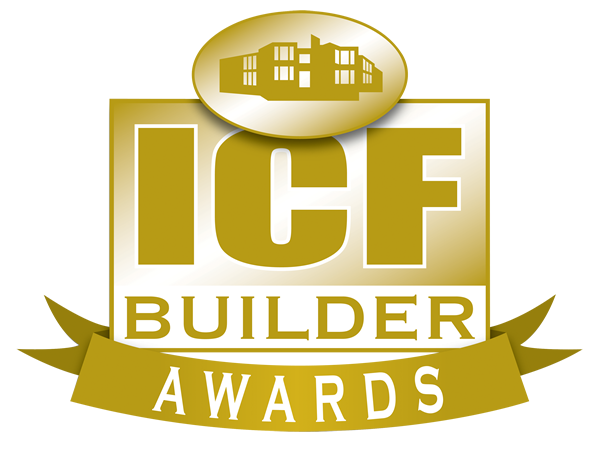 2019 Large Residential
Finalist
This 5,200-sq.-ft. home in Maryland is a model home dedicated to showcasing sustainable building practices. The home certainly achieved that in a variety of ways, including having nearly no waste thrown away on site during the build. 
Green Casa Maryland is a public advocacy organization that educates on sustainability and green construction. They wanted—and got—a high performance green home that demonstrates that sustainable housing is affordable, practical, and perhaps most importantly, beautiful. Although the organization is based in Maryland, it has become a nationwide resource on how to build a sustainable home.
Utilizing BuildBlock ICF, the single family home in Cabin John, Maryland, used 3,120 sq. ft. of ICF. That choice ensured the walls were energy efficient, and to complete the exterior "energy envelope" they also installed triple-pane windows in the walls and R-52 insulation in the ceiling. The open design of the home required special beams to support the second floor which were notched and cemented into the ICF walls. Despite these extra challenges, the ICF took only 10 days to install out of a total 24-week work schedule. The builders estimate that they saved two weeks by using ICFs.
Isaiah Werner, BuildBlock's marketing manager, explained that one of the goals of the project was to have virtually no waste. "Most home builders have giant trash containers on site—we had none," Werner said. Block excess and trim was utilized in the upstairs loft area. That area has 2×6 studs, so the crew cut up and glued the extra ICF foam pieces into the wall cavities and then spray-foamed the cracks. That way, Werner explained, they did not waste any of the product and were able to add rigid foam insulation in an area that needed it. 
"When we were doing it, one of our other partners, Certainteed, had its regional manager touring the home and he was blown away by our 'commitment to the goals of the project,'" Werner said.
In addition to the high R-value insulation and triple-paned windows, the home has 42 solar panels, which produce more energy than the home uses. The panels are connected to a bank of two Tesla PowerWalls which store extra power during the day. The batteries power the house at night, while also serving as a backup power source in the event of a power outage. Brett Kimberlin at Green Casa Maryland says, "We could not have done this without the use of ICF making the home so energy efficient."
The Home Energy Rating System (HERS) index is -4, compared to a standard new home which has a rating of
100. A home with a score of zero generates as much energy as it consumes; this home's negative score indicates it generates more energy than it uses. In addition to being a net-zero home, the home is also certified LEED Silver, Energy Star, and NGBS Gold.
The home also features LED lighting, Energy Star appliances, rain gardens, VOC-absorbing drywall, earth-friendly paint and flooring, a heat ventilation recovery system, a non-polluting wood-burning fireplace, low-flow toilets and faucets, and the first grey water system in the county. 
As a model home for an organization dedicated to sustainability, only the finest and most long-lasting craftsmanship would do. To ensure control, Green Casa Maryland served as general contractor, and self-performed the ICF work as well. The crew was new to ICF, but took the extra time and attention to ensure that all walls were perfectly straight and that there were no voids. The 39 window and door openings were blocked out using dimensioned lumber. Most of the traditional steel rebar was replaced by Helix micro reinforcement. 
"Even though there were 39 windows and doors of a dozen different sizes and configurations, there were no bulges, honeycombing, spills, or breaks," said Werner. "When the Intus windows and doors arrived by shipping container from Lithuania, they fit perfectly into the openings made by the contractor."
Construction began in the middle
of a cold and snowy winter in 2013. Not only did concrete need to be pumped at less-than-comfortable temperatures, the ICF contractor had to mix the Helix needles into the concrete at the jobsite, rather than the batch plant. Because many of the materials were donated, the construction timeline was extended over several years, with construction wrapping up in 2016.
The finished product is a beautiful and unique three-story home with an open and light-filled layout. Exterior finishes include cedar siding and gray fieldstone. The classic materials on the outside combine with a Swiss chalet or lodge-type design, with an interior finished in three types of cedar. The home was finished in March of 2016, and has already won several awards including the "Excellence in Concrete" award from the Maryland Chapter of the American Concrete Institute for the innovative use of concrete, ICF, and
micro-rebar.
So far, the non-profit has given more than 120 tours of the home to professors, students, contractors, civic leaders and ordinary citizens, and the project has enjoyed local media coverage. Video documentation of the project has inspired numerous people near and far to both consider and use ICF. Green Casa Maryland reports they are receiving inquiries from all over the United States and from other countries as well. 
Kimberlin says, "We are very satisfied with the end result and the fact the home continues to attract tours and the website is very popular. It has had a tremendous impact on the community, both locally and nationally through our website." 
Project Statistics 
---
Location: Cabin John, Maryland
Type: Single Family "Green" Home
Size: 5,200 sq. ft. (floor)
ICF Use: 3,120 sq. ft. 
Cost: $1.5 million
Total Construction: 24 weeks
ICF Installation Time: 10 days
Construction Team 
---
Owner, General Contractor, & ICF Installer: Green Casa Maryland
Form Distributor: BuildBlock Direct
ICF System: BuildBlock
Fast Facts 
---
LEED-Certified, Net-Zero Home
Generated Virtually No Waste During Construction
39 Windows and Doors
Like what you read?
Yearly Subscriptions Starting @ $30