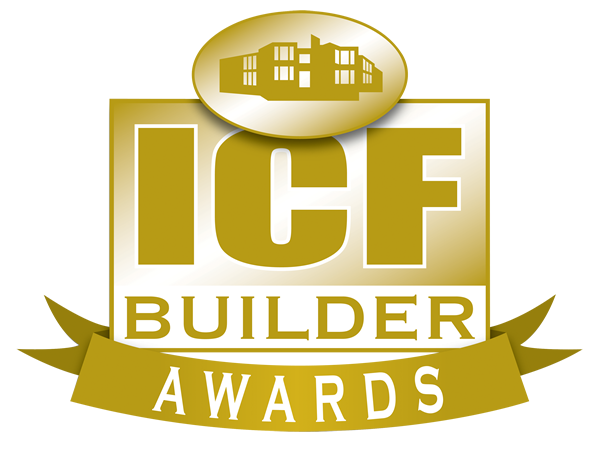 Cornerview Apartments features 15 affordable housing units on three floors. The unique corner windows featured throughout the building are one of its strongest selling points.
"High-quality affordable housing with excellent floor plans are unfortunately an all-too rare achievement," explains Daniel Heyden, the project architect. "We seized the opportunity to use ICFs to provide corner bay windows, which are simply not feasible with the Concrete Block (CMU) construction typically used for affordable housing in New York. Twelve of the 15 apartments have both a street or rear and a side yard exposure, which is quite uncommon in affordable housing. Simply put, Insulated Concrete Forms allow for corner windows, corner living rooms, corner apartments, apartments that feel more like small houses."
The architectural firm's preferred builder is a NUDURA distributor, so choosing a specific brand of ICFs was straightforward.
The combination of ICF walls with large, operable corner windows has proven to be quite energy efficient. Heyden continues, "We maximized the number of corners in order to optimize cross-ventilation and natural daylighting, reducing the reliance on air conditioning and electricity. The 9'-4" ceiling heights, coupled with the thermal mass of the ICFs and precast concrete flooring results in significantly reduced air conditioning loads." The airtight walls also ensured the building would pass the blower-door test required to receive NYSERDA funding.
New York City is notoriously expensive to build, and funding for affordable housing is always tight. In this case, Heyden and his team at Design AIDD came in at $175 per square foot, well below the "very tight hard-cost budget" that typically runs $225/sq. ft.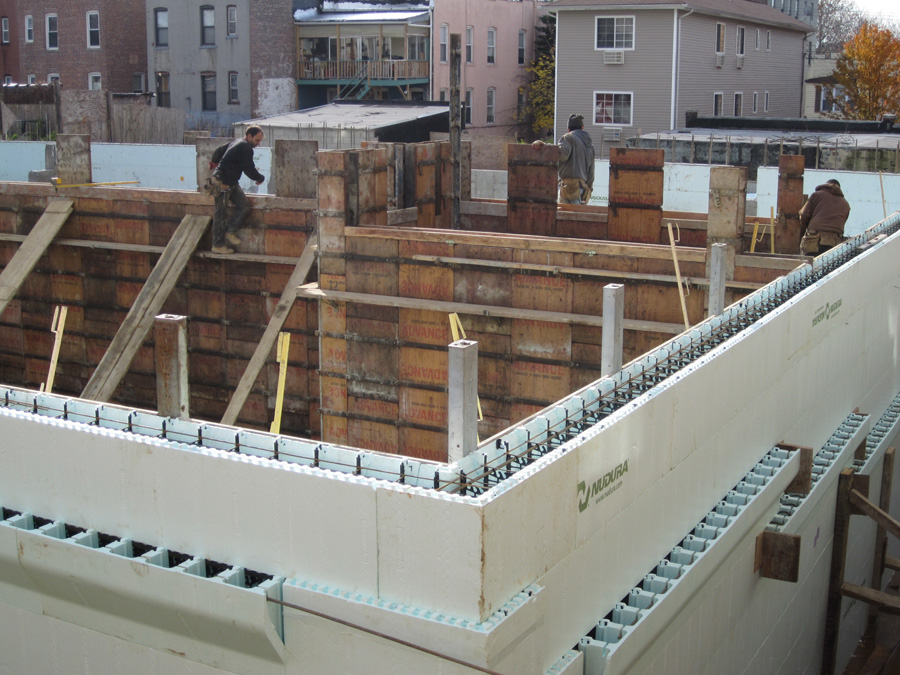 Cornerview Apartments was one of the first ICF projects in the City of New York, and pioneered the acceptance of ICFs with code officials. It's the only ICF project in the New York State Energy Research Development Authority's (NYSERDA)'s pilot Multifamily Performance Program.
"On this project we have been able to prove the potential of ICFs to create a sustainable, spacious, healthy, and affordable housing project," says Heyden. "It is clear that the developer, the contractor and the architects will use ICFs again on the next similar project.
Location: Bronx, NY
Type: 15-Unit Apartment
Size: 19,400 sq. ft. (floor)
ICF Use: 16,200 sq. ft. (all exterior walls) plus 3,800 interior walls
Cost: $3.5 million
Total Construction: 390 days
ICF Start-to-Finish Time: 21 days
Owner: Lemle & Wolff, Inc.
General Contractor: Apartment Rehab Corp.
ICF Installer: Luso/Europa Construction
Form Distributor: Manning Materials
Architect: Design AIDD Architecture
Engineer: Antonucci & Associates
ICF System: NUDURA
15 "affordable housing" apartment units on 3 floors
Named for unique corner bay windows throughout project
Ample windows give apartments a "house-like" feel
Tight budget ($175/sq.ft. in
New York City)
ICF garage and laundry facilities
9'4" ceiling heights throughout
Pioneered acceptance of ICFs with New York City code officials
Like what you read?
Yearly Subscriptions Starting @ $30