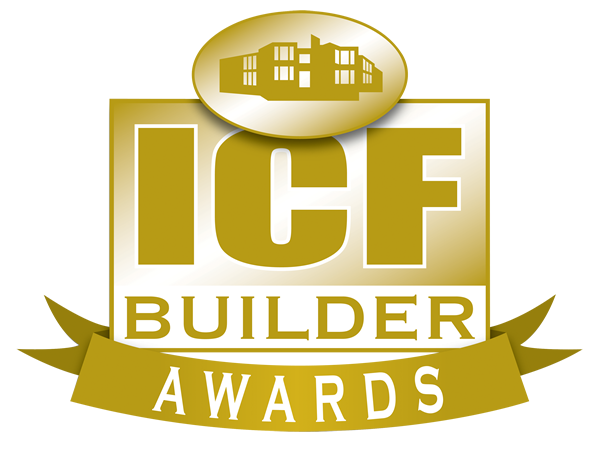 Martin Hall is a student dormitory built on the campus of Eastern Kentucky University in Richmond, Kentucky. The state was an early adopter of commercial ICFs, with numerous ICF schools built in the last decade, and now the technology is expanding into other areas.
The five-story building has nearly 200,000 sq. ft. of floor space, and used about 90,000 sq. ft of Nudura-brand ICF, which was used for all exterior walls as well as interior shear walls. 
The project was a public-private partnership. The university structured the job as a design/build project where the winning team would also be the long-term owner with a lease back provision to the university. They also specified an early bid fast-track design. 
Brown + Kubican, PSC, a local design firm, partnered with D.W. Wilburn as general contractor to submit the winning bid. Both companies have extensive experience with heavy commercial ICF construction, and after "running the numbers," they found ICF to be preferred over the other systems for this job because it was less expensive than the structural steel option, or even cast-in-place concrete. ICF had the advantage over concrete masonry due to speed of construction and the ability to construct during cold weather. Then the design was refined for even more cost savings.
Dan Kubican, lead architect on the project, says, "The project was intentionally and strategically designed for efficiency, ease of construction, and cost savings. Building corners were minimized, offsets were planned with form dimensions in mind, window openings were generally made of punched openings for minimal jamb and header reinforcing, etc." 
As is common for midrise ICF projects, floors were precast concrete. Kubican explains, "Precast hollow core planks with a three-inch topping were used for the floor structure, spanning from exterior walls to a single line of steel beams and steel columns along one side of the interior corridor. The 8″ deep planks are supported on the bottom flange of 10″ deep beams, allowing us to limit the depth of the floor structure and reduce floor-to-floor heights."
He continues, "The use of ICF bearing walls at the building perimeter eliminated the need for perimeter columns and the associated column wraps which occupy valuable space and create obstacles to furniture placement. The steel framing system utilizes a non-proprietary beam design, resulting in a savings due to lack of licensing fees. Such strategic planning netted a cost savings of approximately $25 to $50 per sq. ft. of building area compared to other similar dormitory projects."
Once the construction team got the go-ahead, work proceeded at a remarkable pace. Building permits were in place within four weeks with the final full design complete four weeks after that. Total schedule from notice to proceed through design and construction was 13 months. The actual stacking of ICF forms was subcontracted to Olympic Construction. 
As a dormitory, the construction team placed dozens and dozens of window bucks on every floor, which were built using PreBuck. Weld plates were minimized through careful design, but the job still involved hundreds of them. The floor planks used a beam bearing configuration rather than vertical embed plates. The masonry veneer utilized post-installed anchors in lieu of traditional embed plates and welds. Most of the embeds were brick relief bent plates at the heads of windows at every level, which eliminated the need for loose lintels above the openings. 
Completed in August of 2017, Martin Hall is a great example of multifamily midrise ICF. It has received significant publicity from the National Ready Mix Concrete Association, which is trying to regain market share in this segment, and also from various education associations, who see it as a beautiful, quality, cost-effective solution to student housing. The project was also awarded "Best Multifamily project at the 2019 ICF Builder Awards.
Kubican says, "ICF combined with precast pre-stressed hollow core concrete planks is excellent for fire resistance, sound transmission, floor vibration, wind and seismic loading. The permanent insulating forms make the structure very energy efficient… Many public and private educational institutions have visited the campus and our other nearby ICF projects to witness the possibilities in design, construction and economics that ICF affords." 
Project Statistics 
---
Location: Richmond, Kentucky 
Type: Five-Story Student Dormitory 
Size: 199,480 sq. ft. (floor) 
ICF Use: 90,850 sq. ft. 
Cost: $32 million 
Total Construction: 74 weeks 
ICF Installation Time: 75 days 
Construction Team 
---
Owner: Eastern Kentucky University 
General Contractor: D.W. Wilburn 
ICF Installer: Olympic Construction 
Form Distributor: Nudura 
Architect: EOP Architects 
Engineer: Brown + Kubican, PSC 
ICF System: Nudura 
Fast Facts
---
Built at Eastern Kentucky University
Bid as Design/Build with Lease Back Provision
Five Stories with Precast Plank Floors
Publicity from NRMCA and Education Associations
Like what you read?
Yearly Subscriptions Starting @ $30