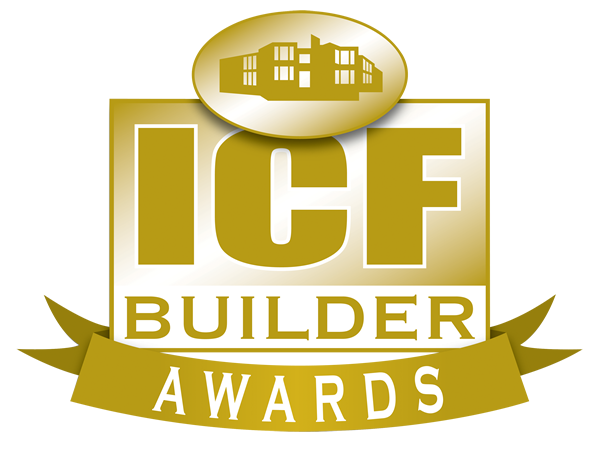 A mixed-use building with retail outlets on the ground floor underneath three floors of apartments in Stevensville, Maryland, are the most energy-efficient apartment homes built to date in Maryland. Chesapeake Village Center was the first National Green Building Standard (NGBS) Emerald mixed use building or commercial building constructed in Maryland. This was the general contractor's second Emerald project.
The project was completed in October 2017 for less than $5 million using 32,000 sq.ft. of exterior ICF walls from IntegraSpec to complete the 22,000 sq.ft. building. The project also used 6,000 sq.ft. of ICF interior walls. Total ICF installation time was 127 days (4 1/2 months) with a total project construction time of 24 weeks (six months). 
This was an interesting project because it was converted from wood to ICF, and there were no design changes when it was changed over to ICF. William Naegeli, owner of GNP Inc., the project's ICF installer, says a lot of construction time was spent on corners and T-walls. "Unfortunately they didn't have the time to make changes to the number of corners," he says. "Since it was wood frame, there were a lot of corners used to make up for the structural support necessary when using wood for three to four stories."
Along with this, the patios also had stemwalls that extended out past the exterior of the walls that also supported the patio decks that were also Insuldeck panels. "We developed a form that capped off the stemwalls and since we were using a knockdown panel, many of the corners used only an inside form and the outside corner was straight form. This was utilized on many corners that had a dimension of 2 feet or less. The T-walls were also done in a similar fashion where we could stagger the straight panels and use only inside part of the corners."
Construction Challenges
GNP had only a labor contract, not a contract to purchase material. The owner was responsible for material purchases, which meant some challenges in running out of some material and having too much of one material and not enough of another, Naegeli says. 
"The rebar shop drawings didn't match up with the rebar that was delivered most of the time for each floor elevation," he recalls. "It was really only a slight problem for the floors, as for the walls we used straight bars and did the fabrication ourselves. The construction site had a telescopic forklift on site at all times and really helped a lot with loading and unloading material."
One challenge was the elevator shaft. One side of it was exterior finish concrete (ECF). Naegeli says it was challenging to keep that straight and plumb, but the crew was able to use 1×4 horizontal cross ties to keep the plywood in place and the IntegraSpec inserts worked very well to hold the plywood in place.
Despite being switched from wood frame to ICF, there was little interaction with the architect due to sickness. But, Naegeli says, there was a lot of interaction between IntegraSpec's engineer and the structural engineer who drew the plans up. 
The ground floor design is very open, but the upper floors containing apartments had a large amount of demising walls (walls that separate units from each other or from common spaces). It took some engineering to make the first floor system with only three steel columns work with the upper floors. 
"It was amazing the way they had us set rebar in that first floor to carry all that load, but it worked out excellent," he says. 
Naegeli says despite these challenges the craftsmanship was excellent. "We had no problem with voids or honeycombs," he says. "We had a couple of areas that did bulge, but we were able to rasp them into compliance." 
Energy Efficiency
Naegeli says his understanding is that the building is 75% more energy efficient than a wooden counterpart. Since the building is all concrete with Hardie board finishes, the owner doesn't foresee any major improvements or repairs for a very long time. He plans to maintain ownership of the building and also plans on building another one right beside it.
"He is also experiencing tenants who are really enjoying the building and he believes his vacancy rate will be much lower than on his other properties," Naegeli says. 
Naegeli was able to show the owner the real savings in using ICFs by downsizing the HVAC system and by comparing the long-term energy savings over the life of the project. "Since he was going to keep the properties and it was part of his portfolio, he wanted long-term durability and income," he says. 
Project Statistics 
---
Location: Stevensville, Maryland
Type: Mixed-use, multi-family apartments and retail
Size: 22,000 sq.ft.
ICF Use: 38,000 sq.ft.
Cost: $4.8 million
Total Construction: 24 weeks
ICF Installation Time: 127 days
Website: chesapeakevillagecenter.com
Construction Team 
---
Owner: Eastern Bay Mgmt.
General Contractor: Chesapeake Village Center
ICF Installer: GNP Inc. (gnpbuilders.com)
Form Distributor: IntegraSpec (integraspec.com)
Architect: AR Architectural Group (410-604-2814)
ICF System: IntegraSpec
Fast Facts 
---
100% ICF exterior walls and demising walls
100% insulated concrete suspended floors – InsulDeck 12-inch system
Elevator Shaft was ECF – one side with ICF and the interior  side was exposed concrete
Over 60 90-degree corners and over 30 T-Walls
Converted from all wood to all ICF
Only 3 steel columns on the first floor
Like what you read?
Yearly Subscriptions Starting @ $30