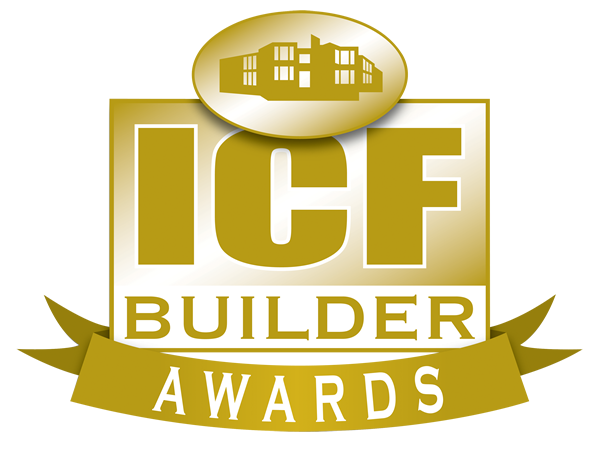 2012 Large Residential Winner
Built as a model home by Carrell Group in Myrtle Beach, S.C., this residence is a showcase for energy efficiency, beauty, and disaster resistance.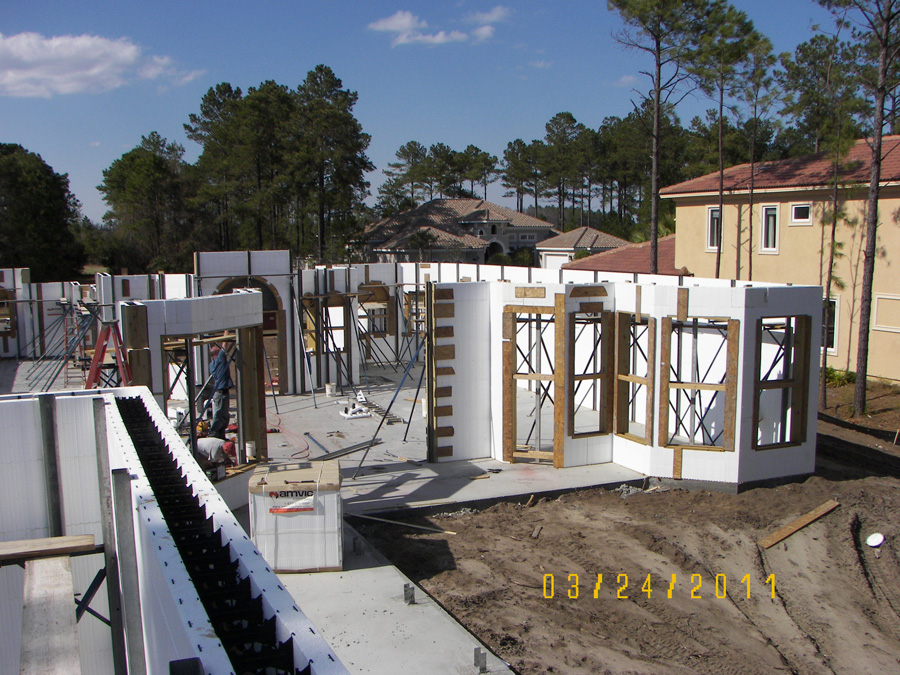 It's one of the first in the area to earn the insurance industry's IBHS "Fortified" rating. Able to withstand 150 mph winds, and impervious to termites, it's a homeowners dream. But the Fortified rating also qualifies the home for large insurance discounts.
It bears no resemblance to a bunker, though. The Mediterranean-style home features extensive glass, including 10-foot-tall, floor-to-ceiling windows in the main sitting area (made from impact-resistant glass to stand up to hurricanes without additional protection). A "disappearing wall" opens directly onto a covered lanai and opulently decorated pool area.
The key to all of this is the ICF wall system from Amvic. "Previously, it was commonly perceived that building "Fortified" limited a client's aesthetic potential," says Grant DuBose, vice president at Carrell Group, the developer. "This home convinces people that beauty and structural upgrades don't have to compete against each other."
Thick ICF walls were perfect for the deep sills used in Mediterranean-style architecture. It provided the perfect substrate for the exterior stucco finish. On the inside, ICFs eliminated the "wavy" nature of wood that would have been visible with the 12-, 13-, and 14-foot ceiling heights. It allowed for large openings, and supported the disappearing wall, all without endangering the 130-150 mph wind rating needed for Fortified certification. And it dramatically decreases energy usage; monthly utility costs are about $650 for the 5,900 sq. ft. home. Additionally, the soundproofing qualities of the ICF completely deflect any outside street noise. "When you're in this home, you can only hear the pool and speaker system," says DuBose.
A wide swath of homebuyers have found this home to be the perfect combination of beauty, efficiency, and disaster resistance. "We have built nearly 90 high end ICF custom homes," says DuBose. "After all of that experience, this is our most popular and successful selling home to date."
Location: Myrtle Beach, S.C.
Type: Model Home
Size: 5,900 sq. ft. (4,032 conditioned)
ICF Use: 5,100 sq. ft.
Cost: $875,000
Total Construction: 355 days
ICF Start-to-Finish Time: 14 days
Owner: Undisclosed
General Contractor: Carrell Group
ICF Installer/Form Distributor: ICF Builders, Inc.
Architect: Goodrich Architecture
Engineer: Georgetown Construction Services
ICF System: Amvic
Meets IHBS "Fortified" Criteria
Will withstand 150 mph winds, termites
Ceiling heights of 14 feet
Combines Strength, beauty and reasonable price tag
One of 90+ ICF homes contractor has built
Like what you read?
Yearly Subscriptions Starting @ $30