Most of the discussion about ICFs focuses on energy-efficiency and disaster resistance, and rightfully so. But while it's true that no other building system comes close to matching the durability and energy efficiency of ICF, a growing number are choosing ICFs for a third reason: ease of use.
For owner/builders seeking a top quality building at the most affordable cost, insulated concrete form construction is a simple answer. Hundreds of projects, ranging from weekend Habitat for Humanity homes to palatial estates and even commercial buildings and churches have been built by amateurs, volunteers, and first-time installers.
The common thread with successful builds is that they have a supportive ICF professional to guide them through critical points.
Cautions
While it is certainly true that ICFs can achieve a top-quality building more easily than other methods, prospective owner/builders should know it's not as easy as "stacking legos." Even small mistakes can have disastrous consequences.
Concrete walls are heavy. A wall with a typical 6" core will weigh 75 lbs. per sq. ft. That's about 1,000 pounds per linear foot of wall. It probably goes without saying that the walls must be properly braced and positioned before the pour, because anything more than the most minor adjustment will be impossible.
And unlike wood frame walls—which can be removed, adjusted, and reset—once an ICF wall is full of reinforced concrete, any change becomes a major demolition job. If the wall is wavy or out-of-plumb due to inadequate bracing, if there are bulges or even blowouts in the wall forms, if window and door bucks have sagged or shifted, good solutions short of tearing it out and doing it over are hard to come by.
Nearly all successful owner/builders have significant prior experience with concrete and or frame construction before even considering this type of work. Even then, professional training, on-site guidance and access to equipment is essential if the finished project is to look good, meet code, and have structural integrity. For instance, getting the concrete mix consolidated in the forms is a balance of vibrating enough to shake the air pockets out of the concrete, without vibrating so much that it weakens the foam forms.
Still there are numerous examples of first-time crews and volunteer labor achieving remarkable results under the right supervision.
Find a Pro
Dan McCullough, a Utah-based Logix distributor, is just one of many ICF professionals across the U.S. and Canada that regularly goes the extra mile to ensure the job goes smoothly. Over the years, he's mentored numerous contractors on their first ICF job, including several crews that went on to complete award-winning commercial buildings.
He's also helped a few owner/builders, including one client who turned down McCullough's bid to supply the ICF, then came back for help when he ran into trouble with the competitor's forms. McCullough, knowing that any negative experience with ICFs might adversely affect the reputation of the entire industry, agreed to help. He spent days on the jobsite, correcting errors and mentoring the crew. He rented the owner/builder his bracing, and spent the day prior to the pour verifying that bracing and reinforcement was all installed. On the day of the pour McCullough was up on the scaffolding, directing the pump truck operator, helping with the stinger vibrator, and in short, doing whatever he could to make the job successful.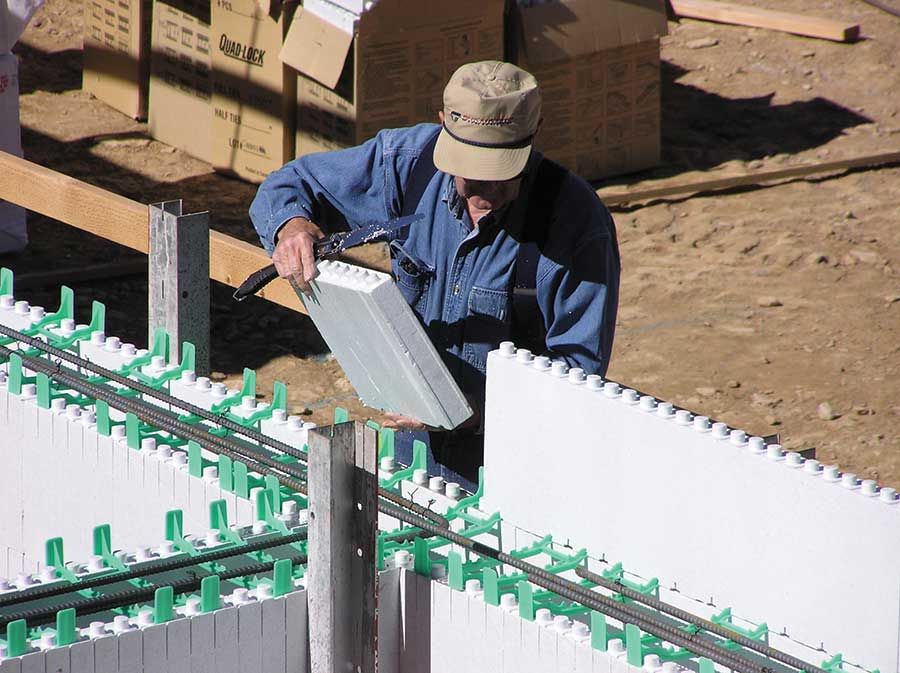 Mike George, owner of SmartBlock ICF, is another ICF professional that has established a reputation for doing whatever it takes to make a job a success. He says he visited one jobsite with a footing that was so out-of-plumb that the vertical error was measured in feet. With any other building system, this would have meant starting over. But instead of tearing it out, George spent much of the next week shaving and shimming to get a first course of forms that was level, square, and plumb. Once that was accomplished, the rest of the build was relatively uneventful.
Pick a User-Friendly Block
It's easy to see why ICFs are popular with owner/builders. "ICFs are very flexible and easy to work with from a construction standpoint," said Nicholas Nikiforuk, an IntegraSpec executive. "You do not need large equipment or tools."
Nikiforuk worked with Pine Grove Church, a congregation in Ontario, Canada, that built its own meeting house with ICFs. To keep costs down, church members stacked the walls as unpaid volunteers.
Nikiforuk designed the church to be ICF-friendly, and was available onsite throughout the build. He credits good training, straightforward design, and an easy-to-use ICF as keys to the project's success.
Nikiforuk reports, "We had only two licensed installers on site to supervise volunteers, but it worked out very well. The job involved 10,000 sq. ft of ICF walls, and largely due to the volunteer labor, was completed for around $85 a sq. ft.
Doug Thompson, a professional engineer who served as the church's building committee chair, reports, "We were impressed as our volunteer work force quickly adapted to IntegraSpec's 'user friendliness.' It allowed us to control our costs without compromising our finished product."
Training is Crucial
The church project had licensed installers on site for the duration of the job. If that's not an option, it's essential that installers are adequately supervised—and mistakes corrected—at regular intervals and at critical steps in the process.
When the community of Woodland Hills, Utah, decided to build a volunteer fire station and community center, Steve Vaughan, the local Quad-Lock distributor, provided this type of support.
Bert Cherry, who spearheaded the project, hosted a training meeting at his home, where Vaughan taught a core group of volunteers how to assemble and stack the forms, how to set the rebar, and all the other necessary skills. But that wasn't the end.
"He brought his trailer and set up here on the jobsite for the first day or so to make sure we got started correctly," says Cherry. "He came back a few times throughout the build to check on us. The level of support was phenomenal."
On weekends, as many as 30 or 40 people would be working at once. "We had kids, we had housewives, we had older retired gentlemen. All of them were able to build with ICFs without any difficulty," he says. He does admit, however, that "The hardest thing was providing adequate supervision."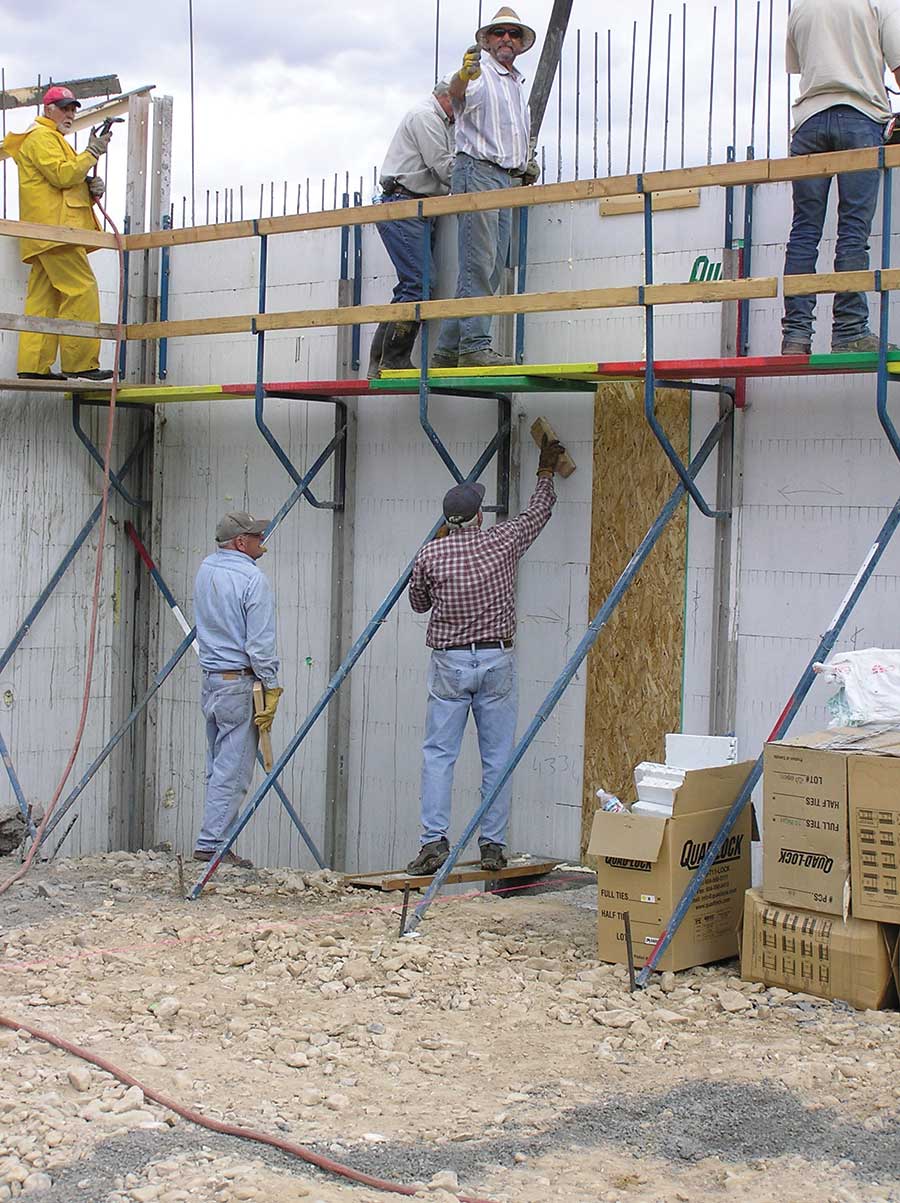 The site had a few ground rules to ensure nothing went seriously off-track. An experienced concrete contractor did all the rebar tying and lap spicing himself to ensure quality. Each course was inspected by a supervisor for tie placement, solid form interlock, and correct steel design prior to the placement of the next course. This requirement slowed construction somewhat, but it ensured a few minor errors were caught immediately, and eliminated surprises on pour days. "A few times we had to go back and tear out a little bit, but all-in-all, it worked out really good," Cherry says.
Vaughan also supplied the turnbuckle bracing for the job. Most distributors have a supply, and are willing to rent it to builders at a reasonable cost. In many cases, distributors can also supply hot knives, footing forms, window and door bucking, and sometimes, windows, doors and roofing as well.
Opportunities
The best way to get trained is to work under the direction of a qualified professional on the jobsite. For many years, Ian Giesler offered week-long onsite training courses on projects he had under construction in Texas. Others may have training opportunities closer to home through programs like Habitat for Humanity.
Lubbock, Texas has built literally hundreds of ICF homes in conjunction with Habitat for Humanity. One 2006 build was done using female youth volunteers from World Changers, a Christian service organization. They were able to stack the ICFs on one 1,500-square-foot house so quickly and easily they actually had down time while they waited for the pump truck to arrive for the pour. Construction was simple and fast, but the workmanship was also top-rate, winning a community development achievement award.
Before Becoming an Owner/Builder
Educate Yourself About ICFs. Is this something you can realistically do?
Choose a User Friendly Block. Get as much training as possible beforehand.

Find a Distributor Committed to Your Success.
On the Jobsite, The Professional Should
Check the Footing Prior to being poured.

Ensure the First Course of Forms is Plumb, Level, and Square.