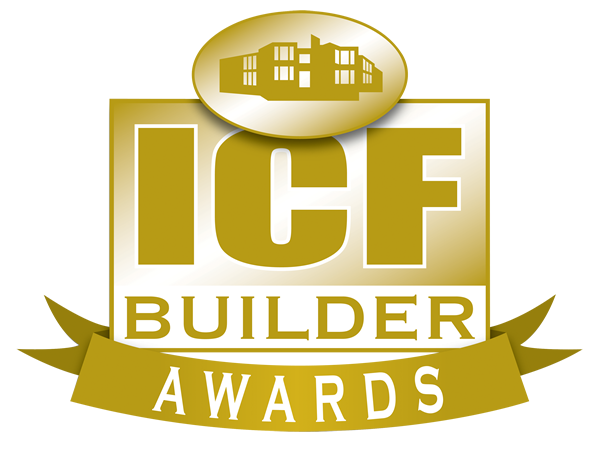 2010 Heavy Commercial
Best in Class
Village Suites, a student dormitory in Oshawa Ontario, Canada, is among the largest ICF projects built in recent years. With about 270,000 sq. ft. of floor space and using 175,000 sq. ft. of ICFs, it's claimed to be the largest ICF project ever built in Canada. The J-shaped building houses students at one of Ontario's fastest growing universities.
Built with Logix's grey Platinum Series ICF, it contains cutting edge green technology, and was certified LEED-Platinum by the USGBC. Ken Williams, a Logix distributor who supplied the forms and bracing for the project, claims it is the largest all-ICF LEED-Platinum project in the world.
Sitework was just beginning when the financial crisis of 2008/2009 caused a major lender to back out of the deal. That led to a three-month delay in the construction schedule and pushed the ICF installation into the freezing Canadian winter.
Undaunted, Todd Watts and his crew at Tradewind Construction pressed on with the install. Williams says the foundation and underground parking area used blocks with a 10" core. The main level's 14-foot walls used 8" core block, and the final 5 floors were 9' high with 6" block. (By using Giraffe tall wall bracing, crews could use the same braces for the 9' walls as were used for the 14' ones.) Roof parapets and solar panel mounts were formed with 4" core.
As each floor was completed, pre-cast floor panels were craned into place and they began again. Six stories and six months later, the ICF install was complete.
"The 21-foot-wide windows required incredibly heavy lintel steel reinforcements," says Williams. "Logix knockdown blocks made the lintel steel installation go much more easily."
Despite working through the Canadian winter, Watt's crew incurred no hoarding costs. That's a significant savings, as the masons building the interior concrete block walls reportedly spent more than $23,000 for heating.
To buck out the 536 window and door openings, Tradewind crews used slide-in wood bucks from Viking. The system required very little strapping or other support, and Williams reports that every single window fit perfectly.
In a project as large and complex as Village Suites, site conditions were somewhat crowded. Williams recalls, "On one of the busier days we had two concrete pumpers and as many as eight concrete trucks, trying to work around flatbeds delivering precast core slab and others delivering steel, plus a mobile crane and 60-foot zoom boom all in the yard at the same time."
"Coordinating material deliveries around this type of traffic was critical to our success. Fortunately, the manufacturer understood this and worked with us on delivery times that on any given day could be a moving target."
To reach LEED-Platinum status, extreme energy savings technologies were implemented. In addition to the ICF walls, Village Suites utilizes in-floor radiant heat, high quality windows and an energy recovery ventilator. Rainwater runoff is collected in a below-grade cistern and is used for lawn maintenance
Computer modeling indicates heating and cooling costs will be only 25% of normal. Electrical and water use will be cut in half.
Village Suites was named "Best Heavy Commercial Project 2010" at the ICF Builder Awards, and has generated much positive attention for the entire ICF industry. In addition to extensive local media coverage from TV, radio, and newspaper, it's been featured in national magazines such as Canadian Construction, Strategize, and Living Green.
Logix utilized this project as an under-construction showcase and acquired a school project because of it.
Project Statistics
---
Location: Oshawa, Ontario, Canada
Type: Student Dormitory
Cost:  $35  Million
ICF Use: 176,000 sq. ft. (all exterior walls) plus 17,500 sq. ft. of interior ICF walls and 14,000 sq. ft. ICF parking garage
Total Construction: 428 days
ICF Start-to-Finish Time:  168 days
Construction Team
---
Owner: DC Landcorp
Architect: RF Lintack
General Contractor: Dundurn Development
ICF Installer: Tradewind Construction
ICF Distributor: North River Distributing
ICF System: Logix ICF/Bracing by Giraffe
Fast Facts
---
One of the largest ICF projects in Canada
Extensive positive media coverage of ICF technology
First major use of Neopor by BASF
Shell construction during Canadian winter; no additional hoarding costs
Crowded site often held 2 pump trucks, 8 ready-mix trucks, a mobile crane and numerous flat-beds at the same time.
On track for LEED Platinum certification
50% water savings, 50% electrical savings, 75% heating/cooling savings
Like what you read?
Yearly Subscriptions Starting @ $30