There's no doubt that acrylic stucco, or textured-acrylic finish, is one of the most popular exterior finishes for ICF.
There's no doubt that acrylic stucco, or textured-acrylic finish, is one of the most popular exterior finishes for ICF. It's relatively inexpensive, versatile, and easy-to-apply.
But the material does have a significant drawback: regular acrylic finishes tend to get damaged easily. This is especially true in ICF work, as the EPS foam substrate is simply not very durable.
Whether the damage is intentional, like vandalism, or accidental, coming from careless lawn trimmers, errant golf balls, or even woodpeckers, acrylic finishes of the past haven't been able to stand up to abuse when compared to brick and stone.
Fortunately for ICF builders and architects, a few companies have developed abuse-resistant acrylic finishes that are perfect for prisons, schools, warehouses, and other similar applications. Most are designed for exterior use, but many can be used on interiors, and one even eliminates the need for drywall. (For other types of durable finishes that work with ICFs, see Disaster-Resistant Finishes in the August 2008 issue, online at www.icfmag.com)
Warehouses, factories, and restaurants with drive-through lanes will appreciate a finish that can withstand an occasional bump from cars or forklifts. Prisons and high schools will benefit from a finish that will stand up to the occupants' abuse. Homeowners in Tornado Alley and hurricane-prone areas will appreciate another layer of protection from flying debris, as well as military installations which require blast resistance as part of the new "force protection" requirements.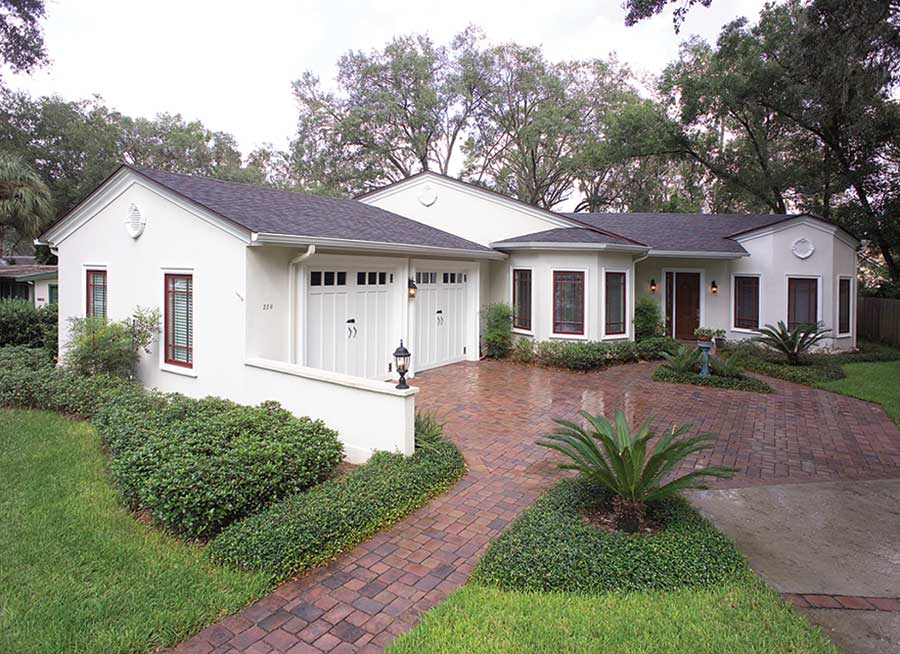 Andrew Dennis, president of GigaCrete, says, "Schools in particular require very tough finishes where most traffic occurs. Restaurants and kitchens can also benefit, as chairs and tables can damage walls. Police departments require abuse-resistant finishes in all public areas."
It's important to note that the acrylic finishes that can stand up to fire, vandalism, and wind-blown debris can also be useful in withstanding the wear and tear of day-to-day living. GigaCrete was used on the interior of the Catholic Church featured on p. 20 of this magazine for that very reason.
Kevin Grail, president of GrailCoat, explains, "We believe
that all ICF projects should have abuse-resistant finishes because by its nature, foam is more vulnerable to damage than other traditional substrates."
A tougher finish can be achieved using several different approaches. Most use a combination of a thicker basecoat, additional mesh layers, or stronger materials.
Standard Ratings
The EIFS Industry Members Association (EIMA) has developed a standardized testing method for comparing the impact resistance of direct-applied finishes. Peter Harrison, who helped develop the standard in the mid 1990's explains, "A flat EIFS specimen 2 feet square with 1-inch thick insulation board is placed horizontally, coating side up, on a rigid flat surface, such as a concrete floor. A special indenter is dropped from a measured height down a vertical tube onto the specimen."
The "special indenter" Harrison refers to is a four-pound steel cylinder with a half-inch diameter hemispherical head. The height needed to break through the mesh in four out of 10 drops is then used to determine its strength.
A standard acrylic finish with a single layer of 4.5 oz. fiberglass mesh is considered a "Level 1" finish (25-50 inch-pounds). Dryvit, for example, will withstand 36 inch-pounds of force, equivalent to a nine-inch drop (9 inches x 4 pounds = 36 inch-pounds).
Additional Mesh
Perhaps the most common method used to achieve a stronger finish is to use a thicker reinforcing mesh in the basecoat. The
same Dryvit product as above used with 6 oz. mesh can withstand 56 in.-lbs.; with 12 oz. cloth, it can withstand 108 in.-lbs. of force before failing.
Other acrylic finishes are even tougher. ORO Coatings, for instance, is 100% acrylic, but extremely impact resistant.
"You can double stack the mesh, putting two layers of 4 ½-oz. mesh in the same base coat," says Mike Gandee, a former ORO executive. "It uses a little extra base, but not much, and it will take the impact of a forklift. If you double up the mesh—usually just the bottom six feet is needed—and it will stand up to anything."
Stronger Materials
Sider-Oxydro and GrailCoat approach the challenge by using tougher materials. Both companies combine the flexibility of acrylic polymers with the strength of Portland cement.
"We're a hardcoat company," says Burgand at Sider. "What sets us apart is that we use a cement-based product instead of acrylics."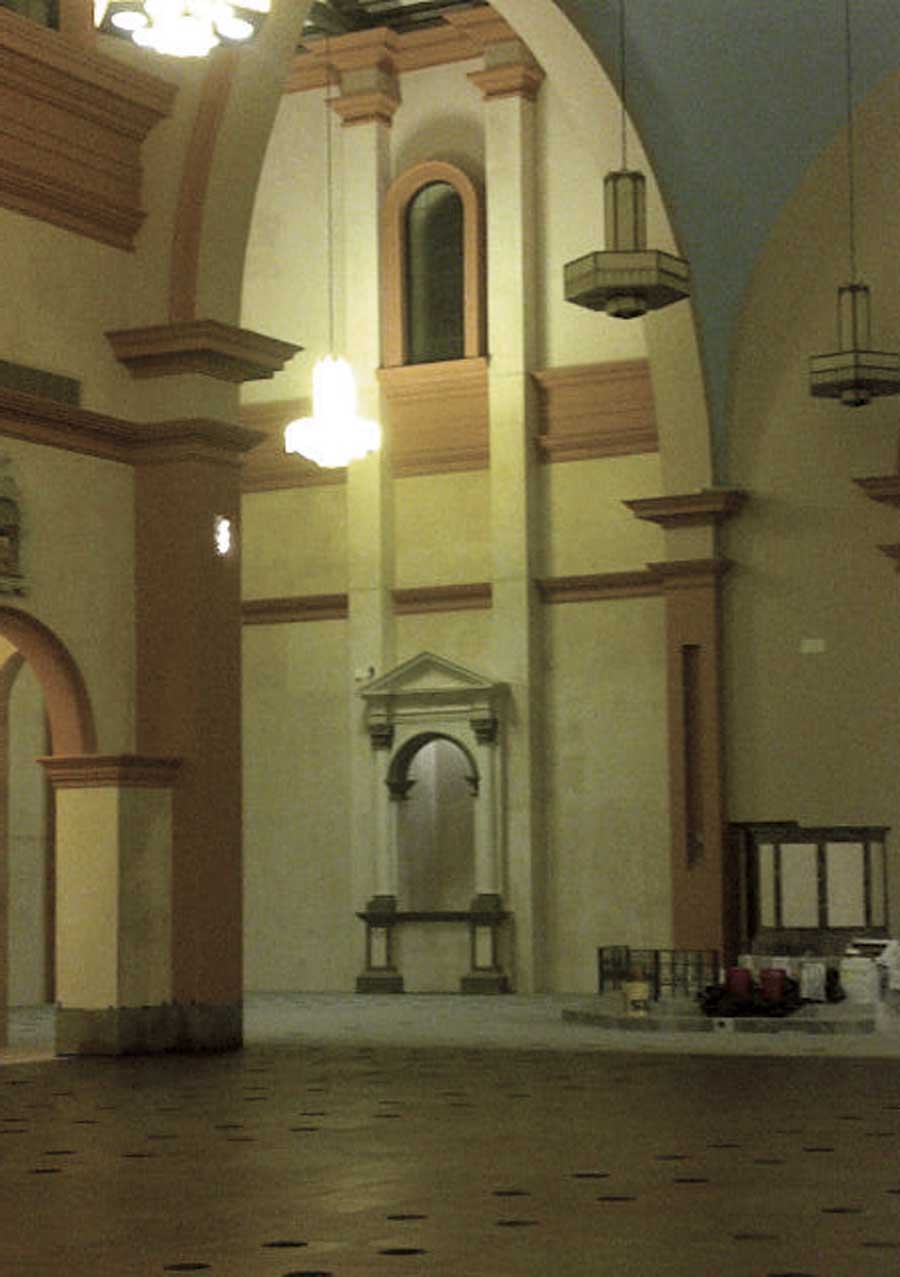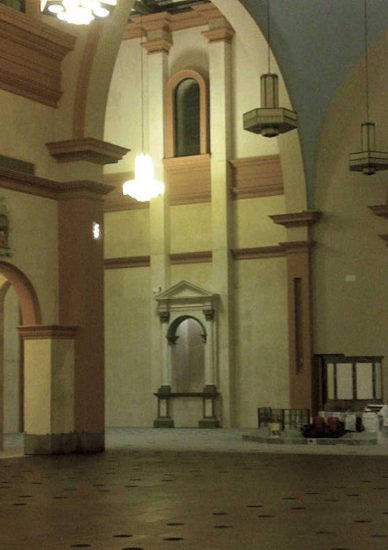 Grail says, "Our coating is similar in appearance to stucco, but is entirely different in composition. It's really a direct-applied, flexible concrete. It's strong, flexible, good looking, and inexpensive," he continues. "It is waterproof, but allows vapor transmission. And at 3/16-inch thick, it covers most irregularities in ICFs."
Grail says his product is a bit more expensive than competitors because "the polymers are more advanced," but says the additional material cost is usually recouped through faster, easier installations.
GrailCoat's Duro-Flex is fully warranted as a coating and waterproofing material if properly installed. "We warrant against cracking, flaking, and peeling on ICFs and on many other substrates as well," he says.
Grail was unable to provide third-party lab testing for compressive and flexural strength, but anecdotal evidence gives some indication. When used as a deck coating, furniture with metal legs can drag across it without damage, and cars and trucks can drive over it with no ill effect.
Field tests have also shown that it is an excellent deterrent to salt air corrosion in beach-high rise structures.
Finally, the product has considerable flexibility, which makes it more resistant to cracking than alternative coatings when dealing with impacts that sometimes occur in high-traffic areas.
Thicker Basecoat
Sider-Oxydro combines stronger materials with a thicker basecoat.
Their Power-Base ICF is applied to the wall at up to ¼-inch thick, four times thicker than the typical coating. The system uses the typical 4.5 oz. fiberglass mesh (no wire lath needed). The mix, which arrives at the jobsite in bags and is mixed with regular water, contains a much larger aggregate which is used to gauge the thickness of the coating and ensure that it's applied uniformly.
"We're basically a hybrid between acrylic- and cement-based systems," says Burgand. "Power-Kote delivers the benefits of a hardcoat stucco as well as the benefits of acrylic stucco. With a foam substrate, deflection is often a problem. What we have found over the years is that no one wants the deflection. Everyone likes the feel of the hardcoat. Our system has zero deflection, so it's a great choice for impact and abrasion resistance."
Sider offers two types of finish coat. Sider-Plast is a plaster-based product used to create most common textures. Power-Kote is an integrally-colored cement-based stucco for creating an Old-World-style finish.
Burgand notes, "Traditionally, we sell more residential jobs than commercial. But it's suitable for either application. It has zero flame spread, and on a few of the commercial applications that we've done, they've used it for interiors as well as exteriors."
Super-High Impact Options
For extreme situations, PermaCrete and GigaCrete are worth looking at. Both products surpass the highest levels of impact resistance when tested according to the EIMA impact test. When a third-party lab tested a typical PermaCrete panel with 4.5 oz. mesh, it took 178 in.-lbs. of force to create a noticeable indent, and 204 in.-lbs. to crack the sample. That translates to a compressive strength of 6,000 psi.
George Henderson, president of Quality Systems, Inc, which makes PermaCrete, says, "We deal very extensively with almost all of the major ICF manufacturers. PermaCrete is the only cementious coating with ICC approval for ICFs, and is code-approved for both vertical and horizontal applications."
Henderson also points out that the product can be spray applied to make big jobs go faster. He estimates experienced three-man crews can apply up to 2,000 sq. ft. a day, and that the total installed cost (product, shipping and labor) averages well less than $2.75 per sq. ft.
Another ultra-high impact-resistant wall coating for exterior use is made by GigaCrete.
StuccoMax-ICF is a one-coat, impact-resistant finish specifically formulated for insulating concrete forms. The finish cures to 3,500 psi yet still retains flexural strength. StuccoMax is truly a one-coat stucco and requires no lath or extensive preparations. "Hand-trowelled, the installer applies a thin coat to cover seams and imperfections, then applies the final coat the same day. Spray applied, it can go on in one thick coat which is then textured. There's no scaffolding rentals or going back over cracks," says Dennis.
"We apply about 1/8 inch directly over foam and trowel in the 11-oz mesh until all pores are filled," he continues. "We then apply a second coat of the same material immediately to reach finish thickness of 3/16 inch. We use scissor lifts instead of scaffolding because we only work the wall one time. There are obvious labor savings and costs associated with scaffolding prep and tear down that are avoided using both our interior and exterior finishes."
For even greater impact resistance, they make a finish that is literally bulletproof.
"We originally developed BallistaCrete for hurricane resistance," says Dennis, "but we've received a tremendous amount of interest from higher-end construction—schools, banks, and even military barracks overseas. Our tests indicate the finish will stop all sidearms and even bullets from an AK-47 when properly applied."
Interior Coatings
Often, abuse-resistant finishes are just as important on the interior of a building as they are on the outside. GigaCrete's PlasterMax-ICF is made specifically for these applications.
It's a ceramic cement veneer plaster specifically formulated for ICFs, and is the only known ICF coating that will meet fire code requirements without drywall; an 1/8" coat exceeds NFPA286 fire testing. Dennis recommend 3/16" thickness for additional abuse resistance, fire and thermal protection.
Dennis adds, "PlasterMax offers far more than just fire protection. It exceeds by far all the impact, indent and abuse resistance offered by even the very best 'high-abuse and high-impact' version of gypsum board. We're confident it's the toughest interior ceramic-like coating in the world."
He says material costs (excluding labor) are between $1.68 and $1.74 sq. ft. for PlasterMax and StuccoMax.
A few of the other products mentioned in this article have also been used for interior applications. GrailCoat's Duro-Flex, for instance has a Class-A fire rating, and has been used for interiors in humid regions of the developing world to eliminate mold and mildew issues.
Conclusion
When selecting any finish, the decision typically revolves around colors, textures, and price. But maintenance and durability should also be considered, even if the region is not prone to
natural disasters.
A finish that doesn't dent, crack, stain, or puncture will reduce maintenance, eliminate repairs, improve appearances, and help the occupants enjoy greater peace of mind.