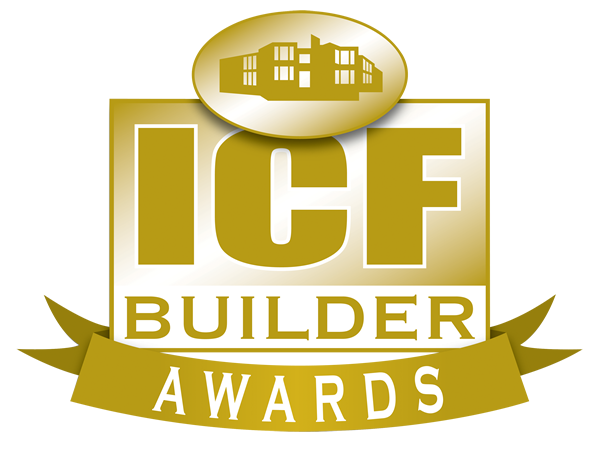 2010 Heavy Commercial
Runner-Up (Tie)
The Phoenix Diocese of the Catholic Church has become a major force in shaping the direction of the ICF industry. They commissioned the St. Mary Magdalene Church in Gilbert, Ariz, which was featured in the June issue of this magazine, as well as the Immaculate Conception Catholic Church in Cottonwood, Ariz. featured here.
Completed in 2009, the 30,115 sq. ft. church used ICFs for virtually every wall. The complex design includes numerous T-corners, arched and round windows and 46 integrated pilasters. Interior ICF walls reach to 50 feet without intermediate supports. Buttress walls and two free-standing bell towers were also built from ICFs. In total, the project used well over 58,000 sq. ft of ICFs.
John Hatfield, worship facilities manager for Quad-Lock, who provided the ICFs for the project, says, "The structure was changed from load-bearing masonry construction to Quad-Lock Insulated Concrete Forms specifically to create a more stable structure that did not have the movement problems associated with masonry construction. This change created a building that, when completed, needed half the original cooling system."
An interesting feature of the final HVAC design is that it uses an underfloor cooling system with vents under the pews. The air is then re-circulated at the 12- to 15-foot level instead of rising to the roof at 32 to 46 feet above the finished floor.
"The change from masonry to ICF was a rather large battle fought between the design team members, the parishioners and the diocese construction office," says Hatfield. "However, since the project has been completed and proved that ICFs are suitable for large construction projects of this type, a great deal of additional projects have happened using this product.
A great deal of the credit for making the project such a success goes to Insulated Concrete Walls, who served as the ICF installer. They began eight feet below grade and worked to the gable ends 49 feet above the desert floor. The building has no intermediate floors, so they combined Reechcraft's Panel Jack with a conventional masonry scaffold system to keep the walls plumb as they worked their way up.
Hatfield says, "This project demonstrates that panel ICFs can be used to complete large tall projects with open designs such as large church facilities, schools, and gymnasiums."
Project Statistics
---
Location: Gilbert, Ariz.
Type: Religious-Worship Facility
Size: 30,115 sq. ft. (floor)
ICF Use: 58,664 sq. ft. (all exterior walls) plus 19,000 sq. ft. of interior ICF walls and additional underslab insulation
Construction Team
---
Owner: Phoenix Catholic Archdiocese
Architect: CCBG Architects
Engineer: AV Schwan & Associates
General Contractor: Redden Construction
ICF Installer: Insulated Concrete Walls
ICF Distributor: Arizona Radiant Barrier
ICF System: Quad-Lock ICF/Bracing by Reechcraft
Fast Facts
---
ICFs used for all bearing walls
Change from masonry reduced cooling load by 50%
Walls reach to 50 feet without intermediate supports
ICFs also used for 46 integrated pilasters.
Complex design includes numerous T-corners, buttress walls, arched and round windows, and free-standing
bell towers
Innovative geothermal cooling system
Owner has become converted to ICF construction
Led to numerous other large commercial jobs in the region
Like what you read?
Yearly Subscriptions Starting @ $30