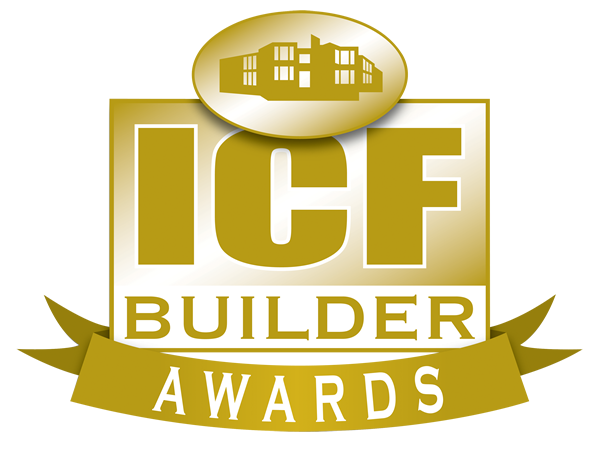 2010 Small Residential
2nd Runner-Up
The Maertz Cottage, a seasonal home built overlooking a lake near Wabeno, Wisc., is a beautiful example of how ICFs can overcome significant jobsite challenges
to create a beautiful, functional residence.
The owner, a professional architect, designed the 1,900 sq. ft. Craftsman-style cottage to fit into a hillside overlooking a quiet lake nestled in the forest. To take advantage of the views, the home has 12 corners, with 360 degree views from the dining area.
The sloping lot allows a walkout basement. Measured from the base of the footers to the top of the 12/12 pitch ICF gables, the walls measure an impressive 38 feet. Radiant heat and gypcrete decking were used to maximize the home's energy efficiency, but it made for a very ICF-intensive job. More than 4,000 sq. ft of BuildBlock ICF was used.
Doug Ellerman, the ICF installer who submitted the project, says "The real challenge was the remoteness of the site and stacking, bracing and pouring the large windows facing the lake in a way that would ensure they stayed square, true, and plumb."
Completed in May of 2009, the Maertz' have now had several years to enjoy their seasonal residence. Tim Maertz says, "As the designer/owner, I also assisted in building the cottage, and I can say for a fact that ICF construction makes a very energy efficient, quiet, and safe home. You can feel how solid it is. I'm extremely satisfied with how it turned out.
Project Statistics
---
Location: Wabeno, Wisc.
Type: Private Residence—Seasonal Home
Size: 1,897 sq. ft. (floor)
ICF Use: 4,263 sq. ft. (All exterior walls) plus EPS decking
Cost: $250,000
Total Construction: 240 days (completed May'09)
ICF Installation time: 60 days
Construction Team
---
Owner/Architect: Time and Mary Maertz
General Contractor: RJM Construction
ICF Installer: Premier Construction Group
ICF Distributor: BuildBlock (direct)
ICF System: BuildBlock
Fast Facts
---
ICF gables reach 38 ft. above grade
Completed in three pours
Remote location, steep sloping lot and 12 corners
Walk-out basement doubles as retaining wall
Like what you read?
Yearly Subscriptions Starting @ $30