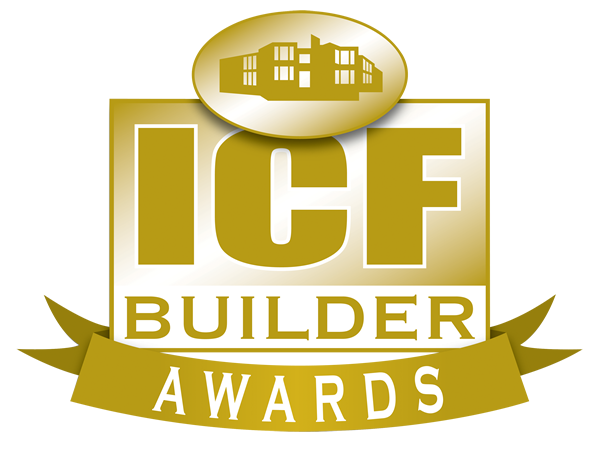 2012 Small Residential 1st Runner Up
This project was built as a "Universal Design" (UD) home, merging sustainable, green building technology with design concepts that allow people of all ages and abilities to live their entire life in their own home. In addition to modern energy saving features, it also utilizes automation and low-maintenance finishes.
UD also pays attention to layout and dimensions, incorporating well-known accessibility features such as wide doors, lowered sinks, non-skid flooring, etc. Proponents claim the concept will save both the homeowner and the government tens of thousands of dollars by allowing the retired and the handicapped population to live independently in their home environment instead of retirement homes, assisted living centers and institutions. The long term healthcare savings may be as high as $100,000 per person per year.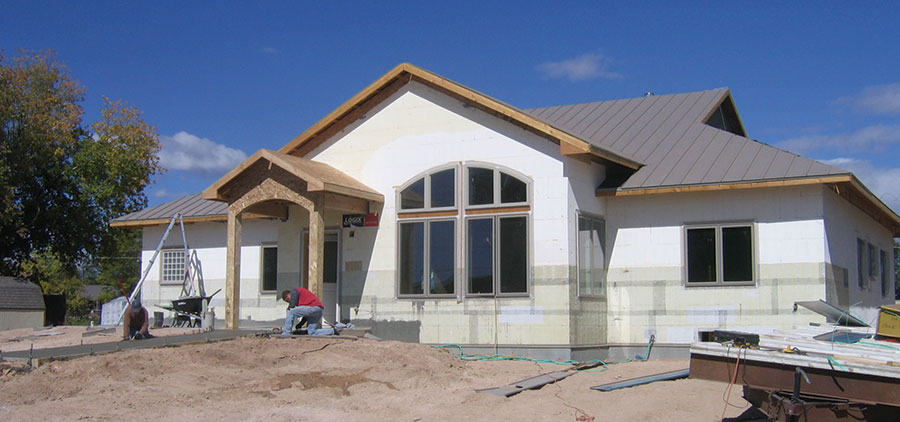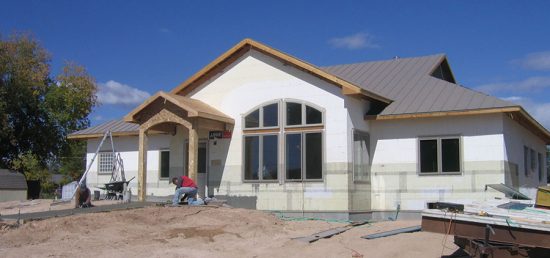 Dan McCullough, the Logix distributor who supplied the ICFs for the project says, "These designers are some of the best in the nation, and the fact that they chose ICFs over the other building systems without any solicitation or encouragement by the ICF industry speaks highly of what we have to offer."
This home was to be built in Vernal, Utah, a small community located 3½ hours east of Salt Lake City. Unable to find a qualified installer in the rather remote location, McCullough put together a 5-man crew and did the install himself. "There was a ready-mix plant and pumper that serviced the nearby oil fields," says McCullough, " but everything else we had to bring with us or arrange for it to be shipped to the jobsite in Vernal."
Scheduling was also tight, as his crew had a full slate of jobs going on in Salt Lake as well. With an urgent project in Salt Lake scheduled to start on Friday, they'd have to complete the entire project in only four days. "We had our schedule down to 30-minute intervals," he says. A two-day lead time for both the ready mix plant and the pump truck meant the schedule couldn't shift.
Fortunately, McCullough and his crew of professionals were up to the daunting task. They arrived at the jobsite early Monday morning, having met the truck delivering the ICF at the outskirts of town, and got right to work. By Tuesday evening, the basement walls were stacked and braced, and by the time the inspector arrived late Wednesday morning, the rebar was in place as well. That afternoon, they pumped, and Thursday they stripped the bracing and applied the waterproofing, a peel-and-stick product from Soprema called Colphene. Two weeks later, they came back and stacked the main floor walls on a similar schedule.
"We had logistics similar to the home makeover shows on TV, only instead of 200-plus people we had five," he says.
Once the walls were up, specialty contractors installed the green features that make the home so efficient, including photovoltaic solar panels for electricity generation, a complete Geothermal Heat Pump system for heating, cooling and hot water generation, and energy recovery ventilator and LED lighting.
The home qualifies for a LEED Gold rating, but is surprisingly affordable. "There were no additional construction costs," says McCullough. "In fact, to obtain the benefits of Universal Design with conventional methods, the choice of ICFs saved an estimated $20,000 to $30,000."
Ken Kay, the owner of the home reports, "It seems like the whole town drove by to watch the process, particularly the front of the home, where they had to install that 16-foot-high arched window. It is a comfortable home to live in, climate wise, and our energy bills are very low."
McCullough adds, "Universal Design is taught at architectural schools all over the country. To have the first Universal Design Home in America built with ICFs is a huge landmark for the industry. It represents a whole new way of how we will build homes in the future to meet the needs of all of our population."
Location: Vernal, Utah
Type: Private Residence/Concept Home
Size: 2,400 sq. ft.
ICF Use: 7,000 sq. ft. (All exterior walls, most interior walls, and flooring)
Cost: $475,000
Total Construction: 120 days
ICF Installation Time: 3 weeks
Developer: Ken Kay
General Contractor: Randy Howlett Construction
ICF Installer: Utah ICF
Architect: Charles M Schwab Architect
Form Distributor: Utah ICF
ICF System: Logix
Universal Design Home
Wheelchair accessible, wide doors, lowered sinks, etc.
Photovoltaic panels, Geothermal heat pump, ERV
Rated LEED-Gold
Awarded "Best Green Project" by Logix
Extensive press coverage on Universal Design Concept
Stepped foundation, 18+ corners.
Small-town location with no construction supplies available locally
ICFs saved an estimated $25,000
Like what you read?
Yearly Subscriptions Starting @ $30